Bob Barker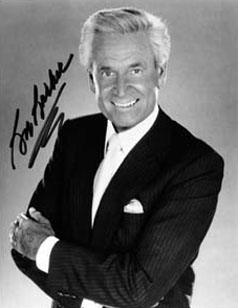 AKA Robert William Barker
Born: 12-Dec-1923
Birthplace: Darrington, WA

Gender: Male
Race or Ethnicity: White [1]
Sexual orientation: Straight
Occupation: Game Show Host, Actor
Nationality: United States
Executive summary: The Price Is Right
Military service: US Navy (1943-45)
Bob Barker grew up on the Rosebud Indian Reservation in South Dakota, where his mom was a schoolteacher. He went to college on a basketball scholarship, then joined the Navy to fight World War II. He was hosting an audience-participation radio show in L.A., when Ralph Edwards happened to be listening and liked Barker's voice and style. Barker took over as host of Truth or Consequences within a few weeks, in 1956. His version of that show ran 18 years, and while it was still running Barker started a new version of another oldie, The Price Is Right, in 1972. It's still running -- TV's longest-running game show -- though Barker finally retired in 2007.
The models on the show were sometimes called "Barker's beauties", and longtime beauty Dian Parkinson sued Barker for coercing her into sex. Barker admitted to "hanky-panky" but maintained that it was consensual. Parkinson dropped her lawsuit, saying she couldn't match Barker's budget for lawyers.
Barker stopped eating meat in 1979 as part of his pro-animal activism. His hair suddenly went gray in the late 1980s when he stopped using hair dye -- it's tested on animals. He quit a lucrative gig as host of the Miss Universe pageant because they wouldn't stop giving contestants furs. TPIR, of course, long ago stopped having contestants win furs, meat, or anything made of leather, etc.
Bob Barker studied karate under Chuck Norris and other masters for more than twenty years. Even at 90-something, there's a fair chance he could kick Adam Sandler's ass, just like he did in Happy Gilmore.
---
[1] Bob Barker with Digby Diehl, Priceless Memories (2009): "My father was one-quarter Indian. His mother was one-half Indian. I am one-eighth Sioux. It was not uncommon to have Indian heritage in those days in that region of the country. My stepfather was one-half Indian."

Father: Byron John Barker (b. 1887, d. 1930)
Mother: Matilda Kent Tarleton ("Tillie", b. 1897, d. 19-Oct-1981)
Wife: Dorothy Jo Gideon Barker (m. 1945, d. 1981 lung cancer)
Slept with: Dian Parkinson
Girlfriend: Nancy Burnet


University: BA Economics, Drury College, Springfield, MO (1947)


People for the Ethical Treatment of Animals $2.5M donation (2010)
Sea Shepherd Conservation Society $5M donation
Sigma Nu Fraternity
Emmy
Hollywood Walk of Fame 6714 Hollywood Blvd
Kentucky Colonel
Stroke
Sexual Harassment according to a lawsuit filed by Dian Parkinson in 1994, case dropped
Prostate Surgery (Jul-2002)
Risk Factors: Vegetarian, Depression


TELEVISION
The Price Is Right Host (1972-2007)


FILMOGRAPHY AS ACTOR
Happy Gilmore (16-Feb-1996) · Himself





Requires Flash 7+ and Javascript.



Do you know something we don't?
Submit a correction or make a comment about this profile






Copyright ©2019 Soylent Communications