Richard Dawson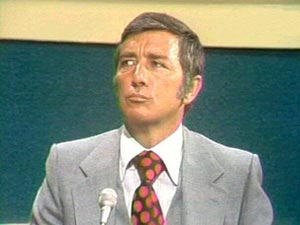 AKA Colin Emm
Born: 20-Nov-1932
Birthplace: Gosport, England
Died: 2-Jun-2012
Location of death: Los Angeles, CA
Cause of death: Cancer - Throat [1]
Remains: Buried, Westwood Memorial Park, Los Angeles, CA

Gender: Male
Race or Ethnicity: White
Sexual orientation: Straight
Occupation: Game Show Host, Actor
Nationality: United States
Executive summary: Host of Family Feud, 1976-85
At 14, Richard Dawson ran away from home, lied about his age and joined the Merchant Marine. For a few years he made extra cash as an unsanctioned professional boxer. After three years in the Merchant Marine, Dawson studied drama, and eventually became a moderately successful cabaret and TV comedian in Britain. He came to America in the early 1960s, and had guest roles on The Jack Benny Program and The Dick Van Dyke Show. Fame came with the role of Cpl. Newkirk on Hogan's Heroes, America's lovable-Nazi sit-com, from 1965-1971. When that show was cancelled, Dawson became a regular for the last two seasons of Rowan & Martin's Laugh-In.
In the mid-1970s, Dawson was a consistent presence on The Match Game, a ribald celebrity quiz show, where he caught the producers' attention as a guy who could ad lib funny. They set up Dawson as host of Family Feud, which became a huge hit. Dawson was famous for kissing the female contestants, and met his second wife, Gretchen Johnson, when she and her family were contestants on Family Feud. Yet there were whispers that Dawson had become thoroughly unlikable when the cameras weren't rolling. He was fired from Match Game in 1978 for perpetual grumpiness -- a detriment when the show is supposed to be funny. But Dawson's Family Feud remained hugely popular, with Dawson kissing grandmothers and asking inane questions on thousands of episodes until 1985.
When Feud was canceled, Dawson played a murderous game show host in The Running Man (1987) with Arnold Schwarzenegger. He filmed a pilot for a new You Bet Your Life in 1988 (which never sold), and for years Dawson didn't work much. Family Feud came back in 1988, but with Ray Combs as host. After several years, when Combs's version of Feud faltered, Dawson was brought back to host in 1994. But his presence couldn't lift the sagging ratings, and the show was quickly canceled.
---
[1] Esophageal cancer.

Father: Arthur Emm (truck driver)
Mother: Josephine
Brother: John Emm ("Jack")
Wife: Diana Dors (actress, m. 1959, div. 1967, two sons)
Son: Gary Dawson (b. 1960)
Son: Mark Dawson (b. 1962)
Wife: Gretchen Johnson Dawson (m. 1991, one daughter)
Daughter: Shannon Nicole Dawson


Ran Away From Home
Naturalized US Citizen 1984
Daytime Emmy Best Game Show Host (1978)
Risk Factors: Smoking


TELEVISION
Family Feud Host (1976-85, 1994)
Hong Kong Phooey Voice (1974-75)
Match Game Frequent panelist (1973-78)
Laugh-In Regular (1971-73)
Hogan's Heroes Cpl. Peter Newkirk (1965-71)


FILMOGRAPHY AS ACTOR
The Running Man (13-Nov-1987) · Damon Killian
The Devil's Brigade (15-May-1968) · Pvt. Hugh MacDonald
Munster, Go Home (15-Jun-1966)
King Rat (27-Oct-1965)
Promises! Promises! (Aug-1963)





Requires Flash 7+ and Javascript.



Do you know something we don't?
Submit a correction or make a comment about this profile






Copyright ©2019 Soylent Communications