Hans Fischer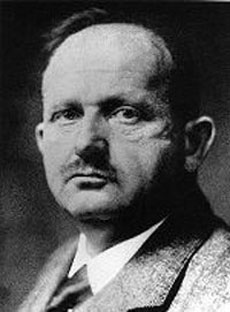 Born: 27-Jul-1881
Birthplace: Höchst, Germany
Died: 31-Mar-1945
Location of death: Munich, Bavaria, Germany
Cause of death: Suicide

Gender: Male
Race or Ethnicity: White
Sexual orientation: Straight
Occupation: Chemist
Nationality: Germany
Executive summary: Synthesized hemin
German organic chemist Hans Fischer studied under Emil Fischer (no relation), and conducted decades of intensive research into the biological pigments hemin (one of the two components of hemoglobin, the protein which provides the red color in blood) and chlorophyll (source of the green in plants).
In a 1915 study he showed that the disease congenital porphyria can be detected in feces and urine. He explained the molecular makeup of hemin and the construction of pyrrols (molecular compounds which give color to numerous biological substances), and synthesized hemin in 1929, proving that its ring has a central atom of iron. He unraveled the bile pigments biliverdin (which causes the yellowish color characteristic of bruised skin) and bilirubin (which yellows skin in jaundice cases), and synthesized them in 1942 and 1944, respectively. He conducted microanalyses of more than 60,000 chemical substances, and won the Nobel Prize for Chemistry in 1930.
Though he married in his 50s, Fischer was always a man dedicated almost exclusively to his work. He continued his scientific research during Germany's Nazi era, and killed himself on Easter Sunday in 1945, after his laboratory and life's work had been destroyed by bombing in the last days of World War II. The lunar crater Fischer is named for both Hans Fischer and Emil Fischer.
Father: Eugen Fischer (dye chemist)
Mother: Anna Herdegen Fischer
Wife: Wiltrud Haufe Fischer (m. 1935, no children)

University: Humanistische Gymnasium, Wiesbaden, Germany (1900)
University: University of Lausanne (attended)
University: BS Chemistry, University of Marburg (1904)
Medical School: BS Medicine, University of Munich (1906)
Medical School: MD, University of Munich (1908)
Teacher: Chemistry, University of Berlin (1908-10)
Scholar: Organic Chemistry, University of Munich (1910-12)
Teacher: Internal Medicine, University of Munich (1912-13)
Teacher: Physiology, University of Munich (1913-16)
Professor: Medical Chemistry, University of Innsbruck (1916-18)
Professor: Organic Chemistry, University of Vienna (1918-21)
Professor: Organic Chemistry, Technical University of Munich (1921-45)

Kidney removal 1917
Justus von Liebig Medal 1929
Nobel Prize for Chemistry 1930
Davy Medal 1937
Lunar Crater Fischer (8.0° N, 142.4° E, 30 km. diameter; named jointly for Emil Fischer, Hans Fischer)
Risk Factors: Tuberculosis

Author of books:
Die Chemie des Pyrrols (The Chemistry of Pyrrole) (1934-40, chemistry; three volumes)

Do you know something we don't?
Submit a correction or make a comment about this profile

Copyright ©2019 Soylent Communications