Bill Kristol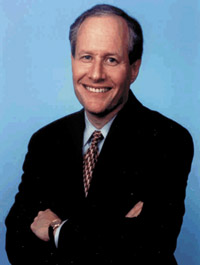 AKA William Kristol
Born: 23-Dec-1952
Birthplace: New York City

Gender: Male
Religion: Jewish
Race or Ethnicity: White
Sexual orientation: Straight
Occupation: Columnist, Pundit, Government
Party Affiliation: Republican
Nationality: United States
Executive summary: Editor of The Weekly Standard
Frequent Fox News contributor and founding editor of The Weekly Standard magazine, Bill Kristol is the son of Neoconservative godfather Irving Kristol. Politically active since the age of 12 (when he worked on his first campaign), Bill roomed with Alan Keyes at Harvard, and later ran his unsuccessful 1988 Senate campaign.
Kristol served as Chief of Staff for Secretary of Education William Bennett, and later for Vice President Dan Quayle (earning him the nickname "Quayle's Brain"). He is a close friend of Gary Bauer. As a pundit, Kristol called for the 1991 US war on Iraq, the 2001- war on Afghanistan, 2003- war on Iraq, and 2011 attacks on Libya, and he has repeatedly but unsuccessfully urged US attacks on Iran in the 2000s.
After Kristol recommended that Pat Buchanan leave the Republican party, a pissed-off Buchanan responded on the Today show: "Let me tell you about Mr. Kristol. He runs that dinky little magazine that's subsidized by Rupert Murdoch that pretends to be conservative."
As Iraq began devolving into chaos following the invasion of 2003, Kristol offered his expertise on numerous news programs, typified by this comment from an April 2003 interview with Terry Gross on NPR's Fresh Air:
"I think there's been a certain amount of, frankly, Terry, a kind of pop sociology in America, that, you know, somehow the Shia can't get along with the Sunni, or the Shia in Iraq just want to establish some kind of fundamentalist regime. There's almost no evidence of that at all. Iraq has always been very secular."
Father: Irving Kristol (prominent neocon)
Mother: Gertrude Himmelfarb
Wife: Susan Scheinberg (three children)
Daughter: Rebecca
Daughter: Anne
Son: Joe


High School: Collegiate School, Manhattan, NY (1970)
University: AB Government, Harvard University (1973)
University: PhD Political Science, Harvard University (1979)
Teacher: University of Pennsylvania
Teacher: Harvard University


The Washington Post Columnist (2009-)
The New York Times Columnist (2008-09)
Time Columnist (2007)
The Weekly Standard Editor (1995-)
Chief of Staff to the Vice President (1989-93)
American Enterprise Institute
Ashbrook Center for Public Affairs Board of Advisors
Bilderberg Group
Committee for the Liberation of Iraq
Ethics and Public Policy Center Policy Advisory Board
Emergency Committee for Israel Board Member
Federalist Society Frequent contributor, Harvard Journal of Law and Public Policy
The Foreign Policy Initiative Board of Directors
Friends of George Allen
Henry Jackson Society
Keep America Safe
Manhattan Institute for Policy Research
Middle East Forum
Project for the New American Century Co-Founder
Project for the Republican Future
Susan B. Anthony List
Foundation for the Defense of Democracies Distinguished Advisor
Enron Sat on an advisory committee, received $100,000
Pied Earlham College, Richmond, IN 29-Mar-2005 (ice cream pie)
Funeral: William F. Buckley (2008)


TELEVISION
Fox News Sunday Panelist


FILMOGRAPHY AS ACTOR
Why We Fight (2005) · Himself


Author of books:
The War Over Iraq: America's Mission and Saddam's Tyranny (Feb-2003, with Lawrence F. Kaplan)





Requires Flash 7+ and Javascript.



Do you know something we don't?
Submit a correction or make a comment about this profile






Copyright ©2019 Soylent Communications