David M. Rubenstein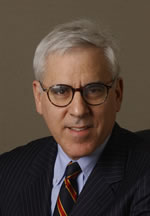 Born: c. 1949

Gender: Male
Religion: Jewish
Race or Ethnicity: White
Sexual orientation: Straight
Occupation: Business
Nationality: United States
Executive summary: Director of the Carlyle Group
Close friend of the Bush family.
"When we were putting the board together, somebody came to me and said, 'Look, there is a guy who would like to be on the board. He's kind of down on his luck a bit. Needs a job. Needs a board position. Needs some board positions. Could you put him on the board? Pay him a salary and he'll be a good board member and be a loyal vote for the management and so forth.'

"I said, 'Well, we're not usually in that business. But okay, let me meet the guy.' I met the guy. I said 'I don't think he adds that much value. We'll put him on the board because - you know - we'll do a favor for this guy; he's done a favor for us.'

"We put him on the board and [he] spent three years. Came to all the meetings. Told a lot of jokes. Not that many clean ones. And after a while I kind of said to him, after about three years: 'You know, I'm not sure this is really for you. Maybe you should do something else. Because I don't think you're adding that much value to the board. You don't know that much about the company.' He said, 'Well, I think I'm getting out of this business anyway. And I don't really like it that much. So I'm probably going to resign from the board.' And I said 'Thanks.'

"Didn't think I'd ever see him again. His name is George W. Bush. He became President of the United States. So, you know, if you said to me, 'Name 25 million people who would maybe be President of the United States,' he wouldn't have been in that category. So you never know. Anyway, I haven't been invited to the White House for any things."
During a June 2004 article on the film Fahrenheit 9/11, Newsweek reporter Michael Isikoff confused David Rubenstein with New York public relations expert Howard J. Rubenstein:
Its [Carlyle's] founding and still managing partner is Howard Rubenstein, a former top domestic policy advisor to Jimmy Carter.
Isikoff's piece also misspelled former FCC Chairman William Kennard's name as "William Cannard".

Father: (Baltimore postal worker)
Wife: Alice Rogoff (3 children)


High School: Baltimore City College High School
University: Duke University
Law School: JD, University of Chicago (1973)


Carlyle Group Cofounder (1987-)
JP Morgan Chase Advisory Board
Academy of Achievement Platinum Patron
American Academy in Berlin Trustee
American Council on Germany Board of Directors
Emerging Markets Private Equity Association Advisory Board
Friends of Duke Cunningham
Institute for International Economics Board of Directors
Trilateral Commission
Phi Beta Kappa Society





Requires Flash 7+ and Javascript.



Do you know something we don't?
Submit a correction or make a comment about this profile






Copyright ©2019 Soylent Communications