Andrew Dice Clay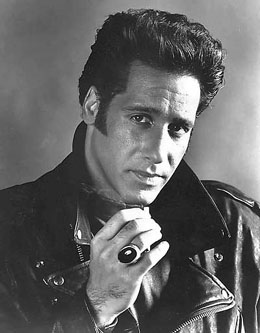 AKA Andrew Clay Silverstein
Born: 29-Sep-1958
Birthplace: Brooklyn, NY

Gender: Male
Religion: Jewish
Race or Ethnicity: White
Sexual orientation: Straight
Occupation: Comic
Nationality: United States
Executive summary: Ford Fairlane
Started doing standup at age twenty. Known for his leather jacket, tough-guy exterior and booming Brooklyn drawl. Accused of trafficking only in the Insult, obvious stereotypes, and age-old generalizations. His appearance on the 1989 MTV Video Awards contained so much profanity that he was banned from the network altogether. The controversy continued the following year when Dice's booking as guest host for Saturday Night Live caused cast member Nora Dunn to boycott the show in protest of his remarks about women. GLAAD took issue with Dice's presence on network television, protesting his sexist, homophobic reputation.
His trademark routine sometimes involve naughty nursery rhymes:
Hickory Dickory Dock,
My balls fell out of my jock.
I laid them to rest
On some hooker's chest
And paddled her face with my cock.

Roll, roll, roll your cunt
Gently down my prick.
Merrily, merrily, merrily, merrily,
Then you'll suck my dick.
Father: Fred (Clay's manager)
Wife: Kathleen Swanson (m. 1984, div. 1986)
Wife: Kathleen Monica (m. 4-Sep-1992, div., two sons)
Son: Max (b. 1990)
Son: Dylan (b. 1994)
Wife: Valerie Vasquez (m. 14-Feb-2010)


Risk Factors: Smoking


TELEVISION
Crime Story Max Goldman (1986-88)
Bless This House Burt Clayton (1995-96)
The Apprentice Contestant (2009)


FILMOGRAPHY AS ACTOR
A Star Is Born (31-Aug-2018)
Entourage (27-May-2015)
Blue Jasmine (26-Jul-2013)
One Night at McCool's (19-Apr-2001)
Point Doom (1-Mar-2001)
My 5 Wives (8-Sep-2000) · Tony Morano
Foolish (9-Apr-1999) · El Dorado Ron
Whatever It Takes (6-Apr-1999)
Favorite Deadly Sins (12-Nov-1995)
No Contest (1994)
Brain Smasher... A Love Story (17-Nov-1993)
Dice Rules (17-May-1991) · Himself
The Adventures of Ford Fairlane (11-Jul-1990)
Casual Sex? (22-Apr-1988)
Amazon Women on the Moon (18-Sep-1987)
Pretty in Pink (28-Feb-1986)
Private Resort (3-May-1985)
Night Patrol (16-Nov-1984)
Making the Grade (18-May-1984)
Wacko (1983)


Official Website:
http://www.andrewdiceclay.com/

Rotten Library Page:
Andrew Dice Clay

Comedy albums:
Dice (1990)
The Day the Laughter Died (1990)
Dice Rules (1991)
40 Too Long (1992)
Day The Laughter Died, Part 2 (1993)
Filth (1999)
Face Down, Ass Up (2000)





Requires Flash 7+ and Javascript.



Do you know something we don't?
Submit a correction or make a comment about this profile






Copyright ©2019 Soylent Communications