Alfred Kinsey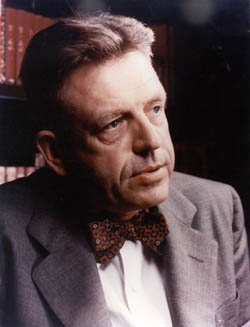 AKA Alfred Charles Kinsey
Born: 23-Jun-1894
Birthplace: Hoboken, NJ
Died: 25-Aug-1956
Location of death: Bloomington, IN
Cause of death: Heart Failure [1]
Remains: Buried, Rose Hill Cemetery, Bloomington, IN

Gender: Male
Religion: Atheist
Race or Ethnicity: White
Sexual orientation: Bisexual
Occupation: Scientist, Educator
Nationality: United States
Executive summary: Researched human sexual behavior
Alfred Kinsey was among the first scientists to conduct large-scale scientific inquiries into human sexuality. His work led to a wider acceptance of the discussion of sexuality and a wider range of acceptable sexual practices, but his name has long been controversial, and remains so. Opponents of sex education still frequently refer to Kinsey as a communist or a pedophile, though there is no evidence to support either charge, or as a fraud or pseudo-scientist, though his work is still academically cited and respected. His research is sometimes criticized by other researchers over sampling limitations and the unreliability of personal accounts of sexual behavior. Beyond scientific circles he is seen by some as a liberator of sexuality and by others as a founding father of America's moral decline.
Sickly in childhood, he was bedridden with rickets, typhoid, and heart problems for most of his first ten years. His father was a stern authoritarian and devout Christian. His parents were reserved, and Kinsey later said he never saw any affection between them, and little for their children. Kinsey's father taught at the Stevens Institute of Technology in Hoboken, New Jersey, and insisted that Kinsey attend there, which he dutifully did for a year and a half before transferring to Maine's Bowdoin College. After this, Kinsey and his father never spoke to each other again.
He was always fascinated by biology, studying the birds outside his window as a boy and eventually earning degrees in psychology and biology. He then took a teaching post at Indiana University, and in 1921 he married a woman who had taken one of his classes — the first woman he had ever dated. They did not consumate their marriage for almost a year, however, due to difficulties caused by her "adherent clitoris", which was then corrected surgically. They had an open sexual relationship and by most accounts a happy marriage, with four children. He designed their brick home in Bloomington, and was called "Prok" — short for Professor K — by friends, students, and his wife.
In the early years of his career, Kinsey was a biologist and zoologist of increasing renown, who researched and documented animal mating practices, specializing in gall wasps — of which dozens of species were first catalogued by him. Beginning in 1938 he expanded his interest to the mating habits of humans, by gaining the University's permission to teach a non-credit course titled Marriage. Almost 100 students (mostly women) signed up to hear Kinsey lecture — radically, for his era — that Victorian repression should be abandoned, and matters pertaining to sex should be discussed in an honest, adult manner. He believed in sexual freedom and equality for both genders, and accepted virtually any sex acts between consenting adults as a normal and healthy part of human nature. He also counseled students on sex-related matters, learning and teaching at the same time as he collected data from students.
At his Institute for Sex Research, founded in 1947, Kinsey and his colleagues conducted detailed interviews, anonymously cataloguing and statistically analyzing the sexual lives and proclivities of some 18,000 Americans. Little was then known about adult sexual practices beyond the indoctrination that premarital sex is bad and wrong and post-marital sex is not much better, but Kinsey inquired about masturbation, sodomy, sex in prison, and other taboo topics without judgment. And he frequently did more than merely inquire — to interview homosexuals at a time when almost all gay men and women were closeted, he traveled to Chicago to conduct interviews, and engaged in numerous gay encounters there.
In 1948 he completed his book Sexual Behavior in the Human Male, which to his own surprise topped the best-seller lists. In the same year he gained permission to film a small number of sexual encounters involving volunteers and members of his staff, as he felt that photographs and drawings could not adequately allow analysis of sexual conduct. In 1950 he sued the US Customs Bureau when erotica the Institute had ordered from foreign sources was intercepted and confiscated under indecency laws. In 1953 he released a second book, Sexual Behavior in the Human Female, which, since even acknowledging that women have sexual desires was shocking in the 1950s, was even more controversial — and popular — than his earlier book on male sexuality.
In 1953, Congressman B. Carroll Reece (R-Tennessee) convened hearings ostensibly to investigate links between non-profit organizations and the Communist Party, but Kinsey and his principal funding source, the Rockefeller Foundation, were clearly Reece's primary targets. The Reece Committee sought testimony questioning and criticizing Kinsey's work and publicized some exaggerated tales of his supposed depravity and links to communism, while not allowing witnesses who might defend Kinsey or the Institute. The Committee's report ferociously condemned his work, which made headlines across America, but a later finding that Reece had effectively authored the report alone — without a consensus of the committee — drew scant attention. The Rockefeller Foundation soon withdrew its financial support, which crippled and effectively ended Kinsey's work.
In 1955 the American Law Institute (ALI) published a new edition of its Model Penal Code, citing and largely adopting Kinsey's perspective that laws should no longer ban homosexuality and anal sex acts between consenting adults. The ALI's book was and remains an influential guideline to state and federal legislators, and over the next decade numerous states repealed these morality laws, but Kinsey did not live to see it. He died of congestive heart failure in 1956.
US v. 31 Photographs, the Institute's lawsuit against the Customs Bureau, was decided in the Institute's favor in 1957, a landmark decision for the freedom of academic inquiry and the right to possess pornography. In 1981 the Institute for Sex Research was renamed the Kinsey Institute for Sex Research, and it still houses one of the world's largest collections of pornography. In 2003 the US Supreme Court overturned a Texas law banning same-sex sodomy, effectively ending the criminalization of homosexuality in America.
---
[1] "Heart ailment and complications resulting from a summer cold", according to contemporary obituaries.

Father: Alfred Seguine Kinsey (engineering teacher)
Mother: Sarah Charles Kinsey (div. 1930)
Wife: Clara Bracken McMillen Kinsey (former student, b. 2-Oct-1898, m. 3-Jun-1921, d. 1982)
Son: Donald (b. 1922, d. infancy, diabetes)
Daughter: Anne Kinsey Corning (b. 1924)
Daughter: Joan Kinsey Reed (b. 1925)
Son: Bruce Kinsey (b. 1928)


High School: Columbia High School, Maplewood, NJ (1912)
University: Stevens Institute of Technology (attended 1912-14)
University: BS Biology and Psychology, Bowdoin College, Brunswick, ME (1916)
University: DSc Biology, Harvard University (1919)
Teacher: Biology, Harvard University (1918-20)
Teacher: Zoology, Indiana University Bloomington (1920-29)
Administrator: Zoology, Indiana University Bloomington (1929-47)
Administrator: Kinsey Institute, Indiana University Bloomington (1947-56)


Boy Scouts of America from 1911
Eagle Scout 1913
Rockefeller Foundation Research grants, 1941-54
National Research Council Research funding, 1941-54
Young Men's Christian Association 1908-25
Phi Beta Kappa Society
Zeta Psi Fraternity
Converted to Atheism formerly Methodist
Heart Attack 22-Aug-1956
Risk Factors: Typhoid, Depression, Insomnia


FILMOGRAPHY AS ACTOR
Scotty and the Secret History of Hollywood (16-Sep-2017) · Himself


Appears on the cover of:
Time, 24-Aug-1953, DETAILS: Reflections in the Mirror of Venus


Author of books:
An Introduction to Biology (1926, high school textbook)
The Gall Wasp Genus Cynips: A Study in the Origin of Species (1929, non-fiction)
Edible Wild Plants of Eastern North America (1943, non-fiction; with Merritt Lyndon Fernald)
Sexual Behavior in the Human Male (1948, non-fiction)
Sexual Behavior in the Human Female (1953, non-fiction)





Requires Flash 7+ and Javascript.



Do you know something we don't?
Submit a correction or make a comment about this profile






Copyright ©2019 Soylent Communications