Sally Jessy Raphael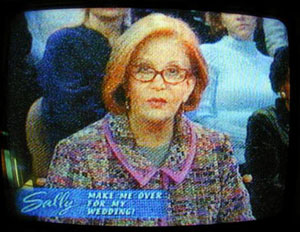 AKA Sally Lowenthal
Born: 25-Feb-1935 [1]
Birthplace: Easton, PA

Gender: Female
Religion: Jewish
Race or Ethnicity: White
Sexual orientation: Straight
Occupation: Talk Show Host
Nationality: United States
Executive summary: Controversialist talk show host
Sally Jessy Raphael was a reporter for Associated Press and United Press International, and hosted a long-running radio call-in show, and a Spanish-language cooking show. She's mostly famous, though, for her 19-year run as host of TV's Sally Jessy Raphael.
"My four guests today have a total of 337 personalities." That's Raphael, introducing a typical episode. Surprise paternity tests! My husband is a hermaphrodite! I'm 12 years old and pregnant! She often said that therapists were on-hand to counsel guests after taping her show. Raphael could be so warm you'd want to turn down the thermostat, but her trademark was getting in her guests' faces with snap moral judgments. Sally Jessy Raphael was one of the first "confrontation" shows, regularly staging "boot camps" for troubled kids and revelations of family secrets for the televised shock value. Raphael summarizes, "Our show is a modern day morality play which often serves as a wake-up call for guests who are on the wrong track."
In 1996, a guest on the show said that he'd fathered a child with a 14-year-old girl. He was arrested when the program aired. On another very special Sally Jessy Raphael, the audience spent an hour helping the host decide which new frames to buy for her glasses. Raphael's show ended in 2002, after more than 4000 episodes.
---
[1] Birth date frequently reported as 25 February 1943 (or 1942), but this is almost certainly too late. Her daughter Allison with her first husband was age 33 when she died in 1992, which would have made Sally a mother at age 16. She married her first husband at age 18. See "Talk Show Host's Daughter Found Dead During Family Visit", The Vindicator, 3 February 1992.

Father: Jesse Lowenthal
Mother: Dede
Brother: Steve
Husband: Andrew Vladimir (advertising executive, m. circa 1953, div., two daughters)
Daughter: Allison (b. 1959, d. 2-Feb-1992)
Daughter: Andrea (b. 1961)
Husband: Karl Soderlund (TV producer, m. 1962, one son adopted, three foster children)
Son: Jason "JJ" Soderlund


University: Carnegie Mellon University
University: University of Puerto Rico
University: BFA, Columbia University


TELEVISION
TV Funhouse Herself, Episode 4 "Mexican Day"


FILMOGRAPHY AS ACTOR
Évocateur: The Morton Downey Jr. Movie (21-Apr-2012) · Herself
Pauly Shore Is Dead (2003) · Herself
Unconditional Love (23-Aug-2002) · Herself
The Guru (21-Aug-2002) · Herself
Double Whammy (20-Jan-2001) · Herself
Meet Wally Sparks (16-Jan-1997) · Herself
The Associate (25-Oct-1996) · Herself
No One Would Tell (6-May-1996)
The Addams Family (22-Nov-1991) · Herself
She-Devil (8-Dec-1989) · Herself


Official Website:
http://www.sallyjr.com/




Requires Flash 7+ and Javascript.



Do you know something we don't?
Submit a correction or make a comment about this profile






Copyright ©2019 Soylent Communications