Beverly Cleary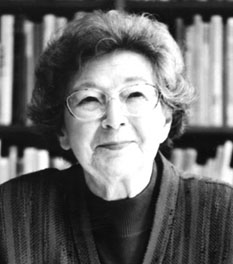 AKA Beverly Atlee Bunn
Born: 12-Apr-1916
Birthplace: McMinnville, OR
Died: 25-Mar-2021
Location of death: Carmel, CA
Cause of death: unspecified

Gender: Female
Religion: Presbyterian
Race or Ethnicity: White
Sexual orientation: Straight
Occupation: Author
Nationality: United States
Executive summary: Children's author, Ramona Quimby series
The author of children's picture books as well as juvenile fiction and young adult novels, Beverly Cleary is best known for her stories about little Ramona Quimby, her big sister Beezus, and their neighborhood pal Henry Huggins. Other popular Cleary works include Runaway Ralph, Ralph S. Mouse, and Mouse on a Motorcycle. Cleary won a Newbery Medal for her epistolary novel Dear Mr. Henshaw (1983). Two other books, Ramona and Her Father and Ramona Quimby, Age 8, were named Newbery Honor books. In 2000, Cleary was named a Library of Congress "Living Legend".
Born Beverly Bunn, she spent her early years on a farm outside Yamhill, Oregon, where her mother had started a small library. Although her mother had attempted to homeschool her, she had trouble learning to read as a child. She later confessed that much of her resistance arose from the fact that the books she was given were extremely boring. Most children's "literature" at that time still consisted of dry, stilted morality tales that adults considered "good for children". Beverly longed for more interesting children's stories, tales about kids more like herself and her neighborhood playmates. Later, a school librarian suggested that Beverly might write such stories herself some day. But it was when she became a librarian in rural Yakima, that urge to write children's stories really began to solidify. Children, many of whom reminded her of her own childhood playmates, would ask "where are the stories about kids like us?"
Soon after, in 1940, Beverly eloped with Clarence Cleary, a young man of Roman Catholic upbringing whom she had met while attending the University of California, Berkeley. Unfortunately, her Presbyterian parents, who had strongly objected to the marriage, continued to oppose the union even after it was accomplished fact. After the end of World War II, the young couple elected to move out of the area, and return to their college home in Berkeley. It was here that Beverly started scribbling notes that would produce her first novel. As she worked she recalled advice from her mother that the best writing was simple and filled with humor, as well as a college professor who emphasized writing about universal human experience -- and including the tiny details of everyday real life.
In 1950 she finally produced a finished product: Henry Huggins. Accepted for immediate publication, the story was set on Klickitat Street, in Beverly's real life childhood neighborhood in Portland, Oregon. Its characters were inspired by the kids she had grown up with, as well as the ones she'd met later, working as a children's librarian. In the decades since that first publication, Cleary has published more than 30 books -- which have sold more than 10 million copies and appeared in more than twenty countries and some fourteen different languages. Her most recent "Ramona" book, Ramona's World was published in 1999 and was heralded by critics as being as fresh and enjoyable as any of her early works.
Cleary's critical acclaim includes (in addition to her two Newbery Honor books and the 1984 John Newbery Medal for the most distinguished contribution to American literature for children): the American Library Association's Laura Ingalls Wilder Award (1975), the Catholic Library Association's Regina Medal (1980), and the Silver Medallion from the University of Southern Mississippi (1982). Portland, Oregon, now boasts the Beverly Cleary Sculpture Garden for Children, featuring bronze statues of many of her most beloved characters, including Ramona Quimby, Henry Huggins, and his dog Ribsy. In addition, her Ramona novels were adapted into a ten-part series on PBS Television, and each of the Ralph S. Mouse books have appeared as one-hour films on ABC-TV. Various foreign language adaptations of her work have also appeared.
Father: Chester Lloyd Bunn (farmer)
Mother: Mable Atlee (teacher)
Husband: Clarence Cleary (m. 1940, d. 2004, one son, one daughter)
Son: Malcolm (twin)
Daughter: Marianne (twin)

University: Chaffey Junior College
University: University of California at Berkeley (1938)
University: School of Librarianship, University of Washington (1939)

Newbery Medal 1984 for Dear Mr. Henshaw
Library of Congress Living Legend 2000
National Medal of Arts 2003

Official Website:
http://www.beverlycleary.com/
Author of books:
Henry Huggins (1950, juvenile fiction)
Ellen Tebbits (1951, juvenile fiction)
Henry and Beezus (1952, juvenile fiction)
Otis Spofford (1953, juvenile fiction)
Henry and Ribsy (1954, juvenile fiction)
Beezus and Ramona (1955, juvenile fiction)
Fifteen (1956, juvenile fiction)
Henry and the Paper Route (1957, juvenile fiction)
The Luckiest Girl (1958, juvenile fiction)
Jean and Johnny (1959, young adult novel)
Leave It to Beaver (1960, novel)
The Real Hole (1960, picture book)
The Hullabaloo ABC (1960, picture book)
Emily's Runaway Imagination (1961, juvenile fiction)
Two Dog Biscuits (1961, picture book)
Henry and the Clubhouse (1962, juvenile fiction)
Sister of the Bride (1963, juvenile fiction)
Ribsy (1964, juvenile fiction)
The Mouse and the Motorcycle (1965, juvenile fiction)
Mitch and Amy (1967, juvenile fiction)
Ramona the Pest (1968, juvenile fiction)
Runaway Ralph (1970, juvenile fiction)
Socks (1973, juvenile fiction)
Ramona the Brave (1975, juvenile fiction)
Ramona and Her Father (1977, juvenile fiction)
Ramona and Her Mother (1979, juvenile fiction)
Ramona Quimby, Age 8 (1981, juvenile fiction)
Ralph S. Mouse (1982, juvenile fiction)
Dear Mr. Henshaw (1983, juvenile fiction)
Ramona Forever (1984, juvenile fiction)
The Ramona Quimby Diary (1984, juvenile fiction)
Lucky Chuck (1984, juvenile fiction)
The Beezus and Ramona Diary (1986, juvenile fiction)
The Growing-Up Feet (1987, picture book)
Janet's Thingamajigs (1987, picture book)
A Girl from Yamhill: A Memoir (1988, non-fiction)
Muggie Maggie (1990, juvenile fiction)
Strider (1991, juvenile fiction)
Petey's Bedtime Story (1993, picture book)
My Own Two Feet: A Memoir (1995, non-fiction)
Ramona's World (1999, juvenile fiction)

Do you know something we don't?
Submit a correction or make a comment about this profile

Copyright ©2021 Soylent Communications