Jenny Jones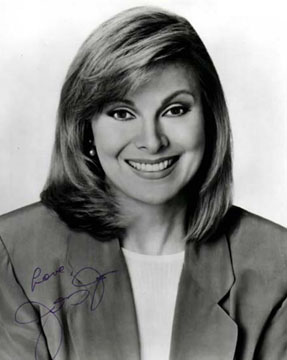 AKA Janina Stronski
Born: 7-Jun-1946
Birthplace: Bethlehem, Palestine

Gender: Female
Religion: Roman Catholic
Race or Ethnicity: White
Sexual orientation: Straight
Occupation: Talk Show Host
Nationality: United States
Executive summary: The Jenny Jones Show
Jenny Jones's childhood was rough, and her adulthood wasn't much better, but she was always able to make people laugh. She competed on Star Search, and won in the comedy category. After that, Jones was the opening act for Sammy Davis, Jr., Smokey Robinson, Kenny Loggins, and Engelbert Humperdinck before landing her own talk show in 1991. Early in her show's run, Jones spoke of her own health complications from breast implants, and warned women about their dangers. Jones says her show was not at all like Jerry Springer. The difference, she says, is that her show was fun, never exploitative, and didn't thrive on conflict and confrontation.
On 6 March 1995, Jones did an episode on "secret crushes", and with the cameras rolling, Scott Amedure told his friend Jonathan Schmitz that he had the hots for him. Schmitz laughed it off in front of the studio audience, but three days later he killed Amedure. The episode was never aired. Schmitz got 25-50 years in prison, and the producers of The Jenny Jones Show got sued. Amedure's family argued that the show's staff should have known Schmitz had a long record of alcohol and drug abuse, mental illness, depression, several suicide attempts, and a thyroid condition. Not to mention homophobia. The show's producers were ordered to pay $25 million to Amedure's family, but that verdict was tossed by a higher court.
In publicity interviews, Jones has repeatedly said Schmitz knew in advance his "secret admirer" might be male, but Schmitz said he was led to believe that his admirer was a woman. And in her deposition, Jones said she did not want Schmitz to know his "secret crush" was a man. "I cared that he not know", she said under oath, "otherwise we wouldn't have had a show".
Now Jones doesn't have a show. The ratings dwindled for several years after the murder, as crackwhore makeovers and teen boot camps were perhaps less enjoyable juxtaposed against continuing news coverage of the trials. The Jenny Jones Show last flickered across America's TV sets in 2003, and Jones has not yet announced her next project.
Sister: Liz (older)
Husband: (m. 1969, annulled)
Husband: (div.)
Husband: (m. 1980, div.)
Boyfriend: Denis McCallion

High School: GED (1996)

Ran Away From Home age 11
Rhinoplasty
Polish Ancestry

FILMOGRAPHY AS ACTOR
Wisecracks (Jun-1992) · Herself

Official Website:
http://www.jennyjones.com/
Do you know something we don't?
Submit a correction or make a comment about this profile

Copyright ©2019 Soylent Communications