Bill O'Reilly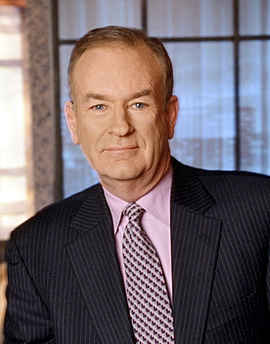 AKA William James O'Reilly, Jr.
Born: 10-Sep-1949
Birthplace: Manhattan, NY [1]

Gender: Male
Religion: Roman Catholic
Race or Ethnicity: White
Sexual orientation: Straight
Occupation: Talk Show Host
Party Affiliation: Independent [2]
Nationality: United States
Executive summary: The O'Reilly Factor
Bill O'Reilly worked as a school teacher, a local news reporter and eventually as a local anchorman, working his way up to CBS News in 1982. He quit almost immediately, when he thought Bob Schieffer had stolen a story he was working on. O'Reilly returned to local news, and re-emerged with ABC News in 1986. He left ABC to anchor Inside Edition from 1989 to 1995, and hosted The O'Reilly Factor on Fox News from 1996 until 2007. O'Reilly was fired after years of allegations of sexual harassment from several women, including Fox employees, which he and his network had spent $13 million to settle.
On his show, O'Reilly invited his viewers into "the no-spin zone", describing himself as an independent. "I understand working-class Americans" is one of O'Reilly's recurring lines. "I'm as lower-middle-class as they come". His father, he says, "never earned more than $35,000 a year in his life." While the O'Reillys were not rich, the father was an oil company executive, and $35k then, adjusted for inflation, is $100k now. The O'Reilly children went to private schools, and O'Reilly's father put him through college.
"I'll tell you what. I've been in combat. I've seen it, I've been close to it... and if my unit is danger, and I've got a captured guy, and the guy knows where the enemy is, and I'm looking him in the eye, the guy better tell me. That's all I'm gonna tell you. The guy better tell me. If it's life or death, he's going first." Speaking metaphorically, of course -- O'Reilly was never in the military.
In Al Franken's book Lies and the Lying Liars Who Tell Them: A Fair and Balanced Look at the Right, several of O'Reilly's prominent lies are debunked. O'Reilly responded by pressuring Fox News to sue Franken and Franken's publisher -- not over the book's repeated assertion that O'Reilly had repeatedly lied, but over the book's title. The lawsuit alleged that the term "fair and balanced" was a registered trademark of Fox News, and thus Franken should be barred from using it. The court found the claim "wholly without merit."
In 2003, in the lead-up to America's war against Iraq, O'Reilly said, "If the Americans go in and overthrow Saddam Hussein and it's clean, he has nothing, I will apologize to the nation, and I will not trust the Bush Administration again, all right? But I'm giving my government the benefit of the doubt." When no weapons of mass destruction were found, O'Reilly finally apologized in 2004, in an interview on ABC's Good Morning America. "I was wrong. I'm not pleased about it at all. And I think all Americans should be concerned about this... I am much more skeptical of the Bush administration now than I was at that time. Absolutely."
In 2004, O'Reilly was sued by a former associate producer of his show, Andrea Mackris, for sexual harassment. He denied her claims, and described Mackris' lawsuit as "the single most evil thing I have ever experienced, and I've seen a lot." He countersued for extortion, and took a public stance of no compromise. "My career could be ruined... and I'm very well aware of that." Mackris' complaint, however, included such detailed descriptions of O'Reilly's allegedly sexually provocative phone calls, many observers suspected she may have tape-recorded the conversations. And two weeks after she filed her complaint, O'Reilly settled. "It's over, and I'm happy", said Mackris. "I can't say anything else, but I do appreciate everybody." There was no admission of wrongdoing, and the cash settlement was kept quiet as part of the agreement, but the Washington Post had reported a week earlier that Mackris had turned down offers as high as $2 million, so the final figure was presumably higher than that. The settlement also included a stipulation that Mackris would destroy any tapes of O'Reilly's alleged phone calls "if such tapes exist."
---
[1] Claims that he was born in Levittown are false. O'Reilly went so far as to produce a photostat of the deed to his family's house, which does say Levittown. But it dates to 26 February 1951, over one year after the date of O'Reilly's birth. The family still owns the house, which during O'Reilly's childhood was situated in the town of Westbury, and is in the present-day hamlet of Salisbury, a US Census Designated Place.

[2] Registered as a Republican until 2001. He had claimed to be an independent, until the New York Daily News determined from voting registration records that he was not. After this, O'Reilly re-registered without party affiliation.

Father: William J. O'Reilly (oil company accountant, d. 1985)
Mother: Winifred Angela O'Reilly (physical therapist)
Sister: Janet
Wife: Maureen E. McPhilmy (public relations executive, m. Nov-1996, 2 children)
Daughter: Madeline (b. 1999)
Son: Spencer (b. 2003)


High School: Chaminade High School, Mineola, NY (1967)
University: BA History, Marist College, Poughkeepsie, NY (1971)
Teacher: Monsignor Edward Pace High School, Opa Locka, FL
University: University of London
University: MA Journalism, Boston University (1975)
University: MA, Harvard University


Carvel
Endorsement of Bose Corporation
Endorsement of General Motors Cadillac
Endorsement of LegalZoom (2008)
Endorsement of TaxMasters
Sexual Harassment alleged in lawsuit filed 14-Oct-2004 by Andrea Mackris, settled 28-Oct-2004
The Miami Herald
The Boston Phoenix
Draft Deferment: Vietnam
Dubya Nickname Factor, Big O
Irish Ancestry


TELEVISION
The O'Reilly Factor Host (1996-2007)
Inside Edition Senior Correspondent (1988-95)
The Pulse Commentator
Fox News Channel


FILMOGRAPHY AS ACTOR
Hail Satan? (25-Jan-2019) · Himself
Fahrenheit 11/9 (6-Sep-2018) · Himself
Before the Flood (9-Sep-2016) · Himself
Last Ounce of Courage (11-Sep-2012) · Himself
Transformers: Dark of the Moon (23-Jun-2011)
An American Carol (3-Oct-2008) · Himself
TV Junkie (3-Aug-2006) · Himself
WMD: Weapons of Mass Deception (17-Jun-2004) · Himself


Official Website:
http://www.billoreilly.com/

Rotten Library Page:
Bill O'Reilly




Requires Flash 7+ and Javascript.



Do you know something we don't?
Submit a correction or make a comment about this profile






Copyright ©2019 Soylent Communications