Raymond E. Feist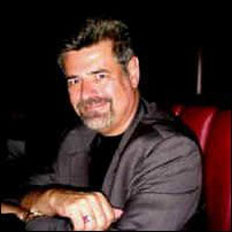 AKA Raymond Elias Feist
Born: 23-Dec-1945 [1]
Birthplace: Los Angeles, CA

Gender: Male
Race or Ethnicity: White
Sexual orientation: Straight
Occupation: Novelist
Nationality: United States
Executive summary: Riftwar Saga
Best selling fantasy author Raymond Feist credits the creation of Midkemia (the imaginary setting for most of his novels) to his involvement, 30 years ago, in Dungeons and Dragons type role-playing games. It was back then that Feist and his U.C. San Diego grad school buddies, decided to forego the standard D&D gaming books and create their very own imaginary world, based on their collective knowledge of the fantasy genre and of medieval history. The resultant world of political intrigues, magic, and strange gods was dubbed "Midkemia". Eventually, for his own entertainment and that of his friends, Feist began to pen its history, explaining how Greater Path Magic came to Midkemia. Little did he realize this would ultimately lead to a long series of Midkemian sagas -- including the Riftwar Saga, the Empire Trilogy (co-authored with Janny Wurts), the Serpent War saga, the Midkemia series, and of course the Riftwar Legacy series -- the latter of which was inspired by the tremendously successful Midkemian computer games Betrayal at Krondor and Return to Krondor.
Born in Southern California, Raymond Feist had grown up in a home that encouraged childhood imagination (important, given the "no day dreaming" attitude enforced upon him in school) and that tolerated his taste for adventure novels. He devoured such classics as The Three Musketeers, Captain Blood, Prisoner of Zenda, and Ivanhoe. The works of Robert Louis Stevenson (Kidnapped, Treasure Island, et al.) would eventually prove to be a major influence on his writing.
It wasn't until he graduated from the University of California at San Diego in 1977 that he began writing short stories about Midkemia, stories that eventually led him to write his first novel, Magician. By 1980 the book had been picked up by Doubleday -- proving to be a lucky break for Feist, who was by then out of work and finding slim pickings in the health and human services field -- and in 1982 it was finally published. Although Feist recalls that, at this time, he viewed writing as something to pay the rent until a "real" job came along, he eventually conceded that writing was the real job, to the pleasure of Midkemia fans around the globe. Each novel has become an international bestseller, with more than 15 million copies of his books sold worldwide.
---
[1] Richard Bleiler, Supernatural Fiction Writers: Peter Ackroyd to Graham Joyce (2003), page 355. While this is the only printed source containing Feist's full date of birth, it claims that he was born in San Diego. This is in variance with all other sources, which indicate Los Angeles.

Wife: Kathlyn Starbuck ("Kathy", novelist, div. 2000, one daughter, one son)
Daughter: Jessica
Son: James


University: BA Communication Arts, UC San Diego


Official Website:
http://www.crydee.com/

Author of books:
Magician: Apprentice (1982, novel)
Magician: Master (1982, novel)
Silverthorn (1985)
A Darkness at Sethanon (1986, novel)
Daughter of the Empire (1987, novel, with Jennifer Wurts)
Faerie Tale (1988, novel)
Prince of the Blood (1989)
Servant of the Empire (1990, novel, with Jennifer Wurts)
The King's Buccaneer (1992, novel)
Mistress of the Empire (1992, novel, with Jennifer Wurts)
Shadow of a Dark Queen (1995)
Rise of a Merchant Prince (1996)
Rage of a Demon King (1998)
Krondor, The Betrayal (1999)
Shards of a Broken Crown (1999)
Krondor, Tear of the Gods (2002)
Krondor, The Assassins (2002)
Talon of the Silverhawk (2003)
King of Foxes (2004)





Requires Flash 7+ and Javascript.



Do you know something we don't?
Submit a correction or make a comment about this profile






Copyright ©2019 Soylent Communications