Lloyd Bentsen, Jr.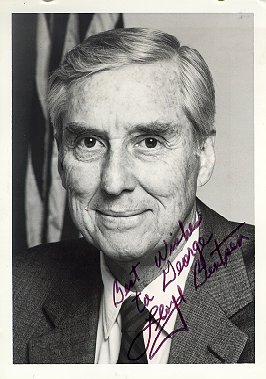 AKA Lloyd Millard Bentsen, Jr.
Born: 11-Feb-1921
Birthplace: Mission, TX
Died: 23-May-2006
Location of death: Houston, TX
Cause of death: unspecified
Remains: Buried, Forest Park Cemetery, Houston, TX

Gender: Male
Religion: Presbyterian
Race or Ethnicity: White
Sexual orientation: Straight
Occupation: Politician
Party Affiliation: Democratic
Nationality: United States
Executive summary: US Senator, Treasury Secretary
Military service: US Army Air Corps (1942-45, Major)
Lloyd Bentsen Jr. was fresh out of law school when he joined the Army in 1942. After WWII, he went into private practice as a lawyer, and became a county judge the next year. Yup, with one year of legal experience, he was a sitting judge at 25. Welcome to Texas.
Two years later, in 1948, Bentsen ran for Congress, and won. He was re-elected twice, then left Congress to run a financial holding company, and got rich. In 1970 he ran for Senate, and won, an office he held until 1993. He was a proponent of the North American Free Trade Agreement (NAFTA) and backed forming the World Trade Organization (WTO).
In 1988 he ran for re-election to the Senate while simultaneously running for Vice President on Michael Dukakis's ticket. In that Presidential campaign, 67-year-old Bentsen memorably demolished 41-year-old Dan Quayle in a televised debate, when the boyish Quayle was asked whether he was up to running the country, should anything happen to a presumed President George H.W. Bush.
| | |
| --- | --- |
| QUAYLE: | I have far more experience than many others that sought the office of vice president of this country. I have as much experience in the Congress as Jack Kennedy did when he sought the presidency. I will be prepared to deal with the people in the Bush administration, if that unfortunate event would ever occur. |
| JUDY WOODRUFF: | Senator Bentsen? |
| BENTSEN: | Senator, I served with Jack Kennedy. I knew Jack Kennedy. Jack Kennedy was a friend of mine. Senator, you're no Jack Kennedy. |
In 1993 and 1994, Bentsen was Secretary of the Treasury, which means his signature is on U.S. paper currency printed during that time. In 2000, PBS aired a 10-part miniseries called The American President, and Bentsen provided the voice for William Henry Harrison, who died of pneumonia less than a month after taking office as America's 9th President.

Father: Lloyd M. Bentsen, Sr.
Mother: Edna Ruth Colbath
Brother: Donald Bentsen Sr. (businessman, d. 7-Sep-2006 stroke/brain tumor)
Brother: Kenneth Bentsen
Sister: Betty Bentsen
Wife: Beryl Ann Longino (m. 27-Nov-1943, two sons, one daughter)
Son: Lloyd M. Bentsen III
Son: Lan Bentsen (real estate millionaire)
Daughter: Tina Bentsen Smith


High School: Sharyland High School, Mission, TX
Law School: JD, University of Texas at Austin (1942)


US Secretary of the Treasury (1993-94)
US Senator, Texas (1971-93)
US Congressman, Texas 15th (4-Dec-1948 to 3-Jan-1955)
Texas State Official County Judge, Hidalgo County, TX (1946-48)
Alfalfa Club President (1989-90)
Alfalfa Club 1974
American Legion
Benevolent & Protective Order of the Elks
Coalition for a Democratic Majority Advisory Board
Freemasonry
Friends of Hillary
Shriners
State Bar of Texas
Veterans of Foreign Wars
Sigma Nu Fraternity
Verner, Liipfert, Bernhard, McPherson and Hand (1995-)
Eagle Scout 1938
Distinguished Eagle Scout Award
Distinguished Flying Cross
Air Medal with three oak leaf clusters
Alfalfa Party candidate for US President
Presidential Medal of Freedom 11-Aug-1999
Stroke 1998:(two)





Requires Flash 7+ and Javascript.



Do you know something we don't?
Submit a correction or make a comment about this profile






Copyright ©2019 Soylent Communications