Fulton J. Sheen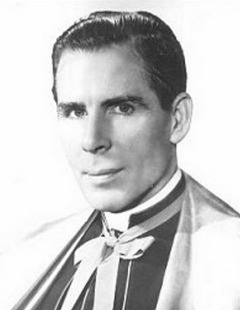 AKA Peter John Sheen
Born: 8-May-1895
Birthplace: El Paso, IL
Died: 9-Dec-1979
Location of death: New York City
Cause of death: Heart Failure
Remains: Buried, Holy Sepulchre Cemetery, Rochester, NY

Gender: Male
Religion: Roman Catholic
Race or Ethnicity: White
Occupation: Religion
Nationality: United States
Executive summary: America's first televangelist
Born Peter John Sheen, he preferred to be called Fulton, his mother's maiden name. Ordained at the age of 24, Sheen taught for decades at Catholic University, but he was much better known for his radio and television ministries, his celebrity conversions, and his dozens of inspirational books.
From 1930 to 1952, Sheen's weekly radio program The Catholic Hour was remarkably popular, reaching four million listeners on 130+ stations at its peak. From 1951-57 he preached on prime time TV on the DuMont Network's Life Is Worth Living. The weekly telecast originated from Manhattan's Adelphi Theater, always beginning with a one-minute commercial for Admiral televisions, followed by Sheen in cassock, cape and cap delivering an uninterrupted sermon until the end of the show. Scheduled opposite Milton Berle's Texaco Star Theater, Sheen's sermons made a serious dent in Berle's ratings. The New York Archdiocese, which handled ticketing for the program, made a practice of turning down requests from girls, to avoid the sound of frenzied squealing from the crowd. When Sheen won an Emmy in 1953 as TV's "Most Outstanding Personality", he thanked his writers Matthew, Mark, Luke, and John in his acceptance speech. Known for his celebrity conversions and quick wit, he once said "Hearing nuns' confessions is like being stoned to death with popcorn."
Sheen argued passionately against Communism, racism, and banning prayer in public schools, and supported corporal punishment and Francisco Franco's fascist insurgency in Spain. When his fame and outspoken statements against the Vietnam war were seen as challenging the church hierarchy, Cardinal Francis Spellman "exiled" Sheen, making him Bishop of Rochester, New York. At Rochester, though, Sheen raised further hackles by repeatedly criticizing the city's largest employer, Kodak, for racist hiring practices. In his long career he collected millions of dollars in donations, established the Sheen Ecumenical Housing Foundation, and supported numerous Catholic charities, while keeping enough for himself to live a "champagne lifestyle" in his majestic Washington DC home. He died of heart failure in 1979, and was reportedly found in a kneeling position in his own private chapel.
In 2002, the Congregation for the Causes of Saints named Sheen a Servant of God, a precursor to consideration for canonization. His radio and television sermons are still heard regularly on Christian cable and radio stations. He was the inspiration for actor Ramón Estevez's stage name, Martin Sheen, and his uncle, Daniel Sheen, was the law partner of Robert G. Ingersoll.
Father: Newton Morris Sheen (farmer, b. 1863, d. 1944)
Mother: Delta Fulton Sheen (b. 1864, m. 3-Aug-1893, d. 1943)
Brother: Joseph Sheen (b. 2-Oct-1898, d. 5-Jul-1955)
Brother: Thomas Newton Sheen (physician, b. 26-Jan-1902)
Brother: Aloysius Bernard Sheen ("Al", b. 2-Jun-1908, d. 13-Nov-1978)

High School: Spalding Institute, Peoria, IL
University: St. Viator College
Theological: St. Paul's Seminary
Theological: BA Theology, Catholic University of America (1920)
University: PhD Philosophy, University of Louvain (1923)
Scholar: Sorbonne (1923-24)
Scholar: Angelicum University (1924)
Teacher: Theology, St. Edmund's College (1924-26)
Teacher: Catholic University of America (1926-50)

Life Is Worth Living (1951-57)
The Catholic Hour (1930-52)
Ordained 1919
Emmy 1953 for Most Outstanding Personality
Irish Ancestry
Risk Factors: Tuberculosis

Official Website:
http://www.bishopsheen.com/
Appears on the cover of:
Time, 14-Apr-1952, DETAILS: "Microphone Missionary"

Author of books:
God and Intelligence in Modern Philosophy (1925)
Religion Without God (1928)
The Life of All Living (1929)
The Divine Romance (1930)
Old Errors and New Labels (1931)
Moods and Truths (1932)
The Way of the Cross (1932)
Hymn of the Conquered (1933)
Seven Last Words (1933)
The Eternal Galilean (1934)
Philosophy of Science (1934)
The Mystical Body of Christ (1935)
Calvary and the Mass (1936)
The Moral Universe (1936)
The Cross and the Beatitudes: Lessons on Love and Forgiveness (1937)
The Cross and the Crisis (1938)
Liberty, Equality and Fraternity (1938)
The Rainbow of Sorrow (1938)
Victory over Vice (1939)
The Seven Virtues (1940)
Whence Come Wars (1940)
A Declaration of Dependence (1941)
For God and Country (1941)
God and War and Peace (1942)
The Armor of God (1943)
The Divine Verdict (1943)
Philosophies at War (1943)
Love One Another (1944)
Seven Pillars of Peace (1944)
Seven Words to the Cross (1944)
Seven Words of Jesus and Mary (1945)
Characters of the Passion (1946)
Preface to Religion (1946)
Jesus, Son of Mary (1947)
Communism and the Conscience of the West (1948)
Philosophy of Religion (1948)
Peace of Soul (1949)
Lift Up Your Heart (1950)
Three to Get Married, (1951)
The World's First Love (1952)
Life Is Worth Living (1953, five volumes)
The Life of Christ (1954)
The Way to Happiness (1954)
The Way to Inner Peace (1954)
God Loves You (1955)
Thinking Life Through (1955)
Thoughts for Daily Living (1955)
This Is the Mass (1958)
Go to Heaven (1960)
This Is Rome (1960)
This Is the Holy Land (1961)
These Are the Sacraments (1962)
The Priest is Not His Own (1963)
Missions and the World Crisis (1964)
The Power of Love (1965)
Walk with God (1965)
Footprints in a Darkened Forest (1966)
Christmas Inspirations (1966)
Guide to Contentment (1967)
Easter Inspirations (1967)
Those Mysterious Priests (1974)
Treasure in Clay (1980, autobiography, posthumous)
The Quotable Fulton Sheen (1989, posthumous)
From the Angel's Blackboard: The Best of Fulton J. Sheen (1996, posthumous)
Simple Truths: Thinking Life Through With Fulton J. Sheen (1998, posthumous)
Your Life Is Worth Living: The Christian Philosophy of Life (2001, posthumous)

Do you know something we don't?
Submit a correction or make a comment about this profile

Copyright ©2019 Soylent Communications