Eleanor Roosevelt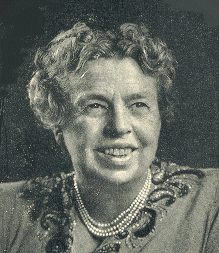 AKA Anna Eleanor Roosevelt
Born: 11-Oct-1884
Birthplace: Manhattan, NY [1]
Died: 7-Nov-1962
Location of death: New York City
Cause of death: Tuberculosis
Remains: Buried, Franklin D. Roosevelt National Historic Site, Hyde Park, NY

Gender: Female
Race or Ethnicity: White
Sexual orientation: Bisexual
Occupation: First Lady, Activist
Party Affiliation: Democratic
Nationality: United States
Executive summary: First Lady under FDR
Eleanor Roosevelt is best known as a former First Lady of the United States and wife of 32nd President of the United States Franklin D. Roosevelt. Roosevelt holds the distinction of being both the longest serving and one of the most active First Ladies. She was a renowned social and political activist, journalist, educator, and diplomat. Throughout her time as First Lady, and for the remainder of her life, she was a high profile supporter of the Civil Rights Movement, of equal rights for women, and of social reforms to uplift the poor. In addition, Roosevelt helped found the United Nations, the United Nations Association, and the Freedom House. She served as U.S. Ambassador to the United Nations under both the Truman and Kennedy administrations. She also served as head of the United Nations Human Rights Commission, helping to draft the UN's Universal Declaration of Human Rights.
Anna Eleanor Roosevelt was born in 1884 in New York City, to Anna and Elliot Roosevelt. Both came from prestigious New York families, with Elliot the younger brother of Theodore Roosevelt. Despite such auspicious ancestry, Eleanor's early years were marred by painful challenges. Anna Roosevelt, renowned as a great beauty, was intensely critical of Eleanor's plain looks. In 1892, Anna died of diphtheria, and Eleanor was sent to live with her cold, autocratic maternal grandmother. Her father meanwhile was a serious alcoholic and had been exiled from the family and finally institutionalized. Despite the separation, Eleanor remained quite fond of him. Elliot in turn wrote to her frequently, and even made occasional visit. But in 1894 he attempted suicide by defenestration. He initially survived the fall, but died shortly after during a seizure.
Eleanor was initially educated by private tutors, and in 1889, at the age of 15, she was sent to England to attend Allenswood Academy. Here she was taken under the wing of headmistress Marie Souvestre who encouraged her to express her own character and opinions. Souvestre also served as a model to Eleanor of a fiercely intelligent, independent woman sensitive to social causes, introducing Eleanor to various charitable causes and socialist endeavors. In 1902 Eleanor was ordered to drop her studies and return to New York to make her social debut. It was there that she caught the eye of handsome Franklin Delano Roosevelt. Franklin was her fifth cousin, once removed, and like Eleanor was descended from Claes Martenszen van Rosenvelt, a Dutch immigrant who had settled in Manhattan in the 1640s, when it was still the property of the Dutch West India Company. Eleanor's branch of the family was descended from Rosenvelt's grandson Johannes, while Franklin's came from another grandson, Jacobus.
On 17 March 1905, Franklin and Eleanor married. Eleanor's favorite uncle, President Theodore Roosevelt, gave away the bride. In the few years between Eleanor's return to New York and her marriage to Franklin, she had enjoyed a period of relative fulfillment through teaching and performing social work. But after the marriage her life was completely overtaken by Franklin and motherhood. She gave birth to her first child, Anna, on 3 May 1906. Within an eleven year period she bore Franklin six children, one girl and five boys, with one son dying in infancy. As she put it, "For 10 years, I was always just getting over having a baby or about to have another one, so my occupations were considerably restricted." Meanwhile, with Franklin active in politics she increasingly played the role of society hostess, especially after his appointment, in 1910, to the U.S. Senate. As if this weren't enough, she felt dominated by Franklin's possessive mother, Sara Delano Roosevelt, who had financed the couple's home and who directed Eleanor's efforts with the children.
But in 1918 Eleanor made a discovery that would change her life forever -- love letters in Franklin's luggage revealed an affair between Franklin and Eleanor's social secretary, Lucy Mercer. A devastated Eleanor demanded a divorce. But Franklin's mother intervened, threatening Eleanor with the prospect of raising the couple's five children on her own resources. The resulting truce determined that the couple would preserve the fašade of the marriage, but that Eleanor would have her own separate household, with sufficient funds to see to all her needs and to provide for a staff and for humanitarian work as well. Although she would outwardly perform as Franklin's wife at social functions, they would no longer have sexual relations.
Despite the unusual circumstances the couple's relationship flourished on new ground, as friends and political partners, with Eleanor providing tireless support when Franklin was later stricken with polio. In fact, Franklin's new limitations prompted Eleanor to take a more active role in politics as well, ostensibly to assist his interests. But she was also able to further her own agenda. She worked to abolish child labor and establish a minimum wage law. She founded her own non-profit furniture factory, Val-Kill Industries, to create jobs for the poor. And she also became a strong proponent of women's issues, working with the Women's Trade Union League and the League of Women Voters, and even quietly supporting the work of birth control advocates like Margaret Sanger.
In 1933, despite his infirmity, Franklin Delano Roosevelt became the 32nd President of the United States. Eleanor subsumed the duties of First Lady, taking a far more politically active role than any first lady before. She gave press conferences, lectures, and radio broadcasts, and she even had her own column ("My Day"). Because of Franklin's limited mobility, she traveled extensively, representing the President in various capacities, including meeting with foreign dignitaries and visiting U.S. troops. In addition, her social and political sympathies fueled her increasing involvement in civil rights and labor issues, as well as the plight of the poor and of women.
But although the Roosevelts were an exceptional team, working together on a number of important issues (such as social reforms and relief efforts during the Great Depression), they had their notable disagreements as well. Eleanor strongly opposed Franklin's decision to place Japanese-Americans in US concentration camps during World War II. And while his wife was quite notoriously public in her support of the Civil Rights Movement, Franklin was forced to remain publicly aloof to such issues so as not to alienate southern politicians, whose support he desperately needed to push through other reforms.
In her role as First Lady, Eleanor was able to restrict attendance of many press conferences to female reporters, a move that helped increase journalism jobs for women at a number of major news organizations. Allegedly the idea for this move came from Associated Press reporter Lorena Hickock, whom Eleanor had befriended after a series of private interviews. As a White House insider, Lorena was able to offer a great deal of practical advice and she was highly supportive of Eleanor's feminist goals. Eventually Lorena had to leave her position as White House correspondent due to a conflict of interest, but the two remained close friends, exchanging frequent letters. Although the bulk of the letters were destroyed, they made public show of extreme affection and even kisses and caressing. More tantalizing still, all the letters from the first three years of their relationship, when it was purportedly at its most intense, were burned. Thus the debate over whether the pair had a sexual relationship continues unresolved.
Meanwhile, Eleanor's term as First Lady ran three full terms, and the beginning of a fourth. On 12 April 1945 Franklin collapsed and died shortly after. Eleanor told reporters, "The story is over", apparently believing that with Franklin's passing her own role, later described by Harry S. Truman as "First Lady to the World", had ended. On the contrary, later that year she was appointed as a U.S. delegate to the United Nations by President Harry Truman. From 1946 to 1951 she chaired the United Nations Commission on Human Rights, helping in 1948 to draft and pass the U.N. Universal Declaration of Human Rights. Although she resigned as a U.S. delegate in 1952, Eleanor was reappointed by President Kennedy, and made chair of the President's Commission on the Status of Women as well as a member of the National Advisory Committee of the Peace Corps.
In addition she continued to be an active player in Democratic Party politics, campaigning on behalf of Adlai Stevenson in the presidential campaigns of 1952 and 1956, and again at the 1960 Democratic convention. She continued to champion other causes, including the Civil Rights Movement, until her death from tuberculosis on 7 November 1962. Her remains reside alongside her husband's in the rose garden of their Hyde Park estate.
---
[1] 56 West 37th St, Manhattan, NY.

Father: Elliott Roosevelt (d. 1894 alcoholism)
Mother: Anna Hall Roosevelt (d. 1892 diptheria)
Husband: Franklin D. Roosevelt (m. 17-Mar-1905, d. 12-Apr-1945, one daughter, five sons)
Daughter: Anna Eleanor Roosevelt (b. 3-May-1906, d. 1-Dec-1975)
Son: James Roosevelt (US Congressman, b. 23-Dec-1907, d. 13-Aug-1991)
Son: Franklin Delano Roosevelt Jr. (1st, d. 1909 in infancy)
Son: Elliott Roosevelt (b. 23-Sept-1910, m. Faye Emerson, d. 27-Oct-1990)
Son: Franklin D. Roosevelt, Jr. (US Congressman, b. 17-Aug-1914, d. 17-Aug-1988)
Son: John Aspinwall Roosevelt (b. 13-Mar-1916, d. 27-Apr-1981)


High School: Allenswood School, England
Teacher: Todhunter School


Americans for Democratic Action
American Friends Service Committee
Daughters of the American Revolution resigned 1939
Fraternal Order of Eagles Ladies Auxiliary (19-Aug-1951)
Freedom House Cofounder
League of Women Voters 1920
NAACP 1946-
Alpha Kappa Alpha Sorority honorary
Hemorrhoid Operation
National Women's Hall of Fame
Dutch Ancestry
Roosevelt Family by birth and marriage
Risk Factors: Tonsillitis, Hemorrhoids


Is the subject of books:
Eleanor Roosevelt 1884-1933, March 1993, BY: Blanche Wiesen Cook, DETAILS: (Part 1 of 2)


Author of books:
It's Up to the Women (1933)
This Is My Story (1937, memoir)
This Troubled World (1938, nonfiction)
The Moral Basis of Democracy (1940, nonfiction)
If You Ask Me (1946)
This I Remember (1949, memoir)
India and the Awakening East (1953, nonfiction)
On My Own (1958, memoir)
You Learn by Living (1960)
The Autobiography of Eleanor Roosevelt (1961, memoir)
Tomorrow is Now (1963)


Appears on postage stamps:
USA, Scott #1236, details: Issued 1962





Requires Flash 7+ and Javascript.



Do you know something we don't?
Submit a correction or make a comment about this profile






Copyright ©2019 Soylent Communications