R. A. Salvatore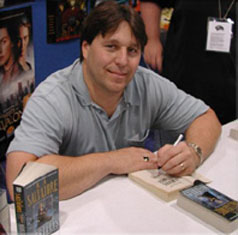 AKA Robert Anthony Salvatore
Born: 20-Jan-1959
Birthplace: Leominster, MA

Gender: Male
Race or Ethnicity: White
Sexual orientation: Straight
Occupation: Author
Nationality: United States
Executive summary: Created the dark elf Drizzt
R.A. Salvatore is known for his D&D style fantasy novels, such as the Demon Stone series and the immensely popular dark elf novels featuring Drizzt Do'Urden, as well as a growing number of best-selling books set in the universe of George Lucas' Star Wars. The author of more than forty novels, Salvatore has seen over three million copies of his work sold, with many translated into different languages and even audio versions. A long time gamer himself, Salvatore has taken a hand in translating his fantasy creations into video role-playing games such as Atari's "Demon Stone". Additionally, as member of Seven Swords, the company he co-created with a group of long time gaming buddies, he helped author the Forgotten Realms game module The Accursed Tower.
Born in Leominster, Massachusetts in 1959, Robert Anthony Salvatore began his love affair with the fantasy genre when he received a copy of J. R. R. Tolkien's The Lord of the Rings as a Christmas gift. Then a sophomore at Fitchburg State College, he quickly changed his major from computer science to journalism. In 1981 he graduated with a B.S. in Communications, then re-enrolled to earn a B.A. in English. His first serious efforts as a novelist began in 1982 with the undertaking of Echoes of the Fourth Magic (1990).
His first publication was The Crystal Shard (1988). Later works included the bestsellers The Halfling's Gem, Sojourn, and The Legacy. His success was such that by 1990 he was able to devote himself full-time to writing. In 2000, having begun a collaboration with George Lucas et al., he published his first Star Wars novel, Vector Prime. Although the book sold to great success, some fans were so outraged by the novel's killing off of the Chewbacca character that they sent Salvatore death threats (although this plot twist, like many others, had been dictated to Salvatore by the staff at Skywalker Ranch). Salvatore published Star Wars: Episode II, Attack of the Clones, the novelization of that film, in April 2002.
When not writing or gaming, he speaks at high schools and library groups, encouraging people, especially children, to read. In the fall of 1997, Bob Salvatore's manuscripts, letters, and various professional papers were donated to his alma mater, Fitchburg State College, to form the nucleus of the R.A. Salvatore Library.
Brother: Gary (d.)
Wife: Diane
Son: Bryan
Son: Geno
Daughter: Caitlin

University: BS Communications, BA English, Fitchburg State College (1981)

Official Website:
http://www.rasalvatore.com/
Author of books:
The Demon Awakens (1997)
The Demon Spirit (1998)
The Demon Apostle (1999)
The Woods Out Back (1993)
The Dragon's Dagger (1994)
Dragonslayer's Return (1995)
Homeland (1990)
Exile (1990)
Sojourn (1991)
The Sword of Bedwyr (1995)
Luthien's Gamble (1996)
The Dragon King (1996)
Echoes of the Fourth Magic (1990)
The Witch's Daughter (1991)
Bastion of Darkness (2000)

Do you know something we don't?
Submit a correction or make a comment about this profile

Copyright ©2019 Soylent Communications