Paul Broun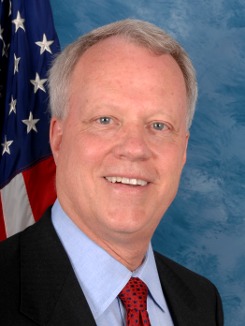 AKA Paul Collins Broun, Jr.
Born: 14-May-1946
Birthplace: Atlanta, GA

Gender: Male
Religion: Baptist
Race or Ethnicity: White
Sexual orientation: Straight
Occupation: Politician
Party Affiliation: Republican
Nationality: United States
Executive summary: Congressman, Georgia 10th District
Military service: USMC Reserves (1964-67), US Navy (1967-72), Georgia Air Nat'l Guard (1972-73)
Won a special election on 17 July 2007 to replace deceased Congressman Charlie Norwood. In November 2008 he compared then President-Elect Barack Obama to Adolf Hitler, and he has bragged that he was the first member of Congress to label Obama "a socialist who embraces Marxist-Leninist policies." In August 2009 he said at a town hall meeting that Obama, House Speaker Nancy Pelosi and Senator Harry Reid are plotting martial law for America.
"God's word is true. I've come to understand that. All that stuff I was taught about evolution and embryology and Big Bang theory, all that is lies straight from the pit of hell. And it's lies to try to keep me and all the folks who are taught that from understanding that they need a savior."
Broun is a member of the House Committee on Science, Space and Technology.

Father: Paul Collins Broun (Georgia state legislator, b. 1-Mar-1916, d. 14-Feb-2005)
Mother: Gertrude Margaret Beasley (b. circa 1916, m. 16-Jun-1938)
Mother: Elizabeth Leuthold Shearron Broun (stepmother)
Brother: Conway Broun (real estate developer)
Brother: Michael Broun (real estate agent)
Wife: Niki Bronson (interpreter, two daughters, one son)
Daughter: Carly Broun
Daughter: Lucy Broun
Son: Matthew Collins Broun


High School: Athens High School, Athens, GA (1963)
University: BS Chemistry, University of Georgia (1967)
Medical School: MD, Medical College of Georgia, Augusta, GA (1971)


US Congressman, Georgia (17-Jul-2007 to present)
American Academy of Family Physicians
Gun Owners of America
National Rifle Association
Rotary International Athens, GA
Safari Club International
Trout Unlimited
Evolution Skeptics (Sep-2012)
Global Warming Skeptics


Official Website:
http://www.paulbroun.com/




Requires Flash 7+ and Javascript.



Do you know something we don't?
Submit a correction or make a comment about this profile






Copyright ©2019 Soylent Communications