Sarah Michelle Gellar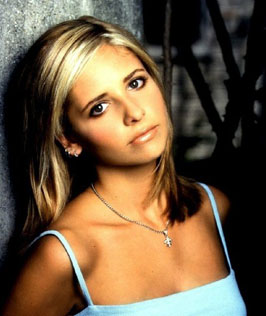 Born: 14-Apr-1977
Birthplace: New York City

Gender: Female
Religion: Jewish [1]
Race or Ethnicity: White
Sexual orientation: Straight
Occupation: Actor
Nationality: United States
Executive summary: Buffy the Vampire Slayer
Sarah Michelle Gellar was "discovered" at age 4, while attending (not competing in) a talent show with her mother. She was soon appearing in commercials for Burger King, including some of the first American ads to directly name and criticize a competitor. The pitch was that McDonald's burgers were 20% smaller than Burger King's burgers, and the first commercial had Ms. Gellar saying, "Do I look 20% smaller to you?" The dim bulbs at McDonald's were so incensed they sued Burger King and the advertising agency -- and Gellar, the 4-year-old kid in the commercials. She also read the scripted line, "I only eat at Burger King", which, upon cross-examination, was revealed to be untrue. (Not many people only eat at Burger King.) The lawsuit was settled in 1982, when Gellar was 5.
Her parents divorced when Gellar was seven, amid whispers that her father couldn't stand that his daughter was earning more than he -- lots more. After the divorce, young Gellar was raised by her mother in the upper-east side of New York City, and Gellar and her father were very, very distant. As an adult, she refused any contact with him, and they remained estranged until his death in 2001. Growing up, Gellar made more than a hundred TV commercials, and accumulated several movie and off-Broadway stage credits. At 14, she got good notices playing a young Jacqueline Kennedy Onassis in a 1991 mini-series. At 15, she was in the huge ensemble cast for a quickly-canceled teen soap opera called Swans Crossing.
From 1993 to 1995, Gellar played the spawn of Erika Kane (Susan Lucci)'s rape on All My Children. Though only 16 when she was hired, her character was 23, and had many affairs and was married twice before Gellar finished high school. Gellar won Emmys in 1994 and 1995, for Outstanding Younger Actress in a Daytime Drama. After leaving All My Children, Gellar moved to Los Angeles and was unemployed for a long time. She auditioned several times for Buffy the Vampire Slayer before she got the part.
The series was based on a 1991 teen horror-comedy movie of the same name, about a high school built over a hellmouth; re-tooled by its original writer, Buffy playfully mocked the traditions of horror movies, with ongoing character development and plot twists that kept a small but loyal audience engrossed. One episode was performed sans dialogue (when demons stole everyone's voices) and another was a musical (when an unknown force compelled everyone in town to sing). Buffy was killed twice by demons, and once took her own life to save her sister, but like the vampires she killed and loved, Buffy refused to stay dead. After Buffy ended, Gellar annoyed some fans by declining to appear as Buffy in the next season's Angel, a spin-off. She also rejected offers to perform the voice of Buffy for an animated series (Buffy's voice was done by one Giselle Loren instead).
Gellar has also appeared in several movies, including Cruel Intentions, (an adolescent twist on Dangerous Liaisons) I Know What You Did Last Summer, The Grudge, and two Scooby-Doo movies, co-starring her husband Freddie Prinze, Jr.. In 2007, celebrating her fifth wedding anniversary, she announced that she wishes to be known as Sarah Michelle Prinze.
---
[1] While both parents are Jewish, it is not known if Gellar practices the religion at all. References are sparse, but see Nate Bloom, Jewish News Weekly of Northern California, 13 October 2006: "For some reason, Gellar has always acted as if somebody was torturing her when asked about her Jewish background. Oddly enough, both her parents are Jewish and her mother came from a religious family." Also, see Kent A. Ono, "To Be a Vampire on Buffy the Vampire Slayer: Race and ('Other') Socially Marginalizing Positions on Horror TV", in Fantasy Girls: Gender in the New Universe of Science Fiction and Fantasy Television (2000), page 181, where Ono stipulates that Gellar is Jewish (perhaps only by matrilineal descent) but does not provide a source or clarification. Various internet sites haphazardly assert her religion as Jewish, Atheist or Deist.

Father: Arthur Gellar (estranged, b. 1941, d. 9-Oct-2001)
Mother: Rosellen Gellar (day care worker)
Boyfriend: Jerry O'Connell (actor, dated 1998-99)
Boyfriend: Elliot Segal (New York disc jockey, dated in 1999)
Boyfriend: Jan-Michelle Gambill (tennis player, dated in 1999)
Husband: Freddie Prinze, Jr. (actor, dated 1999-2002, m. 1-Sep-2002, two children)
Daughter: Charlotte Grace Prinze (b. 19-Sep-2009)
Son: Rocky James Prinze (b. Sep-2012)


High School: Professional Children's School, New York City, NY (1995)


Endorsement of Burger King (1982)
Jewish Ancestry


TELEVISION
The Crazy Ones Sydney Roberts (2013-14)
Ringer Bridget Kelly (2011-12)
Buffy the Vampire Slayer Buffy (1997-2003)
All My Children Kendall Henry (1993-95)
Swans Crossing Sydney Orion Rutledge (1992)


FILMOGRAPHY AS ACTOR
Possession (16-Jul-2009)
Veronika Decides to Die (16-May-2009)
Suburban Girl (27-Apr-2007) · Brett Eisenberg
TMNT (22-Mar-2007) · April O'Neil [VOICE]
The Air I Breathe (8-Feb-2007) · Sorrow
Happily N'Ever After (5-Jan-2007) [VOICE]
The Return (10-Nov-2006)
The Grudge 2 (13-Oct-2006)
Southland Tales (21-May-2006) · Krysta Kapowski
The Grudge (22-Oct-2004) · Karen
Scooby Doo 2: Monsters Unleashed (20-Mar-2004) · Daphne
Mayor of the Sunset Strip (17-Jun-2003) · Herself
Scooby Doo (8-Jun-2002)
Harvard Man (10-May-2001)
Cruel Intentions (5-Mar-1999) · Kathryn Merteuil
Simply Irresistible (5-Feb-1999) · Amanda Shelton
Small Soldiers (10-Jul-1998) · Gwendy Doll [VOICE]
Beverly Hills Family Robinson (11-Apr-1998)
Scream 2 (12-Dec-1997)
I Know What You Did Last Summer (17-Oct-1997) · Helen Shivers
A Woman Named Jackie (13-Oct-1991)
High Stakes (17-Nov-1989)


Appears on the cover of:
Entertainment Weekly, 7-Mar-2003, DETAILS: Exclusive! Buffy Quits -- In her own words, Sarah Michelle Gellar reveals why she's saying goodbye (photo by James White)





Requires Flash 7+ and Javascript.



Do you know something we don't?
Submit a correction or make a comment about this profile






Copyright ©2019 Soylent Communications