Alan Dean Foster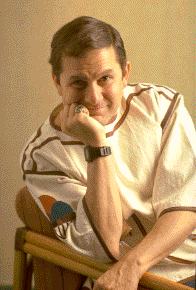 Born: 18-Nov-1946
Birthplace: New York City

Gender: Male
Race or Ethnicity: White
Sexual orientation: Straight
Occupation: Novelist
Nationality: United States
Executive summary: Author of many movie novelizations
Under the pen name "George Lucas", Alan Dean Foster wrote Star Wars. Under his own byline, he wrote Alien, Outland, Starman, and Dark Star, but in all these novels there's an additional line on the cover: "based on the screenplay by" someone else. As a writer, "novelizations" of movies provide a good paycheck for relatively easy work -- the story is already written, you just have to expand it to the length of a book, and Foster is good at it. He's also written dozens of books that weren't based on movies.
Foster attended UCLA, and sold his first short story while still a student there, a Lovecraftian letter that appeared in the bi-annual magazine The Arkham Collector. He earned a BA in political science and an MFA in cinema, and thought he was going to be a filmmaker. After graduating he worked as a copywriter at an ad agency.
His first novel, The Tar-Aiym Krang, was published in 1972, and has spawned a popular series of Pip and Flinx sequels. He's also written the Icerigger trilogy, the Spellsinger and 'The Damned' series, and several books about the Humanx Commonwealth. He's most closely associated with science fiction, but Foster has also written fantasy, horror, detective stories, westerns, and historical and contemporary fiction. He wrote the first novelization of a computer game, Shadowkeep, and novelized another game, The Dig. Foster says he admires the work of designing computer games, but he doesn't have time to play them.
Dark Star is a particular masterpiece of novelization, wherein Foster took a funny but absurd film and turned it into a funny but compelling and ultimately rewarding novel. "I approach any novelization as a full-scale collaboration with the original writer", he says, "just as if I was writing an original novel in tandem with someone else". He's done extensive work in the universes of Star Wars, Star Trek, Alien, and Dinotopia.
After Star Wars became a big hit, but before The Empire Strikes Back, Foster wrote Splinter in the Mind's Eye, an original novel featuring Star Wars characters. Splinter had a lot of romantic tension between Luke Skywalker and Princess Leia, and Foster was as surprised as anyone else when the second movie revealed they were brother and sister. He wrote Star Trek Log One through Log Ten, making the Saturday morning cartoon version of Star Trek into a series of literate short stories. He later wrote the original story that was expanded to Star Trek: The Motion Picture (and the story wasn't the movie's problem).
Foster has travelled to dozens of countries. He once spent a summer with the family of a Tahitian policeman. He's rappelled into New Mexico's Lechuguilla Cave, rafted the Zambezi's Batoka Gorge, and scuba dived all over the world. "Being stuck on one planet", Foster says, "I do the best I can here, and travel outward with my imagination".
Wife: JoAnn Oxley

University: BA Political Science, University of California at Los Angeles (1968)
University: MFA, University of California at Los Angeles (1969)

Official Website:
http://www.alandeanfoster.com/
Do you know something we don't?
Submit a correction or make a comment about this profile

Copyright ©2019 Soylent Communications