Mary Whitehouse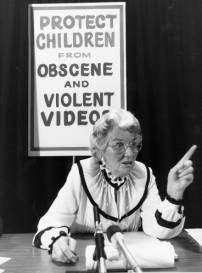 Born: 13-Jun-1910
Birthplace: Nuneaton, Warwickshire, England
Died: 23-Nov-2001
Location of death: Colchester, Essex, England [1]
Cause of death: unspecified

Gender: Female
Race or Ethnicity: White
Sexual orientation: Straight
Occupation: Activist
Nationality: England
Executive summary: British anti-pornography crusader
In response to the moral degradation she perceived as stemming from the British media, Mary Whitehouse founded the Clean Up TV campaign in 1964. In 1965 the organization was renamed the National Viewers' and Listeners' Association; in the early 1990s it became Mediawatch.
Arguing that a permissive society is bad for the moral health of a nation, the NVLA sought to excise any reference to sex or violence from the media. The organization's greatest mainstream success was their removal of Stanley Kubrick's A Clockwork Orange (1971) from theaters. It also waged a long battle against TV's Doctor Who. In the 1990s, the organization successfully campaigned for the creation of the Broadcasting Standards Commission, the British equivalent of the FCC.
Whitehouse proved an inventive foe for "alternative lifestyles" of every stripe, famously prosecuting the homosexual newspaper Gay News under the Blasphemy Act of 1697. The NVLA charged the paper with blasphemous libel after it published the poem "The Love That Dares Speak Its Name", which glorified a Roman centurion's ardor for a crucified Jesus Christ; Whitehouse argued that the poem was tantamount to buggering the almighty. When the verdict fell 10-2 in the NVLA's favor, Whitehouse eloquently stated: "I'm rejoicing because I saw the possibility of Our Lord being vilified. Now it's been shown that it won't be."
Whitehouse had an incredibly thin skin with regard to any reference to sex, violence, profanity, blasphemy, and so on; as such, she made herself an easy target of ridicule for her opponents. In 1989, BBC debuted The Mary Whitehouse Experience, a sketch comedy show which smirked at every aspect of Whitehouse's supercilious morality. Whitehouse sued unsuccessfully to get her name dropped from the title. Pink Floyd devoted a verse to her in the song "Pigs (Three Different Ones)", from the album Animals (1977):
Hey you, Whitehouse / Ha ha, charade you are
You house proud town mouse / Ha ha, charade you are
You're trying to keep our feelings off the street
You're nearly a real treat / All tight lips and cold feet
And do you feel abused?
You gotta stem the evil tide / And keep it all on the inside
Mary you're nearly a treat / But you're really a cry.
In 1980, musician William Bennett christened his ultra-offensive noise project Whitehouse in her honor.
---
[1] Abberton Manor Nursing Home, Colchester, Essex, England.

Husband: Ernest Whitehouse (sheet metal worker; m. 1940, d. Jul-2000, three sons)


Commander of the British Empire 1980


FILMOGRAPHY AS ACTOR
D. O. A. (12-Sep-1980) · Herself


Author of books:
Cleaning Up TV (1966, nonfiction)
Who Does She Think She Is? (1971, nonfiction)
Whatever Happened to Sex? (1977, nonfiction)
A Most Dangerous Woman (1982, nonfiction)
Mightier than the Sword (1985, nonfiction)
Quite Contrary (1994, autobiography)






Do you know something we don't?
Submit a correction or make a comment about this profile






Copyright ©2019 Soylent Communications