Zsa Zsa Gabor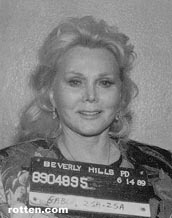 AKA Sari Gabor
Born: 6-Feb-1917
Birthplace: Budapest, Hungary
Died: 18-Dec-2016
Location of death: Los Angeles, CA
Cause of death: Heart Attack

Gender: Female
Religion: Roman Catholic [1]
Race or Ethnicity: White
Sexual orientation: Straight
Occupation: Actor
Nationality: United States
Executive summary: Cop-slapping Gabor sister
Long before there was Paris Hilton, there was her great-aunt, Zsa Zsa Gabor, and her sisters Eva and Magda. Gabor has been called the first celebrity to be famous solely for her celebrity. Like Hilton, she was gossip fodder before she had any accomplishments, at least by normal standards of accomplishment, and all aspects of her life have been covered in the tabloids.
Zsa Zsa Gabor was probably born in 1917, although the zaftig Gabor girls always did their best to muddle up the records (even their mother's reported date of birth varies by as much as five years). As a young girl, Gabor may have competed in the Miss Hungary contest, or maybe not. At different times different Gabor sisters have claimed to have won that pageant, or have been runners-up. In 1937, Gabor married a Turkish foreign affairs minister who was considerably older than she was. She has claimed that they never consummated their marriage. Upon their arrival in Turkey, she caught the eye of Kemal Ataturk, President of Turkey, and they enjoyed a romance that lasted several months.
In 1941, having newly arrived in the United States, Gabor divorced her first husband and met Conrad Hilton (not necessarily in that order). Hilton, of the hotel Hiltons, married Gabor in 1942, but soon found his new bride was a profligate spender, and placed her on a strict $250-a-month allowance, souring their marriage. While pregnant with their daughter -- the only child any of the Gabor sisters would have -- she saw actor George Sanders on stage and declared that he would be her next husband. She had divorced Hilton by the time their daughter, Francesca, was born, but Hilton and Gabor remained on 'amicable' terms, and in 1955 he promised his ex-wife a special rate at all Hilton hotels for the rest of her life.
Once she had married Sanders, Zsa Zsa decided that she was an actress, and began to appear in films and on television. Her only demanding screen role was in the 1951 film of Moulin Rouge with Jose Ferrer, and during filming, director John Huston frequently humiliated her in front of the entire cast and crew. She took smaller parts in quirkier films throughout the 1950s, and began appearing as herself in cameos in the 1960s. She appeared as the gold-digging villain Minerva on two episodes of Batman, including the last show of the series.
During her marriage to Sanders, Gabor carried on a torrid affair with Dominican playboy Porfirio Rubirosa, beginning in 1952. Rubirosa left her after she appeared with a knot on her forehead which -- Gabor said -- was the result of a fall, but it was widely speculated that Rubirosa had punched her when she refused to leave her husband. Yet Gabor's marriage to Sanders soon ended, as did Rubirosa's brief marriage to Woolworth heiress Barbara Hutton, and Gabor and Rubirosa rekindled their affair, but in 1954 he gave her a black eye. Gabor dismissed the injury by saying, "Rubi loves me. Rubirosa in Spanish means red rose, for me it means black eye. A man only hits a woman if he loves her deeply."
Gabor was introduced to her next lover "Ramfis" Trujillo by Rubirosa in 1958. Although Ramfis showered gifts on Gabor and her friend Kim Novak, the romance was short-lived. During a 1964 trip to perform in a charity event for Princess Grace of Monaco, Gabor had an altercation with an aristocratic Englishwoman, Hannah Marcow. She said that Marcow had pushed her and Francesca on a plane, and that "no one pushes my child but me". Gabor brought a lawsuit, but dropped it the following year, presumably when a very patient lawyer explained that she could not possibly win.
1968 was a tumultuous year for Zsa Zsa. She slapped a bellboy in a hotel in London. She was removed from a plane bound to Mallorca when it was discovered that her hotel bill was unpaid, and she was smuggling more than $3,000 worth of clothing that she had not yet paid for. Her check was refused by a hotel in Lisbon. She also held a press conference to announce that someone was trying to kill her.
Gabor's ex-husband Sanders married her sister Magda in 1970. That marriage, was even more short-lived than his marriage to Zsa Zsa, who reportedly visited Sanders shortly before he committed suicide in 1972.
Gabor was always at her best on talk shows, as she could flash her diamonds and flirt with the host in her exaggerated Hungarian accent. She became famous for her bon mots, such as "Oh, Dahlink, zese are just my vorking diamonds." Other famous Zsa Zsa quips from her numerous appearances on Laugh-In and The Tonight Show include, "I am a marvelous housekeeper. Every time I leave a man I keep his house." and "I have never hated a man enough to give his diamonds back."
In 1982, Gabor had a brief, bigamous marriage to Mexican movie star Felipe de Alba. The wedding took place on a ship and the captain officiated, but they were not yet in international waters, and Gabor was not yet legally divorced from her seventh husband, Michael O'Hara. He had been her divorce lawyer from husband number six, Jack Ryan. Just to be safe, Gabor had the marriage to de Alba annulled.
Gabor married Frédéric Prinz von Anhalt in 1986. It is her longest marriage to date, but contrary to popular belief, the marriage did not make Gabor royalty. Her husband was born Robert Lichtenberg, and as an adult had paid a royal, Marie Auguste Prinzessin von Anhalt, to adopt him -- a service the hard-up castle-owner provided to any customer who could pay. The adoption did not make Lichtenberg legally a prince or noble, it only gave him a more impressive-sounding name.
In 1989, Gabor was pulled over in Beverly Hills and found to be driving with an expired license. There was reportedly an open bottle of liquor in her car, and after a heated exchange with the officer, she slapped him. Gabor was arrested for driving on an expired license and battery. She compared the experience to "Nazi Germany", but was found guilty. Gabor indignantly said that she had not been judged by a jury of her peers: "It was not my class of people, there was not a producer, a press agent, a director, an actor." She served 72 hours in prison and paid a fine. She later lampooned the cop-slapping incident in the movie Naked Gun 2˝.
In 1993, Gabor was sued for libel, and ordered to pay more than one million dollars to actress Elke Sommer. The feud between the two blondes apparently began when Sommer said that Gabor had a big behind, and Gabor told the press that Sommer's career was washed up. The actual libel suit was brought about when Gabor's husband claimed that Sommer had said, "All German men are pigs." Losing the lawsuit forced Gabor into bankruptcy.
In 2002, Gabor was injured when a car she was riding in, driven by her hairstylist, hit a lamp post. She remains partially paralyzed and wheelchair-bound from the accident, or from a rumored 2003 stroke. She was hospitalized after a stroke in 2005, and again after a fall from her bed in 2010. She has not spoken to the press since about 2002.
In 2005 Gabor and Von Anhalt sued her daughter, Francesca Hilton, for allegedly forging Gabor's signature on a loan against Gabor's home, thereby stealing $2M. The lawsuit was dismissed by the court in September 2007, when Gabor failed to appear. The court rejected an attempt at postponement, noting that the many points of fact were misrepresented.
---
[1] Joe Mozingo, "Zsa Zsa Gabor Asks for Last Rites in Hospital", The Los Angeles Times, 15 August 2010: "A priest administered last rites for Zsa Zsa Gabor, 93, at Ronald Reagan UCLA Medical Center on Sunday morning, her longtime publicist, John Blanchette, said."

Father: Vilmos Gabor (Hungarian soldier)
Mother: Jansci Tilleman ("Jolie", b. 29-Sep-1894, d. 1-Apr-1997 cardiac arrest)
Father: Edmund de Szigethy (Hungarian Count, stepfather, married Jolie)
Sister: Eva Gabor (actress, b. 1919, d. 1995)
Sister: Magda Gabor (actress, b. 1914, d. 1997)
Slept with: Porfirio Rubirosa (Dominican diplomat, b. 1909, d. 1965)
Boyfriend: Rafael Trujillo ("Ramfis", son of Dominican dictator Rafael Leónidas Trujillo)
Boyfriend: Hal Hays (building contractor, briefly engaged)
Husband: Burhan Belge (Turkish diplomat, b. 1899, m. 1937, div. 1941, d. 1967)
Husband: Conrad Hilton (hotel founder, m. 10-Apr-1942, div. 1947, one daughter)
Daughter: Francesca Hilton (heiress, b. 10-Mar-1947, d. 5-Jan-2015)
Husband: George Sanders (actor, m. 1-Apr-1949, div. 1954, later married Zsa Zsa's sister Magda)
Husband: Herbert Hunter (financial consultant, m. 9-Nov-1964, div. 1966)
Husband: Joshua S. Cosden, Jr. (oil heir, m. 1966, div. 1967)
Husband: Jack Patrick Ryan (Barbie doll designer, m. 21-Jan-1975, div. 1976)
Husband: Michael O'Hara (attorney, m. 1977, div. 1982)
Husband: Felipe De Alba (Mexican actor, m. 1982, annulled, lasted one day)
Husband: Frédéric Prinz von Anhalt ("Robert Lichtenberg", m. 14-Aug-1986)


Hollywood Walk of Fame 6915 Hollywood Blvd (television)
Endorsement of Smirnoff Vodka 1967
Battery slapped officer Paul Kramer in Beverly Hills, CA (14-Jun-1989)
Driving without a License Beverly Hills, CA (14-Jun-1989)
Defamation according to lawsuit filed by Elke Sommer (1993)
Bankruptcy 18-Mar-1994
Coma widely reported, likely untrue
Paralyzed 2002
Stroke 6-Jul-2005
Hip Replacement Surgery 19-Jul-2010
Surgery right leg amputated 14-Jan-2011
Liposuction
Hungarian Ancestry
Risk Factors: Smoking, Amputee


FILMOGRAPHY AS ACTOR
A Very Brady Sequel (23-Aug-1996) · Herself
The Beverly Hillbillies (15-Oct-1993) · Herself
Happily Ever After (28-May-1993) [VOICE]
The Naked Truth (1992)
The Naked Gun 2 1/2: The Smell of Fear (28-Jun-1991) · Herself
Christmas at Pee Wee's Playhouse (1988)
A Nightmare on Elm Street 3: Dream Warriors (27-Feb-1987) · Herself
California Girls (24-Mar-1985) · Herself
Won Ton Ton, the Dog Who Saved Hollywood (26-May-1976)
Up the Front (1972)
Jack of Diamonds (10-Nov-1967) · Herself
Arrivederci, Baby! (28-Dec-1966)
Picture Mommy Dead (2-Nov-1966) · Jessica Shelley
Boys' Night Out (21-Jun-1962) · The Girlfriend
Pepe (21-Dec-1960) · Herself
For the First Time (26-Feb-1959)
Queen of Outer Space (7-Sep-1958) · Talleah
Touch of Evil (21-May-1958) · Club Owner
The Man Who Wouldn't Talk (21-Jan-1958)
The Girl in the Kremlin (11-Apr-1957)
Death of a Scoundrel (31-Oct-1956) · Mrs. Ryan
3 Ring Circus (25-Dec-1954)
Lili (10-Mar-1953) · Rosalie
The Story of Three Loves (5-Mar-1953)
Moulin Rouge (23-Dec-1952)
We're Not Married! (11-Jul-1952) · Eve Melrose
Lovely to Look at (29-May-1952) · Zsa Zsa


Rotten Library Page:
Zsa Zsa Gabor

Author of books:
Zsa Zsa's Complete Guide to Men (1969)
How to Catch a Man, How to Keep a Man, How to Get Rid... (1970)





Requires Flash 7+ and Javascript.



Do you know something we don't?
Submit a correction or make a comment about this profile






Copyright ©2019 Soylent Communications