Dianne Feinstein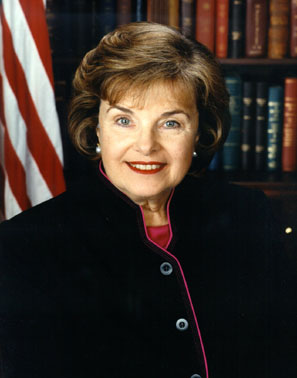 AKA Dianne Emiel Goldman
Born: 22-Jun-1933
Birthplace: San Francisco, CA

Gender: Female
Religion: Jewish
Race or Ethnicity: White
Sexual orientation: Straight
Occupation: Politician
Party Affiliation: Democratic
Nationality: United States
Executive summary: US Senator from California
Former member of the San Francisco Board of Supervisors whose political career was given a boost by the assassination of Mayor George Moscone and gay supervisor Harvey Milk by twinkie defendant Dan White -- Feinstein succeeded Moscone as Mayor, and was later elected to the United States Senate.
Feinstein is an anti-gun Senator who still somehow found the fortitude to obtain for herself a concealed firearms carry permit, a privilege she wants to deny others. 27 April 1995:
"Less than twenty years ago I was the target of a terrorist group. It was the New World Liberation Front. They blew up power stations and put a bomb at my home when my husband was dying of cancer. And the bomb didn't detonate. [...] I was very lucky. But, I thought of what might have happened. Later the same group shot out all the windows of my home. [...] And, I know the sense of helplessness that people feel. I know the urge to arm yourself because that's what I did. I was trained in firearms. I'd walk to the hospital when my husband was sick. I carried a concealed weapon. I made the determination that if somebody was going to try to take me out, I was going to take them with me."
Feinstein claims that she has since relinquished both the handgun and the concealed weapons permit.
In support of a flag-burning amendment, 20 July 2004:
"Our flag is recognized as unique not only in the hearts and minds of Americans but in our laws and customs as well. No other emblem or symbol in our nation carries with it such a specific code of conduct and protocol in its display and handling. [...] Why, then, should it be permissible conduct to burn, to desecrate, to destroy this symbol, this emblem, this national monument? That is not my definition of free speech. [...] Requiring certain individuals to stop defacing or burning the flag, I think, is a very small price to pay on behalf of millions of Americans for whom the flag has deep personal significance."
Father: Leon Goldman (d. 4-Mar-1975)
Mother: Betty Rosenburg
Sister: Lynne Kennedy
Sister: Yvonne Banks
Husband: Jack Berman (m. 2-Dec-1956, div. 1959)
Husband: Bertram Feinstein (m. 1962, d. 1978 colon cancer, one daughter)
Daughter: Katherine Anne (b. 31-Jul-1957)
Husband: Richard C. Blum (majority owner of Perini, m. 20-Jan-1980)


High School: Convent of the Sacred Heart, San Francisco, CA (1951)
University: BS History, Stanford University (1955)


US Senator, California (1992-)
Mayor of San Francisco (1978-88)
San Francisco Board of Supervisors (1969-78)
Afghanistan World Foundation National Committee
Alfalfa Club 1999
American-Israeli Cooperative Enterprise Honorary Committee
Biden for President
Bilderberg Group 1991
Close Up Foundation Board of Advisors
College Democrats
Council on Foreign Relations
EMILY's List
Friends for Harry Reid
Friends of Joe Lieberman
Gore 2000
Hillary Clinton for President
Hillraiser 2008
John Kerry for President
New Leadership for America PAC
Obama for Illinois
Pacific Council on International Policy
Trilateral Commission 1988
Voters for Choice
Woodrow Wilson Award for Public Service
Hysterectomy
Issued Concealed Carry Permit
Dubya Nickname Frazier
New Democrat Movement Senate New Democrat Coalition
Funeral: Richard Nixon (1994)
Wedding: Jerry Brown and Anne Gust (2005) Officiant
Russian Ancestry Maternal
Jewish Ancestry Paternal


FILMOGRAPHY AS ACTOR
Miss Representation (20-Jan-2011) · Herself


Official Website:
http://feinstein.senate.gov/




Requires Flash 7+ and Javascript.



Do you know something we don't?
Submit a correction or make a comment about this profile






Copyright ©2019 Soylent Communications