Mark Foley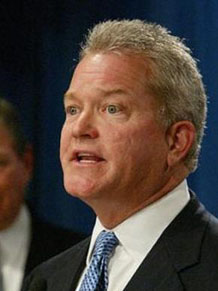 AKA Mark Adam Foley
Born: 8-Sep-1954
Birthplace: Newton, MA

Gender: Male
Religion: Roman Catholic
Race or Ethnicity: White
Sexual orientation: Gay [1]
Occupation: Politician
Party Affiliation: Republican
Nationality: United States
Executive summary: Congressman from Florida, 1995-2006
In his six terms as a conservative Republican Congressman, Mark Foley rose to become co-chairman of the House's Missing and Exploited Children's Caucus, and sponsored at least half a dozen bills proposing to protect children from predators, including provisions to outlaw "exploitive child modeling." He fought for a national DNA database on convicted sex offenders, and a federal registry to track their whereabouts. He sponsored the Internet SAFETY Act, an acronym for "Stopping Adults Facilitating the Exploitation of Today's Youth Act", which would have mandated a ten-year prison sentence for anyone who "knowingly engages in any conduct" that leads to child pornography.
In 1998, Foley sharply criticized Bill Clinton during the Monica Lewinsky sex scandal, telling reporters, "It's vile. It's more sad than anything else, to see someone with such potential throw it all down the drain because of a sexual addiction." In a 2005 Congressional hearing on proposed legislation to protect America's youth from sexual predators, Foley argued passionately that we need "to send a clear message to anyone contemplating a crime of this nature, that we will make their life a living hell... It's about setting the bar so they realize that if they offend, that their life as they knew it will be terminated. No longer will they have freedoms."
In 2006, ABC News reported that Foley was possibly an on-line predator himself, and had written numerous improper emails to former House pages -- high school juniors employed as couriers. Foley's first response was that the emails were "completely innocent" and that at worst he had been "too friendly and too engaging" in his emails. His office offered an exclusive interview with ABC News if the network would agree not to publish the emails, but reporter Brian Ross refused.
When Foley's behavior was made public, he resigned from Congress immediately. He announced the next day an alcohol problem, and checked into a treatment center. Details later revealed in the media included an instant messaging transcript of the 52-year-old Congressman asking a 16-year-old boy to describe his genitals, and a 2003 transcript of Foley and an underage boy having sex on-line, with Foley and the boy describing their orgasms. Speaker of the House Dennis Hastert came under fire for not putting an end to Foley's career sooner, though it is not known exactly what Hastert knew and when he knew it.
---
[1] Resigned on 29 September 2006 after it was revealed that he and a 16-year-old male Congressional page had exchanged email and instant messages of a mild sexual nature. Highlights of the correspondence include "Do I make you a little horny?" and "You in your boxers, too? Well, strip down and get relaxed."

Father: Edward Foley (police officer, d. 14-Nov-2006 cancer)
Mother: Frances Foley
Sister: Donna Winterson (owns PR company, Foley's campaign political director)
Brother: Mark
Sister: Cathleen
Brother: Eddie
Sister: Elizabeth
Boyfriend: Layne Nisenbaum (dermatologist, dated mid-2000s)


High School: Lake Worth High School, Lake Worth, FL (1973)
University: Palm Beach Community College


US Congressman, Florida 16th (1995-2006, resigned over scandal)
Florida State Senate (1993-94)
Florida State House of Representatives (1990-92)
Florida State Official Vice Mayor, Lake Worth, FL (1983-84)
Florida State Official City Commissioner, Lake Worth, FL (1977)
American Legislative Exchange Council
Foundation for the Defense of Democracies
It's My Party Too National Advisory Board
National Student Leadership Conference Honorary Board of Advisors
Republican Main Street Partnership
Ripon Society
Washington Legal Foundation National Board of Advisors
Drug Possession: Marijuana (age 17), charge dropped
Sierra Tucson (Oct-2006)
Prostate Surgery (Jul-2011)
Irish Ancestry
Risk Factors: Marijuana, Alcoholism, Prostate Cancer





Requires Flash 7+ and Javascript.



Do you know something we don't?
Submit a correction or make a comment about this profile






Copyright ©2019 Soylent Communications