Tupac Shakur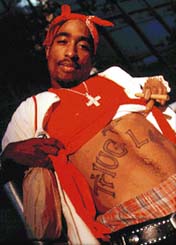 AKA Lesane Parish Crooks
Born: 16-Jun-1971
Birthplace: Brooklyn, NY
Died: 13-Sep-1996
Location of death: Las Vegas, NV [1]
Cause of death: Murder
Remains: Cremated (ashes smoked by bandmates from Outlawz)

Gender: Male
Race or Ethnicity: Black
Sexual orientation: Straight
Occupation: Rapper, Actor
Nationality: United States
Executive summary: All Eyez on Me
Born in Brooklyn under the name Lesane Parish Crooks, Tupac Shakur received the name with which he came to be known to the world from his mother (Black Panther activist Afeni Shakur) in tribute to Incan revolutionary Tupac Amaru. His biological father had separated from his mother before his birth, and his stepfather was imprisoned for armored car robbery when he was two years old, leaving his family to struggle frequently under conditions of extreme poverty. While a teenager in Baltimore, Tupac developed an interest in performance; eventually he managed to gain entrance to The Baltimore School for the Performing Arts, where he studied acting and ballet. Before he could complete his education, however, he was forced to relocate to California.
While on the streets of Oakland, Shakur drifted into the gang life, accumulating a criminal record with eight arrests by the beginning of his twenties. In a more constructive vein, he began to developing the skills as a rapper he had first started to explore during his years in Baltimore. By 1991 he had landed a job as a dancer and roadie for the group Digital Underground, later making his recording debut on their This Is An EP Release; but by the end of the year a successful solo career was already underway with the release of 2Pacalypse Now. The following year his acting ambitions were realized through a prominent role in the hip-hop film Juice.
Both of his careers were to significant strides forward in the next couple of years: his second release, Strictly for my N.I.G.G.A.Z., reached #4 on the R&B charts and would eventually become his first platinum record, while a starring role opposite Janet Jackson in Poetic Justice (1993) extended his popularity further into the mainstream. His criminal record also made some strides forward: a assault charge brought by director Allen Hughes in 1993 resulted in a 15 day jail term in 1994, followed by a four-and-a-half year prison sentence for sexual assault later that same year. Around the time of the latter conviction, Shakur was robbed and shot in the lobby of a recording studio.
At start of 1995, while his release Me Against The World was dominating the pop and R&B charts, the rapper was busy serving the first eight months of his sentence. A $1.4M bond secured his parole, and work was started on his first album for Death Row Records, All Eyez on Me (1996). This double-record set brought his popularity to a new peak, again topping both the pop and R&B charts and quickly earning multi-platinum status. His acting profile was also being expanded by work in the feature films Bullet (1996), Gridlock'd (1997), and Gang Related (1997). Shakur would not live to see the results of the last two films, however: in what is suspected to be the culmination of a feud with rapper Notorious B.I.G., he was shot four times while in a car outside a Las Vegas hotel, eventually dying in the hospital after spending 6 days in a coma. Various other theories have also been put forward as to the motive behind his killing.
---
[1] University Medical Center, Las Vegas, NV.

Father: William Garland
Mother: Afeni Shakur Davis (b. 1947, d. 2016)
Sister: Sekyiwa Shakur (half sister)
Brother: Maurice (Mopreme) Harding (musician)
Wife: Keisha Morris (m. 29-Apr-1995, div.)
Girlfriend: Jada Pinkett Smith (dated in high school)
Girlfriend: Kidida Jones


High School: Baltimore School for the Arts, Baltimore, MD (dropped out)


Digital Underground Dancer (1991)
One Nation Emcees
Two from the Crew
Strictly Dope
Thug Life
Outlaw Immortalz
Shot New York City (1994)
Shot Las Vegas, NV (7-Sep-1996)
Coma Sep-1996
Jaywalking Oakland, CA (1991)
Resisting Arrest Oakland, CA (1991)
Assault off-duty police officers Mark and Scott Whitwell, Atlanta, GA, charges dropped (31-Oct-1993)
Battery Allen Hughes (Mar-1994)
Unlawful Possession of a Firearm Los Angeles, CA (May-1994)
Drug Possession: Marijuana Los Angeles, CA (May-1994)
Sexual Battery 18-Nov-1993 (sexual abuse, convicted)
Sodomy 18-Nov-1993 (acquitted)
Unlawful Possession of a Firearm 18-Nov-1993 (acquitted)
Assault 1994
Inmate: Los Angeles County Jail (Mar-1994)
Inmate: Rikers Island (1995)
Lung Removal
Died Intestate
Autopsy
Endorsement of Pabst Brewing Company St. Ides Special Brew
Risk Factors: Marijuana


FILMOGRAPHY AS ACTOR
Gang Related (8-Oct-1997) · Rodriguez
Gridlock'd (29-Jan-1997) · Spoon
Bullet (Mar-1996)
Above the Rim (23-Mar-1994)
Poetic Justice (23-Jul-1993) · Lucky
Juice (17-Jan-1992) · Bishop
Nothing But Trouble (15-Feb-1991) · Rapper


Official Website:
http://www.2paclegacy.com/

Rotten Library Page:
Tupac Shakur




Requires Flash 7+ and Javascript.



Do you know something we don't?
Submit a correction or make a comment about this profile






Copyright ©2019 Soylent Communications