Bob Dornan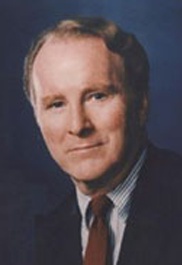 AKA Robert Kenneth Dornan
Born: 3-Apr-1933
Birthplace: New York City

Gender: Male
Religion: Roman Catholic
Race or Ethnicity: White
Sexual orientation: Straight
Occupation: Politician
Party Affiliation: Republican
Nationality: United States
Executive summary: Congressman from California, 1977-97
Military service: USAF (1953-58)
In 1985, Congressman Tom Downey accused Dornan of yanking his tie, calling him a "draft-dodging wimp," and threatening him with bodily harm on the floor of the House.
In November 1996, Dornan reportedly shouted at William Dougherty, member of the Orange County Republican Central Committee: "You are a disgrace to your baptism! [...] You are a poor excuse for a Marine. You are a pathetic old senile man. You are a slimy coward. Go register in another party."
Evidently one of Al Franken's most favorite crazy Republicans:
FRANKEN:
Bob Dornan and I once did the Politically Incorrect show together. Before we went on the air, he comes to the green room, starts spinning off this Vince Foster murder stuff, finally comes up to me, says he's a big Stuart Smalley fan. So as a result I talk to him every once in awhile. And he's totally entertaining. I abhor his politics, and he knows it. I make no bones about it. But he's actually very funny.
SALON:
Is he able to laugh at himself?
FRANKEN:
Well, I told this joke at the White House Correspondents Dinner a while ago. I said, "Having Al D'Amato leading an ethics investigation is like getting Bob Dornan to head up a mental health task force." So a few days later Dornan calls me up, and he tracks me down in some office in Hollywood. He says, "Al, I hear you did me in at the White House Correspondents Dinner."

"Well, I did tell a joke."

He says, "What was the joke?"

I tell him. There's this pause. Then he says, "Oh... that's okay."
Father: Harry Joseph Dornan
Mother: Gertrude McFadden ("Mickey")
Wife: Sallie Hansen (m. 16-Apr-1955)
Daughter: Robin Mary Dornan
Son: Robert Kenneth Dornan, Jr.
Daughter: Theresa Ann Dornan
Son: Mark Dornan
Daughter: Kathleen Regina Dornan


High School: Loyola High School, Los Angeles, CA (1950)
University: Loyola University (1950-52)


US Congressman, California 46th (1993-97)
US Congressman, California 38th (1985-93)
US Congressman, California 27th (1977-83)
American Legion
Emergency Committee to Defeat Al Gore
Emergency Committee to Stop Hillary Rodham Clinton
Knights of Columbus
Emmy twice
Domestic Violence Jun-1966
Draft Deferment: Korea
Funeral: Richard Nixon (1994)


FILMOGRAPHY AS ACTOR
The Starfighters (25-Mar-1964)
X-15 (22-Dec-1961)


Official Website:
http://www.bobdornan.com/




Requires Flash 7+ and Javascript.



Do you know something we don't?
Submit a correction or make a comment about this profile






Copyright ©2019 Soylent Communications