Gene Wolfe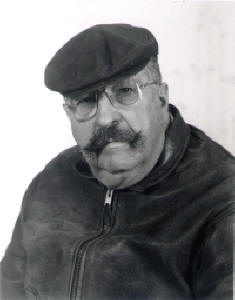 Born: 7-May-1931
Birthplace: New York City

Gender: Male
Religion: Roman Catholic
Race or Ethnicity: White
Sexual orientation: Straight
Occupation: Novelist
Nationality: United States
Executive summary: The Book of the New Sun
Military service: US Army (Korea); Texas National Guard
Gene Wolfe is best known for his Book of the New Sun series and its follow up sagas, all featuring the one-time professional torturer Severian. Also of note is his earlier novel Fifth Head of Cerebus. Although Wolfe is not as well known to readers as he once was, he has been the recipient of tremendous critical acclaim, including three World Fantasy Awards, two Nebulas, and eight Hugo Award nominations. Fellow sci-fi author Harlan Ellison has called him, "no less than one of the finest, most original writers in the world today", and the Encyclopedia of Science Fiction names him "quite possibly the most important" writer in the field of science fiction.
Born in 1931, on the southwest tip of Long Island, New York, Gene Rodman Wolfe moved frequently as a child, but spent the bulk of his growing-up years in Texas. He identifies Houston as his hometown and cites the incredible heat, omnipresent in the days before air conditioning, as one of the many influences that steered him toward science fiction writing. Another influence was the sci-fi pulps he devoured in the local drug store, along with copious mysteries. Given that he attended Edgar Allan Poe Elementary School, it is also interesting to note that he was Guest of Honor at the 2002 World Horror Convention.
During high school Wolfe joined ROTC to get out of softball practice, and ended up joining the Texas National Guard a year later. He attended Texas A&M University, then an all-male institution specializing in engineering and animal husbandry. In the middle of his junior year he dropped out and was drafted to serve in the Korean War. His Letters Home, detailing his experiences from 1952 to 1954, were published in 1991 by United Mythologies. After his discharge, Wolfe used G.I. Bill funds to study mechanical engineering at the University of Houston. After college he married Rosemary Deitsch, a friend from a childhood stint in Peoria. He took a position in engineering development, and helped design the machine that manufactured the original Pringles potato chip.
Wolfe had meanwhile began writing fiction in 1956, selling his first story, "The Dead Man", to Sir magazine in 1965. He produced a vast amount of short fiction during the 1960s and 70s, many of which were published in Damon Knight's Orbit anthologies. In 1972 Wolfe left engineering to join the staff of a technical magazine, Plant Engineering. That same year his groundbreaking Fifth Head of Cerebus debuted. The dysfunctional story of human conquest upon two far-flung planets, the book examines issues of identity, individuality, and the ramifications of colonialism upon both the colonized and the colonizer. The novel was later listed in David Pringle's 1985 listing of The 100 Best Novels, in science fiction for the period 1949-84.
In 1980 The Shadow of the Torturer appeared, book one in Wolfe's Book of the New Sun series. The story features an unlikely protagonist: Severian, a professional torturer unable to indulge in more usual notions of mercy and kindness. Although occasionally confronted with political unfortunates, Severian invariably dispenses legal "justice", often with a deftness that is almost sensuousness in its knowledge and mastery of human body. Yet Wolfe is not obsessed with such themes and so the wonder of the early novels is how something so shocking and exotic becomes almost background to the larger plot.
Many of his novels, The Shadow of the Torturer included, rely a diary or epistolary mode to tell his story. In addition, Wolfe's early interest in mystery novels shines through in his ability to drop subtle, ambiguous clues that allow the reader to grasp at the possible narrative behind the narrative. But unlike many mystery novels, Wolfe's books rarely tie it all up at the end. Like great fiction, or real life journals, the truth is left to be guessed at and puzzled over.
Not surprisingly, after the success and acclaim of the New Sun novels, additional series in the larger saga followed (Book of the Long Sun, Book of the Short Sun). And by 1984 Wolfe was able to retire from his position at Plant Engineering and devote himself full time to his writing. Yet despite all this, and despite the continuing respect of his colleagues, his work has somewhat lapsed into obscurity following the rise of first cyberpunk, then epic fantasy (Terry Goodkind, Robert Jordan, etc.) Wolfe admirers hope this fact will be at least somewhat ameliorated by his most recent offerings, The Wizard Knight saga, which falls squarely within the fantasy subgenre that is currently popular.
Father: Emerson Leroy Wolfe
Mother: Mary Olivia Ayers Wolfe
Daughter: Rebecca Marie Spizzirri
Daughter: Elizabeth Rose Goulding
Wife: Rosemary Dietsch
Son: Matthew Wolfe

University: Texas A&M University, TX
University: University of Houston, TX

Author of books:
Operation Ares (1970, novel)
The Fifth Head of Cerberus (1972, short stories)
The Shadow of the Torturer (1980, novel)
The Claw of the Conciliator (1981, novel)
The Sword of the Lictor (1982, novel)
The Citadel of the Autarch (1983, novel)
Soldier of the Mist (1986, novel)
Soldier of Arete (1989, novel)
The Urth of the New Sun (1987, novel)
Nightside the Long Sun (1993, novel)
Lake of the Long Sun (1994, novel)
Calde of the Long Sun (1994, novel)

Do you know something we don't?
Submit a correction or make a comment about this profile

Copyright ©2019 Soylent Communications