Samuel de Champlain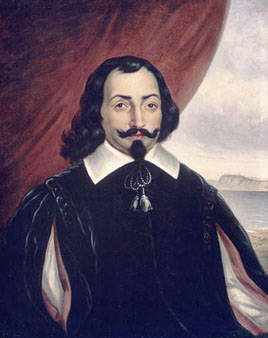 Born: 1567
Birthplace: Brouage, France
Died: 25-Dec-1635
Location of death: Quebec, Canada
Cause of death: Stroke
Remains: Buried, Basilica of Notre-Dame de Montréal, Montreal, Quebec, Canada

Gender: Male
Religion: Roman Catholic
Race or Ethnicity: White
Sexual orientation: Straight
Occupation: Explorer, Military
Nationality: Canada
Executive summary: Namesake of Lake Champlain
French explorer, colonial pioneer and first governor of French Canada, was born at Brouage, a small French port on the Bay of Biscay, in 1567. His father was a sea captain, and the boy was early skilled in seamanship and navigation. He entered the army of Henri IV, and served in Brittany under Jean d'Aumont, François de St. Luc and Charles de Brissac. When the army of the League was disbanded he accompanied his uncle, who had charge of the ships in which the Spanish allies were conveyed home, and on reaching Cadiz secured (1599) the command of one of the vessels about to make an expedition to the West Indies. He was gone over two years, visiting all the principal ports and pushing inland from Vera Cruz to the city of Mexico. The manuscript account of his adventures, Bref Discours des Choses plus remarquables que Samuel Champlain de Brouage a recognues aux Indes Occidentales, is in the library at Dieppe. It was not published in French until 1870, although an English translation was printed by the Hakluyt Society in 1859. It contains a suggestion of a Panama Canal, "by which the voyage to the South Sea would be shortened by more than 1500 leagues." In 1603 Champlain made his first voyage to Canada, being sent out by Aymar de Clermont, seigneur de Chastes, on whom the king had bestowed a patent. Champlain at once established friendly relations with the Indians and explored the St. Lawrence to the rapids above Montreal. On his return he published an interesting and historically valuable little book, Des sauvages, ou voyage de Samuel Champlain de Brouage fait en la France Nouvelle. During his absence de Chastes had died, and his privileges and fur trade monopolies were conferred upon Pierre de Guast, sieur de Monts (1560-1611). With him, in 1604, Champlain was engaged in exploring the coast as far south as Cape Cod, in seeking a site for a new settlement, and in making surveys and charts. They first settled on an island near the mouth of the St. Croix river, and then at Port Royal -- now Annapolis, Nova Scotia.
Meanwhile the Basques and Bretons, asserting that they were being ruined by de Monts' privileges, got his patent revoked, and Champlain returned with the discouraged colonists to Europe. When however, in modified form, the patent was re-granted to his patron Champlain induced him to abandon Acadia and establish a settlement on the St. Lawrence, of the commercial advantages of which, perhaps even as a western route to China and Japan, he soon convinced him. Champlain was placed in command of one of the two vessels sent out. He was to explore and colonize, while the other vessel traded, to pay for the expedition. Champlain fixed on the site of Quebec and founded the first white settlement there in July 1608, giving it its present name. In the spring he joined a war party of Algonquins and Hurons, discovered the great lake that bears his name, and, near the present Ticonderoga, took with his arquebus an important part in the victory which his savage friends obtained over the Iroquois. The Iroquois naturally turned first to the Dutch and then to the English for allies. "Thus did new France rush into collision with the redoubted warriors of the Five Nations. Here was the beginning, and in some measure doubtless the cause, of a long suite of murderous conflicts, bearing havoc and flame to generations yet unborn" (Parkman). Champlain returned to France and again related to Henri IV -- who had previously learned his worth and had pensioned him -- his exciting adventures. De Monts failed to secure a renewal of his patent, but resolved to proceed without it. Champlain was again (1611) in Canada, fighting for and against the Indians and establishing a trading post at Mont Royal (Montreal). He was the third white man to descend, and the second to descend successfully, the Lachine Rapids. De Monts, now governor of Paris, was too busy to occupy himself in the waning fortunes of the colony, and left them entirely to his associate. An influential protector was needed; and Champlain prevailed upon Charles de Bourbon, comte de Soissons, to interest himself to obtain from the king the appointment of lieutenant-general in New France. The comte de Soissons died almost immediately, and was succeeded in the office by Henri de Bourbon, prince de Condé, and he, like his predecessors and successors, retained Champlain as lieutenant-governor. "In Champlain alone was the life of New France. By instinct and temperament he was more impelled to the adventurous toils of exploration than to the duller task of building colonies. The profits of trade had value in his eyes only as means to these ends, and settlements were important chiefly as a base of discovery. Two great objects eclipsed all others -- to find a route to the Indies, and to bring the heathen tribes into the embraces of the Church, since, while he cared little for their bodies, his solicitude for their souls knew no bounds" (Parkman).
In 1613 Champlain again crossed the Atlantic and endeavored to confirm Nicolas de Vignau's alleged discovery of a short route to the ocean by the Ottawa river, a great lake at its source, and another river flowing north therefrom. That year he got as far as Allumette Island in the Ottawa, but two years later, with a "Great War Party" of Indians, he crossed Lake Nipissing and the eastern ends of Lakes Huron and Ontario, and made a fierce but unsuccessful attack on an Onondaga fortified town a few miles south of Lake Oneida. This was the end of his wanderings. He now devoted himself to the growth and strengthening of Quebec. Every year he went to France with this end in view. He was one of the hundred associates of the Company of New France, created by Cardinal Richelieu to reform abuses and take over all his country's interests in the new world. These ill-defended possessions England now prepared to seize. Three ships were sent out under letters of marque commanded by David, Lewis and Thomas Kirke, and Quebec, already on the verge of starvation, was compelled to surrender (1629). Champlain was taken to England a prisoner, but when Canada was restored to the French he returned (1633) to his post, where he died on the 25th of December 1635. He had married in 1610, Hélène Boullé, then but twelve years old. She did not leave France for Canada, however, until ten years later. After his death she became a nun. Champlain's complete works in 6 volumes were published under the patronage of the university of Laval in 1870.
Father: Anthoine de Champlain
Wife: Hélène Boullé (m. 27-Dec-1610)

Do you know something we don't?
Submit a correction or make a comment about this profile

Copyright ©2019 Soylent Communications