Jonah Goldberg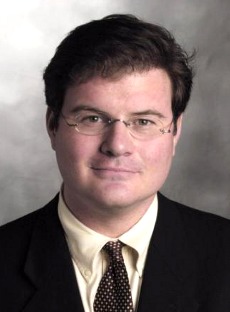 AKA Jonah Jacob Goldberg
Born: 21-Mar-1969
Birthplace: Manhattan, NY

Gender: Male
Religion: Jewish [1]
Race or Ethnicity: White
Sexual orientation: Straight
Occupation: Columnist, Pundit
Nationality: United States
Executive summary: National Review Online
Jonah Goldberg graduated from Goucher College in 1991, and was immediately given a seat on the college's board of trustees. He later taught English in Prague, then worked as a research assistant at the American Enterprise Institute, a conservative think tank. By 1997, he was making documentaries for the well-funded company that makes Think Tank with Ben Wattenberg for PBS. He also served as vice president of his mother's Goldberg Literary Agency.
His father, Sidney Goldberg, was the senior vice president at United Media, the conglomerate that was formed when United Feature Syndicate and Newspaper Enterprise Association merged. United Media's many properties include the Peanuts, Garfield, and Dilbert comic strips, Scripps Howard News Service, and columnists from Miss Manners to Mort Kondracke. From 1957 to 1981, the elder Goldberg worked at the North American Newspaper Alliance, and for its subsidiary Women's News Service. He was eventually promoted to president of NANA, which is out of business now, but was widely suspected to have had connections to America's Central Intelligence Agency.
His mother is Lucianne Goldberg, a one-time advisor to the White House during the Democratic John F. Kennedy and Lyndon B. Johnson administrations. By 1972, though, she had switched sides, and was working undercover for Republican Richard Nixon's campaign, pretending to be a reporter for the North American News Alliance -- her husband's employer -- and covering George McGovern's Presidential campaign, while actually feeding information back to Nixon's offices. Her literary agency has represented such clients as Michael Ledeen and Mark Fuhrman, and Mrs. Goldberg later worked as a radio host. She now runs Lucianne.com, a conservative political website and forum.
Jonah Goldberg's career as a pundit started almost literally from his mother's coattails. In 1998, nobody had ever heard of Jonah Goldberg, but his mother was a principal player behind the scenes in Bill Clinton's sex scandal. She advised Linda Tripp to tape her conversations with Monica Lewinsky, and Lucianne Goldberg later brought those tapes and assorted sordid allegations to the attention of numerous reporters, Paula Jones' attorneys ... and her son Jonah.
With his mother, Jonah Goldberg listened to the then-secret Lewinsky tapes, and with this inside knowledge he made himself a popular source among Washington reporters. He sold a few freelance stories, got himself invited on the news talk shows, and in the whirlwind of his Monicagate fame he was offered a post at the National Review, where he is now "editor at large."
Goldberg now writes a syndicated newspaper column appearing in such papers as the Los Angeles Times and Chicago Tribune, where he has argued that "the U.N. sucks", that racial profiling makes sense, and that France's "righteous bloviating" against the 2003 invasion of Iraq was wrong. In a February 2005 online debate with historian/blogger Juan Cole, Goldberg offered his enthusiastic support for that war, including this memorable flourish: "Let's make a bet. I predict that Iraq won't have a civil war, that it will have a viable constitution, and that a majority of Iraqis and Americans will, in two years time, agree that the war was worth it. I'll bet $1,000 (which I can hardly spare right now)." There is no word on whether he paid the debt from the bet.
---
[1] Goldberg's father was Jewish, and his mother is Episcopalian. They raised their children in the Jewish faith, and Goldberg describes himself as Jewish.

Father: Sidney Goldberg (senior vice president at United Media, b. 1931, d. 2005)
Mother: Lucianne S. Goldberg (literary agent and right-wing pundit)
Brother: Joshua John Goldberg
Wife: Jessica Gavora (speechwriter for John Ashcroft, one daughter)


University: BA, Goucher College (1991)
Administrator: Trustee, Goucher College (1991-94)


The Los Angeles Times
National Review Online Columnist (1998-)
American Enterprise Institute Research Assistant
Hoover Institution Media Fellow (2001)
United Press International internship
Lewinsky Affair
Global Warming Skeptics Los Angeles Times column (21-Apr-2009)
Jewish Ancestry Paternal


Author of books:
Liberal Fascism: The Totalitarian Temptation from Mussolini to Hillary Clinton (2007, political opinion)
The Tyranny of Clichés: How Liberals Cheat in the War of Ideas (2012, political opinion)





Requires Flash 7+ and Javascript.



Do you know something we don't?
Submit a correction or make a comment about this profile






Copyright ©2019 Soylent Communications