Georgina Spelvin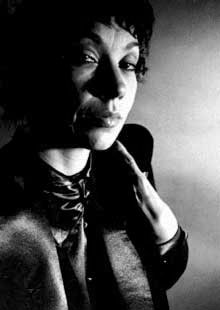 AKA Dorothy May
Born: 3-Jan-1936
Birthplace: Houston, TX

Gender: Female
Race or Ethnicity: White
Sexual orientation: Bisexual
Occupation: Pornstar
Nationality: United States
Executive summary: Devil in Miss Jones
Georgette Spelvin is a fictional name traditionally used as a credit for performances an actress might not want on her résumé (compare Alan Smithee), but Dorothy May decided that "Georgina" sounded better than "Georgette". At 21, she appeared in the 1957 French film Les Collégiennes, but only in a few lesbian sex scenes added specifically for the film's American release. Under other stage names, she worked as an actress on the legitimate stage, including professional productions of The Pajama Game, Hello Dolly, and South Pacific, but Dorothy May never became famous or particularly successful.
In her mid-30s, broke and alcoholic, she returned to porn, and after making several forgettable stag films, she starred in one of the all-time greats of adult cinema. The Devil in Miss Jones was the first feature-length porn film to deal with a serious subject matter in a serious way, including more than the token amount of character development, quality acting, and plot. The film opens with spinster Spelvin's suicide, driven mad by virginity and lustful thoughts. Playing Justine Jones, all of Spelvin's sexual encounters come in purgatory as a series of ghostly men (and women) show her the myriad pleasures she never knew in life.
"From the comments I got, you'd think I was Helen Hayes in an Oscar role. They raved about me. The infant X-rated industry had never been exposed to a woman who had any theatrical background or training. So to these people, I was a great actress."
Spelvin appeared in dozens of porn films, and is also known to have worked as Ona Turel, Clit Tores, and other odd names. She won six awards in six years from the Adult Film Association of America, for her performances in Ping Pong, Desires Within Young Girls, Take Off, The Ecstasy Girls, Urban Cowgirls, and The Dancers. She made her last porn film in 1982, at the age of 47. Her non-porn films include the raunchy horror classic I Spit On Your Grave and Police Academy 3: Back in Training.

Girlfriend: Claire Lumiere (pornstar, longtime lesbian relationship)
Boyfriend: John Welsh, (actor, cohabited in 1990s and 2000s)


Alcoholics Anonymous
AVN Awards Hall of Fame
Risk Factors: Polio, Alcoholism


FILMOGRAPHY AS ACTOR
Inside Deep Throat (11-Feb-2005) · Herself
Next Year in Jerusalem (1997)
Red Ribbons (1994)
Police Academy 3: Back in Training (21-Mar-1986)
Police Academy (16-Mar-1984)
The Devil in Miss Jones Part II (1982)
I Spit on Your Corpse! (Oct-1974) · Sandra
Bible! (3-Apr-1974)
The Devil in Miss Jones (28-Mar-1973)


Official Website:
http://www.georginasworld.com/

Author of books:
The Devil Made Me Do It (2008, memoir, self-published)





Requires Flash 7+ and Javascript.



Do you know something we don't?
Submit a correction or make a comment about this profile






Copyright ©2019 Soylent Communications