Studs Terkel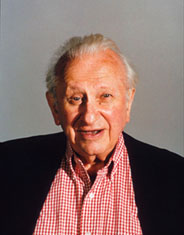 AKA Louis Terkel
Born: 16-May-1912
Birthplace: New York City
Died: 31-Oct-2008
Location of death: Chicago, IL
Cause of death: Natural Causes

Gender: Male
Religion: Agnostic [1]
Race or Ethnicity: White
Sexual orientation: Straight
Occupation: Author, Historian, Radio Personality
Nationality: United States
Executive summary: Working
Louis Terkel -- better known as 'Studs' -- was a writer, actor, and oral historian who preferred to think of himself as "a guerrilla journalist with a tape recorder". He was raised by working-class parents who ran a boarding house, and said that his real education came from long conversations with the building's working-class renters. He earned a law degree but never worked as a lawyer, and he took the nickname 'Studs' from the protagonist in James T. Farrell's brilliant but pessimistic Studs Lonigan trilogy.
He was a failed playwright and radio soap opera actor, and became famous as a disc jockey in the 1940s, playing whatever he liked and making Mahalia Jackson famous. In 1949-51 he starred in a sitcom, Studs' Place, as the owner of a diner where anyone could afford to eat. There was no script; all the dialogue was improvised and broadcast live. It started as a segment in a local Chicago show, then was spun off as its own show, and finally, rather amazingly, it was picked up by NBC in its second (and last) season.
Always outspoken, he would sign any petition he agreed with, and being famous his name stood out. Terkel's signature could be found on calls for price controls and rent control, opposing lynching and Jim Crow laws, and most frightfully, calling for the US to seek friendship with the Soviet Union instead of spending billions on the Cold War. Fearing they had a communist on their hands, NBC canceled Studs' Place, and later Terkel was investigated by Senator Joseph McCarthy and the House Un-American Activities Committee. When he refused to cooperate, he was blacklisted from television.
He was able to work as a columnist for the Chicago Times provided he kept his political perspectives quiet, and he co-hosted a national radio show with Jackson. He also worked as an actor in local stage productions. His first book was Giants of Jazz, published in 1956, and in 1958 he was offered a radio program on Chicago's public radio station, WFMT. His radio show ran for 40 years, allowing Terkel to interview more than 9,000 people from all walks of life. It was on Terkel's show that Allen Ginsberg read "Howl", a recording still famous.
Terkel wrote numerous oral histories, about subjects as varied as the Great Depression, World War II, race relations in America, the American dream, growing old, and working. He won a Pulitzer Prize for The Good War, his 1985 book examining World War II through the memories of soldiers and civilians.
Politically active until the end, he likened "the war on terror" to the war on witchcraft in Salem, Massachusetts, and spoke of a "national Alzheimer's disease" where Americans forget everything that has happened in the nation's history, and know only whatever lies President Bush tells them.
---
[1] Interview by Dick Gordon, aired 15 January 2002.

Father: Samuel Turkel (tailor)
Mother: Anna (Finkel) Turkel (seamstress)
Wife: Ida (Goldberg) Terkel (m. 1939, d. 23-Dec-1999)


Law School: University of Chicago (1934)


Pulitzer Prize for Nonfiction 1985 for The Good War: An Oral History of World War Two
National Humanities Medal 1997
Thomas Merton Award 1998
Freedom of Speech Medal 2003
Polk Award 1999 (career award)
Chicago Historical Society Scholar in Residence
Compassion in Dying Federation Advisory Board
American Academy of Arts and Letters 1997
HUAC Hearings
Heart Bypass Operation five operations (c. 1996)
Open Heart Surgery (Aug-2005)
Risk Factors: Smoking


FILMOGRAPHY AS ACTOR
Sacco and Vanzetti (6-Apr-2006)
Tell Them Who You Are (11-Sep-2004) · Himself
Unforgivable Blackness: The Rise and Fall of Jack Johnson (4-Sep-2004) [VOICE]
The Big One (6-Sep-1997) · Himself
Baseball (18-Sep-1994) · Himself
Eight Men Out (2-Sep-1988) · Hugh Fullerton
Tanner '88 (15-Feb-1988) · Himself
The Dollmaker (13-May-1984)
The Good Fight (28-Mar-1984) · Narrator [VOICE]
The Weavers: Wasn't That a Time (7-Mar-1982) · Himself


Official Website:
http://www.studsterkel.org/

Author of books:
Giants of Jazz (1956)
Working (1974)
Division Street: America (1967)
Hard Times: An Oral History of The Great Depression (1970)
Talking to Myself: A Memoir of My Times (1977, memoir)
American Dreams: Lost and Found (1980)
The Good War: An Oral History of World War Two (1984)
Chicago (1986)
The Great Divide: Second Thoughts on the American Dream (1988)
Race: What Blacks and Whites Think and Feel About the American Obsession (1992)
Coming of Age: The Story of Our Century by Those Who've Lived It (1995)
Studs Terkel: A Life in Words (1996)
My American Century (1997)
The Spectator: Talk About Movies and Plays With the People Who Make Them (1999)
Will the Circle Be Unbroken: Reflections on Death, Rebirth and Hunger for a Faith (2001)
Hope Dies Last: Keeping the Faith in Troubled Times (2003)
And They All Sang: Adventures of an Eclectic Disc Jockey (2005)
Touch and Go: A Memoir (2007, memoir, with Sydney Lewis)





Requires Flash 7+ and Javascript.



Do you know something we don't?
Submit a correction or make a comment about this profile






Copyright ©2019 Soylent Communications