Norma Khouri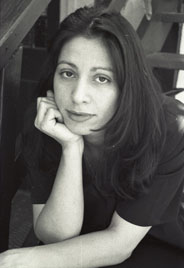 AKA Norma Majid Khouri Michael Al-Bagain
Born: c. 1970
Birthplace: Jordan

Gender: Female
Race or Ethnicity: Middle Eastern
Sexual orientation: Straight
Occupation: Hoaxer
Nationality: Australia
Executive summary: Author of Forbidden Love
Norma Khouri wrote a memoir about growing up in Amman, Jordan, called Forbidden Love. In it she described the honor killing of her friend Dalia, who was her business partner in a unisex hairdressing salon. Dalia was murdered for falling in love with a Christian -- for this transgression, her own father stabbed her 12 times.
Forbidden Love became a sensation in Australia, so much so that journalists there started doing bio pieces on her. That's when they discovered that Khouri didn't actually grow up in Jordan. It turns out her family immigrated to Chicago when she was only three years old. Whoops. Despite mounting evidence of her American provenance and glaring inaccuracies in the text, Khouri insisted that the book was totally true. "I completely and utterly deny these allegations and can prove they are false beyond any doubt."
A sequel to Forbidden Love, A Matter of Honour, was initially scheduled for release in November 2004 but has yet to be published.
Father: Majid Bagain (machinist)
Mother: Asma Bagain (nurse)
Sister: Diana Bagain
Sister: Rita Bagain
Brother: Mike Bagain
Brother: Will Bagain (b. 1980)
Husband: John Toliopoulos (m. 27-Nov-1993)
Daughter: Zoe (b. 1991)
Son: Christopher (b. 1993)

High School: Chicago, IL

Battery Arrested in Chicago for allegedly beating her mother-in-law, 7-Apr-1998
Jordanian Ancestry

Do you know something we don't?
Submit a correction or make a comment about this profile

Copyright ©2019 Soylent Communications