Prince William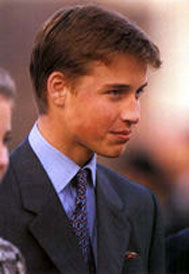 AKA William Arthur Philip Louis Windsor
Born: 21-Jun-1982
Birthplace: London, England [1]

Gender: Male
Religion: Anglican/Episcopalian
Race or Ethnicity: White
Sexual orientation: Straight
Occupation: Royalty
Nationality: England
Executive summary: Charles and Diana's first-born son
Prince William has been in the public eye since infancy. He is the firstborn son of Prince Charles and the late Lady Diana, and thus second in line after his father to inherit the English throne from Queen Elizabeth II. When William's parents separated and then divorced, he was reportedly his mother's staunchest supporter. Genetically, Diana's height and handsomeness have overcome the horseface pedigree of the house of Windsor, and the elusive charisma that made his mother so widely beloved have been passed down to William as well. Polls suggest that many Brits hope that the crown will pass directly to William without ever resting on his father's head.
At 16, William visited Canada where, for the first time, he was mobbed by hordes of screaming girls. Afterward, the family asked the media and the public to back off a bit, and allow William and his younger brother Prince Harry to grow up as normally as possible under the circumstances. Out of lingering reverence for Diana, the royals' request for privacy was generally respected.
After graduating from secondary school, William took a gap year before attending university. He did ten weeks of community work in Chile, returned to England and performed chores as a farm hand, and spent three months in Kenya living with the family of Ian Craig, who manages the 50,000-acre Lewa Wildlife Conservancy. Although denied by both families, it were reported that romance bloomed between the young prince and Craig's daughter Jessica, known as "Jecca".
He chose St. Andrews University for his higher education, which spared Oxford from having to make an exception to its high scholastic standards. "I just want to go to university and have fun," he said. "I want to be an ordinary student." Though he studied Art History for a time, he graduated with a degree in Geography.
In 2003, William was involved in an odd "road rage" incident. Driving his Volkswagen Golf at a speed perhaps beyond the limit, and of course tailed by Royal Protection Officers in a separate vehicle, William and his guards breezed past an elderly man driving an SUV. The man was angered and chased the Prince, tooting his horn and eventually forcing the entourage to pull over.
After dating Kate Middleton on and off for six years, their engagement was announced in a press release issued by William's father, Prince Charles, on 16 November 2010: "The Prince of Wales is delighted to announce the engagement of Prince William to Miss Catherine Middleton. The wedding will take place in the Spring or Summer of 2011, in London. Further details about the wedding day will be announced in due course."
---
[1] St. Mary's Hospital, Paddington, London, England.

Father: Prince Charles (b. 14-Nov-1948)
Mother: Lady Diana (b. 1-Jul-1961, d. 31-Aug-1997)
Brother: Prince Harry (b. 15-Sep-1984)
Girlfriend: Jessica Craig ("Jecca", Kenyan heiress, reportedly dated 2003)
Wife: Kate Middleton (dated 2003-11, m. 29-Apr-2011, one son)
Son: Prince George of Cambridge (b. 22-Jul-2013)
Daughter: Princess Charlotte Elizabeth Diana (b. 2-May 2015)
Slept with: Rose Hanbury (according to reports)


University: MA Geography, University of St. Andrews (2001-05)
Military College: Royal Military Academy Sandhurst (2006)


Funeral: Diana, Princess of Wales (1997)


FILMOGRAPHY AS ACTOR
The Ivory Game (2-Sep-2016) · Himself


Appears on the cover of:
People, 30-Jun-2003, DETAILS: 25 Hottest Bachelors!





Requires Flash 7+ and Javascript.



Do you know something we don't?
Submit a correction or make a comment about this profile






Copyright ©2019 Soylent Communications