Mary Anning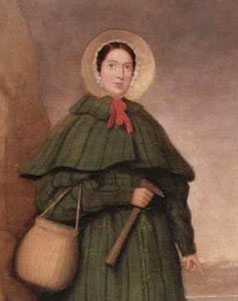 Born: 21-May-1799
Birthplace: Lyme Regis, England
Died: 9-Mar-1847
Location of death: Lyme Regis, England
Cause of death: Cancer - Breast
Remains: Buried, Lyme Regis Churchyard, Lyme Regis, England

Gender: Female
Religion: Anglican/Episcopalian
Race or Ethnicity: White
Occupation: Paleontologist
Nationality: England
Executive summary: Self-taught paleontologist
Mary Anning first became interested in fossils when she accompanied her father on amateur expeditions at the cliffs of Lyme Regis, a treasure trove of remnants from the Jurassic period, near her childhood home in southern England. They sold shells and fossils to tourists and collectors to help make ends meet, and despite a lack of any formal education she taught herself the geology and anatomy needed to became a respected paleontologist. Among her discoveries were the earliest known long-necked Plesiosaur (commonly called the "sea-dragon"), the first English specimen of Ichthyosaurus ("fish-lizard" or "crocodile"), a Pterodactylus ("flying-dragon"), and the Squaloraja (a ray/shark). She assembled skeletal remains of these and other extinct animals, classified the belemnites and ammonites, reptiles and fishes, and made technically proficient drawings of their bone structure. She also discovered that squid-like belemnites could be ground up to be used as ink, and she was one of her era's preeminent experts on coprolites (fossilized feces).
Her work was often condemned as blasphemous, since the reassembled fossils' existence was at odds with Biblical stories and the commonly accepted timeline extrapolated from the Bible. She was said to have had a long affair with geologist Henry de la Beche, but this may have been a rumor that began because he was among the first scientists to take her work seriously. In addition to frequent meetings with de la Beche, she corresponded with William Buckland and Gideon Mantell. She never taught, and for most of her life her income came primarily from selling unimportant but visually interesting fossils at a souvenir stand on the beach near her home. According to England's Natural History Museum, the tongue-twister "She sells seashells by the sea shore" was inspired by the increasingly famous Anning.
In 1838 she was awarded an annual stipend from the British Association for the Advancement of Science, augmented eight years later by a second stipend from the Geological Society of London, though on account of her gender she was unable to join either group. In 1847, as she was dying of breast cancer, she was named an honorary member of the Geological Society.
Father: Richard Anning (carpenter, b. circa 1766, d. 1810 tuberculosis)
Mother: Mary Moore Anning ("Molly", m. 8-Aug-1793, d. 1842)
Sister: Mary Anning (b. 1794, d. infancy)
Sister: Martha Anning (b. 1795, d. infancy)
Brother: Joseph Anning (amateur paleontologist, b. 1796)
Brother: Henry Anning (b. 1798, d. infancy)
Brother: Henry Anning (b. 1801, d. infancy)
Brother: Percival Anning (b. 1803, d. infancy)
Sister: Elizabeth Anning (b. 1804, d. infancy)
Brother: Richard Anning (b. 1809, d. infancy)

British Association for the Advancement of Science Annual stipend (1838-47)
Geological Society of London Honorary member (1847)
Struck by Lightning 19-Aug-1800
Converted to Anglicanism (raised in the Congregational Church)

Do you know something we don't?
Submit a correction or make a comment about this profile

Copyright ©2019 Soylent Communications