Randall Terry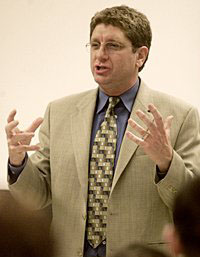 AKA Randall A. Terry
Born: 25-Apr-1959
Birthplace: Rochester, NY

Gender: Male
Religion: Roman Catholic
Race or Ethnicity: White
Sexual orientation: Straight
Occupation: Activist
Party Affiliation: See Note [1]
Nationality: United States
Executive summary: Operation Rescue founder
Anti-abortion crusader, arranged for a protester to confront President Clinton with a bottled fetus.
May 1992: "The authorities in Wichita will wish for Operation Rescue back, after dealing with the Lambs [of Christ]. I love the Lambs. They play hardball."
March 1993: "It is time for Christians to rise up against the ATF."
August 1993, Fort Wayne, IN: "I want you to just let a wave of intolerance wash over you. I want you to let a wave of hatred wash over you. Yes, hate is good. [...] Our goal is a Christian nation. We have a Biblical duty, we are called by God, to conquer this country. We don't want equal time. We don't want pluralism. Our goal must be simple. We must have a Christian nation built on God's law, on the Ten Commandments. No apologies."
December 1997: "I believe that Clinton is the most wicked and vile President that this nation has ever had."
2000 (regarding abortion providers): "When I, or people like me, are running the country, you'd better flee. Because we will find you, we will try you, and we'll execute you. I mean every word of it. I will make it part of my mission to see to it that they are tried and executed."
May 2004: "If there is no God, then it would be ludicrous to oppose homosexual behavior or abortion."
October 2009: "The homosexual marriage movement and the child-killing movement are the 'Cultural Axis of Evil,' and must be defeated. President Obama is again showing his contempt for his Christianity."
Terry's family values are firm: He disowned his son Jamiel after he came out as gay in 2006, and never spoke to him again; Jamiel was killed in a car wreck in 2011. He has also had no contact with his daughter Tila since she had a child out of wedlock.
In Spring of 2010 Terry began hosting a daily syndicated television show of political commentary and humor, called Randall Terry: The Voice of Resistance.
---
[1] Has campaigned for federal office as a nominal Republican (1998, 2006) or Democrat (2012), strictly for publicity.

Father: Michael Terry (public school teacher, d.)
Mother: Doreen DiPasquale (public school teacher)
Brother: Jeff (younger)
Wife: Cindy Dean (m. Jul-1981, div. 1999)
Daughter: Ebony Whetstone (b. 1975)
Son: Jamiel Terry (adopted, b. 1980, d. 30-Nov-2011 auto accident)
Daughter: Tila Terry (b. 1985, adopted)
Daughter: Faith Terry (b. 1987)
Wife: Andrea Sue Kollmorgen (m. Jan-2000)


High School: Charles H. Roth High School, Marietta, NY (dropped out, GED)
Theological: Elim Bible Institute, Lima, NY (1978-81)
University: BA, Whitefield College, Lakeland, FL
University: BA, Empire State College (2006)


Society for Truth and Justice Founder (2003)
Operation Rescue Founder & Director (1986-90)
McDonald's Upstate New York (c. 1977)
Born-Again Christian 6-Sep-1976
Trespassing Binghamton, NY (Jan-1986)
Trespassing May-1988
Trespassing Atlanta, GA (19-Jul-1988)
Unlawful Assembly Atlanta, GA (19-Jul-1988)
Conspiracy Atlanta, GA (Aug-1988)
Conspiracy Atlanta, GA (3-Oct-1988)
Conspiracy New York City (3-Oct-1988)
Trespassing Binghamton, NY (Oct-1988)
Resisting Arrest Long Beach, CA (24-Mar-1989), acquitted
Trespassing Long Beach, CA (24-Mar-1989), acquitted
Trespassing Miami, FL (1-Apr-1989)
Failure to Appear arrested, Atlanta, GA (10-Jul-1989)
Trespassing Wichita, KS (1990)
Contempt of Court Wichita, KS (Aug-1991)
Pied pineapple cheese (Jul-1992)
Contempt of Court Houston, TX (17-Aug-1992)
Contempt of Court New York City (14-Jul-1992), convicted
Inmate: Allenwood Federal Prison 9-Nov-1994 to Feb-1995
House Arrest Feb-1995 to Apr-1995
Trespassing Washington, DC (1996)
Bankruptcy 1998
Censured by Rev. Dan Little, Pentecostal Landmark Church (Nov-1999)
Converted to Catholicism 2006
Trespassing Manchester, NH (18-Dec-2007)
Trespassing Denver, CO (26-Aug-2008)
Trespassing University of Notre Dame (1-May-2009)
Italian Ancestry maternal


FILMOGRAPHY AS ACTOR
Lake of Fire (9-Sep-2006) · Himself


Official Website:
http://www.randallterry.com/




Requires Flash 7+ and Javascript.



Do you know something we don't?
Submit a correction or make a comment about this profile






Copyright ©2019 Soylent Communications