Richard Sorge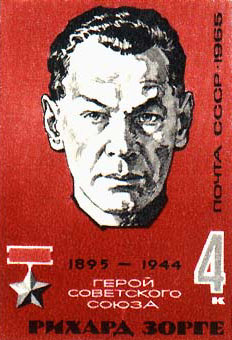 Born: 4-Oct-1895
Birthplace: Baku, Azerbaijan
Died: 7-Nov-1944
Location of death: Tokyo, Japan
Cause of death: Execution
Remains: Buried, Tama Reien Cemetery, Tokyo, Japan

Gender: Male
Race or Ethnicity: White
Sexual orientation: Straight
Occupation: Spy, Journalist
Nationality: Russia
Executive summary: Warned Stalin of Operation Barbarossa
Military service: German Army (WWI; 1914-18)
Leopold Trepper, head of the Red Orchestra, recalling a conversation he had with General Tominaga, who was Japan's Vice-Minister of Defense during WWII:
"Why was Sorge sentenced to death at the end of 1941, and not executed until November 7, 1944? Why didn't you propose that he be exchanged? Japan and the USSR were not at war." He cut me off energetically. Three times we proposed to the Soviet Embassy in Tokyo that Sorge be exchanged for a Japanese prisoner. Three times we got the same answer: "The man called Richard Sorge is unknown to us."

"Unknown, Richard Sorge? Unknown, the man who had warned Russia of the German attack, and who had announced in the middle of the battle of Moscow that Japan would not attack the Soviet Union, thus enabling the Soviet chiefs of staff to bring fresh divisions from Siberia? They preferred to let Richard Sorge be executed rather than have another troublesome witness on their hands after the war."
"Sorge was the man whom I regard as the most formidable spy in history." -- Ian Fleming, author of the James Bond series

"The spy to end spies! He was a comedian in the sense of Graham Greene, an artist in the sense of Thomas Mann." -- John Le Carré, novelist

"Richard Sorge's brilliant espionage work saved Stalin and the Soviet Union from defeat in the fall of 1941, probably prevented a Nazi victory in World War Two and thereby assured the dimensions of the world we live in today." -- Larry Collins, novelist

Father: Wilhelm Richard Sorge (petroleum engineer, d. 1911)
Mother: Nina Semionovna Kobieleva
Wife: Christiane Gerlach (m. May-1921, div. 1924)
Girlfriend: Agnes Smedley (spy, b. 1894, d. 1950)


University: Berlin University
University: University of Kiel
University: PhD Political Science, University of Hamburg (1920)
Teacher: Aachen, Germany (prep school, 1920-22)


National Socialist German Workers Party 1929
Communist Party USSR #0049927 (Mar-1925)
Communist Party Germany (1919-25)
Traveled to the USSR 1924
Naturalized Soviet Citizen 1925
Espionage arrested in Tokyo (18-Oct-1941)
Shrapnel Injury Ypres, Belgium (Mar-1916)
Tortured
Exhumed from the Sugamo Prison graveyard
Hero of the Soviet Union posthumous (5-Nov-1964)
German Ancestry Paternal
Russian Ancestry Maternal
Risk Factors: Alcoholism


Is the subject of books:
The case of Richard Sorge, 1965, BY: F.W. Deakin
Target Tokyo: The Story of the Sorge Spy Ring, 1984, BY: Gordon W. Prange
Stalin's Spy: Richard Sorge and the Tokyo Espionage Ring, 1998, BY: Robert Whymant


Author of books:
An authenticated translation of Sorge's own story: Criminal Affairs Bureau Ministry of Justice, Tokyo (1949)





Requires Flash 7+ and Javascript.



Do you know something we don't?
Submit a correction or make a comment about this profile






Copyright ©2019 Soylent Communications