Don Herbert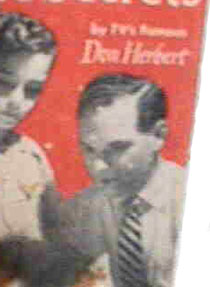 AKA Donald Jeffrey Herbert
Born: 10-Jul-1917
Birthplace: Waconia, MN
Died: 12-Jun-2007
Location of death: Bell Canyon, CA
Cause of death: Multiple myeloma
Remains: Cremated (ashes scattered)

Gender: Male
Race or Ethnicity: White
Sexual orientation: Straight
Occupation: TV Personality
Nationality: United States
Executive summary: Mr. Wizard
Military service: US Army Air Corps (Captain)
Don Herbert was Mr Wizard, the dorky-looking man in a shirt-and-necktie who conducted science experiments on the wildly popular Watch Mr Wizard on NBC in the 1950s and 60s. In a typical segment, Herbert might mix a powder and a liquid in a lab glass, and while a few pre-pubescent kids oohed and aahed the mixture would start smoking or stinking, and Mr Wizard would then explain why. Herbert never used his own children on the show, because, he said, he would be unable to fire them if they misbehaved.
He wanted to be an actor, and achieved modest success on local and regional stages, while augmenting his income by working as an assistant manager at Macy's. He fought World War II with the Army Air Force, piloting B-24 bombers on 56 missions over Northern Italy, Germany and Yugoslavia, and winning the Distinguished Flying Cross and the Air Medal with three oak leaf clusters.
After the war, he worked as a radio actor, appearing on such shows as Captain Midnight and Jack Armstrong, and writing radio scripts for other shows. By the late 1940s, he was producing a series of radio documentaries about medicine called It's Your Health, and daydreaming about doing a TV show about science.
Watch Mr Wizard premiered on Chicago's WNBQ on March 3, 1951, went national on NBC in 1954, and ran until 1965. At the peak of the program's popularity, there were thousands of local chapters of the Mr Wizard Science Club, with more than half a million kids as members, and Herbert was added to the cast of the long-running prime time anthology GE Theater with Ronald Reagan. As that program's "progress reporter", Herbert filmed brief science segments designed to make viewers think of the sponsor, General Electric, as a futuristic, high-technology company.
After six years off the air, NBC brought Watch Mr Wizard back in 1971, but the revived program lasted only one season. Herbert later produced another show about science for kids, called Closeups, and a syndicated mini-program (a minute and a half per episode) of science news for adults, called How About. In the mid-1980s, Herbert produced a newfangled Mr Wizard's World for Nickelodeon, and he returned again in the mid-1990s with a show aimed at educators, Teacher to Teacher with Mr. Wizard.
Wife: Maraleita Dutton (art historian, b. 1923, m. 1939, div., d. 1995)
Son: Jeffrey (adopted 1954)
Son: Jay (adopted 1955)
Daughter: Jill (adopted 1956)
Wife: Norma Kasell (m. 1972)

High School: Central High School, La Crosse, WI (1935)
University: BA Science, LaCrosse State Teachers College (now University of Wisconsin at La Crosse) (1940)
University: BA English, LaCrosse State Teachers College (1940)

Macy's
Air Medal
Distinguished Flying Cross
Peabody

FILMOGRAPHY AS ACTOR
Scarecrows (1988) [VOICE]

Official Website:
http://www.mrwizardstudios.com/
Do you know something we don't?
Submit a correction or make a comment about this profile

Copyright ©2019 Soylent Communications