Frederik Pohl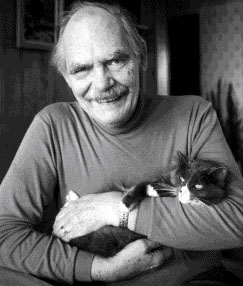 AKA Frederik George Pohl, Jr.
Born: 26-Nov-1919
Birthplace: Brooklyn, NY
Died: 2-Sep-2013
Location of death: Palatine, IL
Cause of death: Respiratory failure

Gender: Male
Religion: Unitarian
Race or Ethnicity: White
Sexual orientation: Straight
Occupation: Author, Editor
Nationality: United States
Executive summary: Futurian science fiction writer
Military service: US Army Air Corps
Regarded as one of the greatest science-fiction writers of his time, Frederik Pohl is better known to some for his work as Editor of such publications as Galaxy, If, Worlds of Tomorrow, and International Science Fiction. As a writer Pohl is well known for his collaboration with longtime friend C. M. Kornbluth. Together they produced The Space Merchants (1953), Search the Sky (1954), Gladiator at Law (1955), and various other projects. Pohl's other works include not only science fiction (like the award-winning Man Plus), but also articles for Playboy and Family Circle, and several non-fiction books, including Chasing Science: Science as Spectator Sport (2000). Pohl was the winner of four Hugo awards.
Born in 1919, Pohl fell in love with writing at an early age. His first publication, a poem, appeared in Amazing Stories in 1937, under the pseudonym Elton V. Andrews. As a teen he founded and was an active member of the Futurians, a group of New York writers and sci-fi fans that included Isaac Asimov and C. M. Kornbluth. Pohl's first short story, "Before the Universe", was written with Kornbluth and appeared in Super Science Stories in 1940 (under the name S. D. Gottesman). By the age of 21 Pohl was editor of both that magazine and Astonishing Stories. He ran many of his own stories in both, with a number of issues containing work only by Kornbluth and himself. After both magazines folded in 1943, Pohl worked as a literary agent, but in the 1950s he returned to editing, as an assistant to H. L. Gold at Galaxy Science Fiction.
Many of Pohl's stories from the 1950s and 60s satirize consumerism and advertising. In The Tunnel Under the World, for example, an entire community is held captive by advertising researchers. In the 1970s, Pohl was most notable for his HeeChee series. He won the Hugo in 1978 for a novel in the series, and in 1976 he garnered the Nebula Award for Man Plus. Another noteworthy work from this period is Jem (1980).
Considering that Pohl's career stretched more than 65 years, it's not surprising that he produced over 100 books. He also collaborated with a number of other notable authors, such as Judith Merrill (also his third wife), Lester del Rey, and Jack Williamson (Undersea Quest et al). But his most frequent collaborator was Kornbluth, and interestingly some of their joint stories continued to appear long after Kornbluth's death in 1958 (at age 35).
On top of his other roles within the science fiction community, Pohl also served as president of the SFWA (1974-76) and as head of World SF (1980-82). In 1993 he was honored as a Nebula Grand Master. In his last years, he lived in the suburbs of Chicago with his wife, Elizabeth Anne Hull, and he made the quirky prediction that in by the year 2210 "there will not be any computers, television sets, traffic jams, hospitals or airports". His autobiography is entitled The Way the Future Was. He died in 2013.
Wife: Judith Merril (science fiction writer, m. 1949, div. 1953, one child)
Wife: Carol Metcal Ulf (m. 1952, div. 1982)
Wife: Elizabeth Ann Hull (academic-editor, m. 1984)

High School: Brooklyn Technical High School, Brooklyn, NY (dropped out)
High School: Alexander Hamilton Vocational and Technical High School, Elmsford, NY (dropped out)

Hugo 1966 Best Pro Magazine, for If
Hugo 1967 Best Pro Magazine, for If
Hugo 1968 Best Pro Magazine, for If
Hugo 1973 Best Short Story, for The Meeting (with C. M. Kornbluth)
Hugo 1978 Best Novel, for Gateway
Hugo 1986 Best Short Story, for Fermi and Frost
Hugo 2010 Best Fan Writer

Official Website:
http://www.thewaythefutureblogs.com/
Author of books:
The Space Merchants (1953, with C. M. Kornbluth)
Search the Sky (1954, with C. M. Kornbluth)
Gladiator at Law (1955, with C. M. Kornbluth)
Wolfbane (1957, with C. M. Kornbluth)
The Age of Pussyfoot (1969, novel)
The Best of Frederik Pohl (1975, collection)
Man Plus (1976, novel)
The Way the Future Was (1978, memoir)
The Cool War (1981, novel)
Starburst (1982, novel)
Man Plus (1982, Winner of Nebula award)
The Years of the City (1984, novel)
The Merchants War (1985, novel)
Pohlstars (1984, collection)
Chernobyl (1987, novel)
The Gateway Trip (1990, {collection)

Do you know something we don't?
Submit a correction or make a comment about this profile

Copyright ©2019 Soylent Communications