Subcomandante Marcos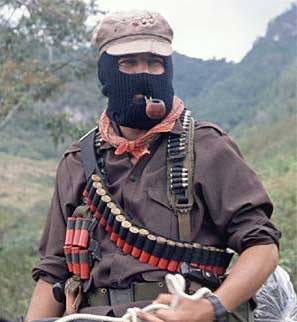 AKA Subcomandante Insurgente Marcos
Born: ?

Gender: Male
Race or Ethnicity: Hispanic
Occupation: Activist, Military, Author
Nationality: Mexico
Executive summary: Spokesman for Zapatista Army
Military service: Spokesman (EZLN)
Spokesman for the EZLN, the militarized indigenous movement rising out of Chiapas, Mexico. From behind a mask, he railed against globalization and the corruption of government for the better part of the 1990s. His communiques used global capitalism's infrastructure of fax machines and email to spread his messages of solidarity and outrage, while drawing international focus to the EZLN. This international focus on the armed indigenous rebellion resulted in a ceasefire agreement and the Mexican government's passage of a constitutional amendment guaranteeing some rights for indigenous peoples.
While his identity is unknown, the Mexican government believes that his real name is Rafael Guillen and that he is a former Liberation Theology Jesuit who attended the National Autonomous University of Mexico (UNAM).
Author of books:
Our Word is Our Weapon (2002, essays)

Do you know something we don't?
Submit a correction or make a comment about this profile

Copyright ©2019 Soylent Communications