J. D. Salinger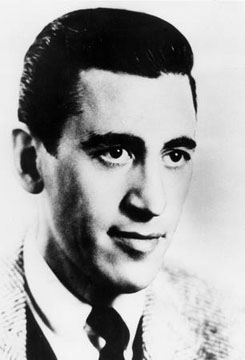 AKA Jerome David Salinger
Born: 1-Jan-1919
Birthplace: New York City
Died: 27-Jan-2010
Location of death: Cornish, NH
Cause of death: Natural Causes

Gender: Male
Race or Ethnicity: White
Sexual orientation: Straight
Occupation: Novelist
Nationality: United States
Executive summary: The Catcher in the Rye
Military service: US Army Signal and Counter Intelligence Corps, WWII
J.D. Salinger's father was a Jewish importer of cheese and hams[1], and his mother was Catholic. Both sets of in-laws reportedly disapproved of the marriage, and J.D.'s father seems to have generally disapproved of his son. The feeling was mutual; J.D. skipped his father's funeral and later stopped eating meat. After being booted from at least one private high school, young J.D. -- or "Sonny", as his father called him -- was sent to Valley Forge Military Academy in Pennsylvania, which was later the inspiration for Pencey Prep in Salinger's Catcher in the Rye. After high school, Salinger was drafted into the Army, and fought in the bloody Battle of Normandy.
Catcher in the Rye, Salinger's first and only published novel, took him ten years to write, and became an instant hit when the Book-of-the-Month Club chose it as their main selection in 1951. It has never gone out of print, and as the novel's popularity grew its author became more and more reclusive, refusing all interview requests and virtually never being seen in public.
He reportedly spent the rest of his life writing, but only for himself, not for publication. He died in his home in Cornish, New Hampshire, on 27 January 2010, where neighbors had fiercely protected his privacy for decades. After his death, the local paper mentioned that until 2009, Salinger had regularly dined at the Congregational Church's roast beef suppers, arriving up to two hours before the meal, mingling with other senior citizens, and usually choosing a seat near the pie rack.
---
[1] Unlikely as a Jewish importer of hams sounds, it is factually correct. See biographies or monographs of Salinger by, among many others: Kenneth Hamilton (1967), Warren G. French (1976), James Lundquist (1979), or Ian Hamilton (1988).

Father: Sol Salinger
Mother: Marie Jillich ("Miriam")
Wife: Sylvia (m. 1945, div. 1947)
Wife: Claire Douglas (m. 1955, div. 1967, one daughter, one son)
Daughter: Margaret Salinger ("Peggy", b. 1955)
Son: Matt Salinger (actor)
Wife: Colleen O'Neil
Girlfriend: Oona O'Neill (together 1941)
Girlfriend: Joyce Maynard (together 1972 for eight months)


High School: Valley Forge Military Academy, Wayne, PA
University: New York University
University: Ursinus College
University: Columbia University


Nervous Breakdown
Jewish Ancestry Paternal
Risk Factors: Vegetarian, Yoga, Orgone, Urolagnia


Author of books:
The Catcher in the Rye (1951, novel)
Nine Stories (1953, short stories)
Franny and Zooey (1961, short stories)
Raise High the Roof Beam, Carpenters; and Seymour: An Introduction (1963, short stories)





Requires Flash 7+ and Javascript.



Do you know something we don't?
Submit a correction or make a comment about this profile






Copyright ©2019 Soylent Communications