Jerry Goldsmith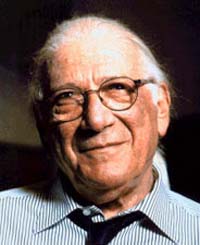 AKA Jerrald Goldsmith
Born: 10-Feb-1929
Birthplace: Pasadena, CA
Died: 21-Jul-2004
Location of death: Beverly Hills, CA
Cause of death: Cancer - Colon
Remains: Buried, Hillside Memorial Park, Culver City, CA

Gender: Male
Religion: Jewish
Race or Ethnicity: White
Sexual orientation: Straight
Occupation: Composer
Nationality: United States
Executive summary: Prominent soundtrack composer
Jerry Goldmith's musical education was initiated early in his life, beginning with classical piano lessons at the age of 6 and moving into composition and music theory by the age of 14. His ambition was originally to become a classical concert hall composer, but a realization of the limited opportunities provided by this field prompted him to investigate more practical avenues. Inspired in particular by the Miklós Rózsa score for the Alfred Hitchcock film Spellbound, Goldsmith began to explore film composition, studying with Rózsa himself for a time at the University of Southern California. While working as a clerk in the CBS music department, he managed to secure his first scoring commissions for some of their radio programs; eventually he moved into television, contributing music to Gunsmoke, Have Gun - Will Travel, Perry Mason and The Twilight Zone, as well as several other series. His earliest forays into motion picture soundtracks also took place during this period, the first being for the 1957 western Black Patch, followed by City of Fear in 1959.
In 1960 Goldsmith left CBS but continued his work in television, writing the main theme to Dr. Kildare and scoring episodes for Ben Casey. After a 1962 Oscar nomination for the biopic Freud, his film commissions began to proliferate in earnest; by the start of the next decade he had dozens of scores under his belt, including contributions to Seven Days in May (1964), Seconds (1966), Planet of the Apes (1968), and Patton (1970). Despite the demand for his skills in the motion picture field, television was not immediately left behind: themes for series (The Waltons, Barnaby Jones) and scores for a number of made-for-television movies were still undertaken during the early half of the decade. By the mid-1970s, however, he had become one of Hollywood's top film music composers and his output became almost entirely devoted to that field - his peak (at least in terms of industry recognition) being reached with his sinister soundtrack to the 'Antichrist in short pants' flick The Omen (1976), for which he earned his only Oscar.
Quite a few of Goldsmith's soundtracks from the 70s onward were composed for science fiction and thriller/horror films, and some of the most inspired (and otherwise) examples of those genres are amongst his credits. Besides the already mentioned Planet of the Apes and some of its sequels, and the two subsequent chapters in The Omen series, he scored Ridley Scott's groundbreaking Alien (1979), Steven Spielberg's Poltergeist (1982 and its 1986 sequel),Twilight Zone: The Movie (1983), both Gremlins films (1984 and 1990), and the Philip K. Dick-based Total Recall (1990). B-cult favorites like 1976's Logan's Run, The Swarm (1978) and Magic (1978) are some other of Goldsmith's accomplishments. Perhaps his most recognizable theme was created for the first of the Star Trek motion pictures in 1979, later adapted for the Next Generation television series in 1987. Psychological thrillers such as Basic Instinct (1992) and The Vanishing (1993) also benefited from his atmospheres.
Goldsmith is notable in his field for his willingness to explore unconventional methods and his openness to different musical forms. The distinct quality of his Planet of the Apes score derives in part from having some of the orchestra's brass section blowing through mouthpiece-lacking horns, and eerie liturgical chanting is used to great effect in The Omen. The integration of electronics into his work began as early as the 1960s and was used frequently in the subsequent decades, culminating with his first purely-electronic score for the Michael Crichton-derived film Runaway in 1984. He remained active and in-demand right up to the year of his death, only abandoning his craft close to the end of his long struggle with cancer.
Wife: Sharon Hennagin (m. 23-Sep-1950, div. 1-Jun-1970, 4 children)
Son: Joel Goldsmith (composer, b. 1957, d. 29-Apr-2012)
Daughter: Ellen Edson (teacher)
Daughter: Carrie Goldsmith (teacher)
Daughter: Jennifer Grossman
Wife: Carol Heather Goldsmith (musician; m. 23-Jul-1972, 1 child)
Son: Aaron Goldsmith

University: University of Southern California
University: Los Angeles City College
University: Berklee College of Music

Oscar for Best Music Original Score 1977 for The Omen
Emmy Outstanding Achievement In Music Composition for a Special (1975)
Emmy Outstanding Achievement In Music Composition for a Special (1976)
Emmy Outstanding Achievement In Music Composition for a Limited Series or a Special (Dramatic Underscore) (1981)
Emmy Outstanding Individual Achievement in Main Title Theme Music (1995)

FILMOGRAPHY AS ACTOR
Gremlins 2: The New Batch (15-Jun-1990) · Yogurt Customer

Official Website:
http://www.jerrygoldsmithonline.com/
Do you know something we don't?
Submit a correction or make a comment about this profile

Copyright ©2019 Soylent Communications