Sun Myung Moon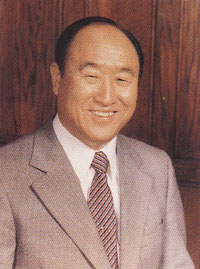 AKA Yong Myung Moon
Born: 6-Jan-1920
Birthplace: Kwangju Sangsa Ri, North Pyongyang, Korea
Died: 3-Sep-2012
Location of death: Gapyeong, South Korea
Cause of death: Pneumonia

Gender: Male
Religion: Moonie
Race or Ethnicity: Asian
Sexual orientation: Straight
Occupation: Religion
Nationality: South Korea
Executive summary: Head Moonie
Sun Myung Moon and his Unification Church are probably best known in America for their huge weddings, where hundreds or thousands of couples are married in a single ceremony. The couples are matched by church elders, and in many cases have never met until their betrothal. In 1995 he officiated at a mass marriage ceremony uniting, his church says, 360,000 couples.
He was raised in what is now North Korea, while the area was under Japanese colonial rule. His family's religion was Confucianism, but his parents converted to Christianity when he was about ten years old. When he was 15 years old his life took its first turn toward the peculiar when, he said, he received a vision from Jesus on Easter morning, informing him that he was supposed to complete Jesus' mission and take over as the new Messiah.
After World War II, the newly communist government of North Korea outlawed all religious activity, and Moon was imprisoned at least twice for preaching, serving several years at hard labor. In 1950 he made his way to the more tolerant South Korea, where he held his first church services in a cardboard hut. After claiming to have had extensive consultation with other religious figures including Abraham, Buddha and Moses, Moon put together the basic doctrines of his Unification Church, or as it is more formally known, the Holy Spirit Association for the Unification of World Christianity. In the words of Rev Moon, "I gave all the individuals in the world cause to kneel down in front of me."
He brought his church to America in the early 1970s, and was granted permanent resident status in 1973. He spent 13 months in federal prison in the early 1980s, convicted of conspiracy to evade taxes and filing false tax returns. From his prison cell he founded a new newspaper, The Washington Times, which does not proselytize his religion, but instead preaches conservative political perspectives.
Moon's mission was replacing democracy, which he called a "failed system", with a theocracy, with himself as the head of both church and state. "The time has come when the whole world must be concerned about me," Moon said. "From now on, American Christianity must follow me."
Early in his ministry -- during the 1950s -- Rev Moon reportedly spread sexual purity by having intercourse with female followers[1], and he was reportedly jailed in Korea for having sex with young members of his church. He saw himself and his wives as humanity's "true parents", described the Holocaust as partial payback for Jewish leaders who did not support Christ, and said homosexuality is "where all different kinds of dung collect". His first wife left him after thirteen years of marriage, repulsed by his strange religious teachings.
Moon was a major contributor to any politician who shared his anti-communist fervor, from Richard M. Nixon to Ronald Reagan. In the 1980s, Moon was the first donor to Oliver North's Nicaraguan Freedom Fund, which grew into the Iran-Contra scandal. In the mid-1990s Moon paid former Presidents Gerald Ford and George H.W. Bush high fees -- believed to be at least hundreds of thousands of dollars -- for delivering speeches to Moon-connected audiences. In a 2004 party held in the US Senate offices in Washington DC, several Congressmen and Senators of both parties were present to toast him as Moon was coronated "humanity's savior, messiah, returning lord and true parent". There was a time when alleged Christian leader Jerry Falwell spoke out against Moon's excesses, describing him as "like the plague", but the criticisms ended after his Falwell's Liberty University received a $3.5-million gift from Moon.
He spent more than a billion dollars underwriting the Washington Times, which has never come close to making a profit, but the paper did become a widely-read resource among prominent Republicans and right-wingers. In 2009, Moon's "much-anticipated" autobiography As a Peace-Loving Global Citizen received a glowing review in Moon's Washington Times. In addition to the Times, Moonie media holdings include News World Communications, United Press International, and the magazines Currents and Insight.
One of Moon's sons, Hyung Jin Moon, was anointed his father's successor in 2008, becoming chairman of what is now officially called the Family Federation for World Peace and Unification (though most people, even church members, still call it the Unification Church). In an autobiography titled A Bald Head and a Strawberry, the church's new leader described himself as "the youngest boy of the family and probably the most nutty."
Another of Moon's sons, Heung Jin Nim Moon, died of injuries suffered in a car crash in 1983, and was the groom in a posthumously arranged marriage a month and a half after his death. For many years after that, he was believed to be "king of the spirits", busily teaching seminars for departed souls in Heaven. However, in November 2005 a Zimbabwean visitor to the church's Unification Theological Seminary in New York was recognized as the reincarnated son of Moon, and he is now called "the Black Heung Jin Nim."
Another son, Hyo Jin Moon, had a long history of using cocaine and violent behavior. His father arranged his marriage at 19 to 15-year-old Nansook Hong, and they were married 14 years before she left him, and wrote In the Shadow of the Moons, an insider's exposé of the church's bizarre practices. Hong wrote that she had seen bags full of untraceable, undeclared cash imported to America illegally to fund assorted Moon operations, but her allegations, corroborated by other former Moonies, were apparently never investigated by federal authorities.
Sun Myung Moon was fantastically wealthy, deriving billions from his followers' tithes and offerings and from numerous business enterprises. The Unification Church has hundreds of known front groups, with names as innocuous as the International Family Association, the World Medical Health Foundation, and the United Federation of Churches. Moon also owned True World Foods, a giant seafood company that supplies raw fish for most American sushi restaurants.
Moon spent $48M making the 1981 war movie Inchon, which starred Laurence Olivier, Toshirô Mifune, and Richard Roundtree. The movie ended with a blatant pitch for the Unification Church, and ran for one week in American theaters before being pulled due to a near-complete lack of ticket sales.
He died in 2012 in Gapyeong, South Korea, after two weeks of hospitalization with pneumonia. He was 92.
---
[1] Kenneth Boa, Cults, World Religions and the Occult (1990), page 211.

Father: Kyung-yoo Moon
Mother: Kyung-gye Kim
Wife: Sun-kil Choi (m. 1944, div. 1957, one son)
Son: Sung-jin Moon (b. with Sun-kil Choi)
Wife: Myung Hee Kim (common law wife)
Wife: Hak Ja Han Moon (m. 16-Mar-1960)
Daughter: Yejin Moon (b. 1960)
Son: Hyo Jin Moon (b. 3-Jun-1962)
Daughter: Hae Jin Moon (b. 1964, died in infancy)
Daughter: InJin Moon (b. 1965)
Son: Heung Jin Nim Moon (b. 23-Oct-1966, d. 2-Jan-1984 auto wreck, allegedly reincarnated 2005)
Daughter: Un Jin Moon (b. 1967)
Son: Kook Jin "Justin" Moon (arms manufacturer, b. 1970)
Son: Kwon Jin Moon (b. 1975)
Daughter: Sun Jin Moon (b. 1976)
Son: Young Jin Moon (b. 1978, d. 28-Oct-1999 suicide)
Son: Hyung Jin Moon (b. 1979)
Daughter: Yeon Jin Moon (reality show contestant, b. 1981)
Daughter: Jeung Jin Moon (b. 1982)


High School: Kyongsong Technical High School
University: Waseda University, Tokyo


The Washington Times Founder (1982)
True World Foods Founder
World Anti-Communist League
Tortured North Korea (1947-50)
Founded Religion 1-May-1954
False Imprisonment 1955 (South Korea, acquitted)
Counterfeiting (South Korea, charge dropped)
Draft Evasion (South Korea, charge dropped)
Tax Evasion 1982
Conspiracy 1982
Inmate: Danbury Prison (1984-85)
Ig Nobel Prize Economics (2000)
Korean Ancestry
Risk Factors: Homophobia


Official Website:
http://www.reverendsunmyungmoon.org/

Rotten Library Page:
Sun Myung Moon

Author of books:
As a Peace-Loving Global Citizen (2009, autobiography)





Requires Flash 7+ and Javascript.



Do you know something we don't?
Submit a correction or make a comment about this profile






Copyright ©2019 Soylent Communications