Jim Carrey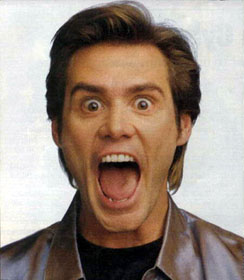 AKA James Eugene Carrey
Born: 17-Jan-1962
Birthplace: Newmarket, Ontario, Canada

Gender: Male
Religion: Presbyterian [1]
Race or Ethnicity: White
Sexual orientation: Straight
Occupation: Actor, Comic
Nationality: Canada
Executive summary: Rubber-faced fartsmith
Jim Carrey is a facebending movie star who delivered his lines through his ass in his first hit film, Ace Ventura: Pet Detective. He was in his early teens when his father, an accountant, was laid off, and all the family's kids went to work to help make ends meet. Carrey worked as a janitor, and eventually dropped out of high school. When the family's finances continued to sink, the Carreys lost their home and lived in a Volkswagen van, traveling to various campgrounds on the outskirts of Toronto. Carrey, meanwhile, made his stand-up debut at 15, on open-mike night at the first Yuk Yuk's comedy club. He bombed, literally getting "the hook" from the manager. Devastated, he spent countless hours over the next two years reworking and refining his material, and when he returned to Yuk Yuk's, Carrey was a hit. By age 19, he was the club's headliner.
As a young unknown, Carrey appeared in a few Canadian films before moving to Los Angeles. His first steady paychecks came as opening act for Linda Ronstadt and, later, Rodney Dangerfield. He was still doing stand-up comedy, and very successfully on the nights when he did his standard impressions and jokes. In his most famous early-career bit, he made thalidomide jokes and crawled on-stage as "Worm Boy," an armless and legless character. But Carrey felt constrained, and often refused to do his act, instead angering audiences with existential yak, song and dance, and bizarre material intended to piss the audience off.
He did memorable bits in Peggy Sue Got Married with Kathleen Turner and Nicolas Cage, and sang and danced in the last of Clint Eastwood's "Dirty Harry" movies, The Dead Pool. Carrey and Damon Wayans became friends when both worked on Earth Girls Are Easy with Geena Davis and Jeff Goldblum. Wayans invited him to appear on his subsequent sketch comedy hit In Living Color, where Carrey played "Fire Marshall Bill", among other bizarre characters. After a few years on In Living Color, Carrey restarted his movie career with three back-to-back blockbuster hits, Ace Ventura: Pet Detective with Courteney Cox, The Mask with Cameron Diaz, and Dumb & Dumber with Jeff Daniels.
Carrey's underrated masterpiece is The Cable Guy, directed by Ben Stiller. He has gotten good reviews but generally lesser box office success for such dramatic roles, including The Truman Show, the Andy Kaufman biopic Man on the Moon, The Majestic with Bob Balaban, and Eternal Sunshine of the Spotless Mind with Kate Winslet. Carrey's more comedic hits include Liar Liar with Jennifer Tilly, How the Grinch Stole Christmas with Jeffrey Tambor, and Bruce Almighty with Morgan Freeman. He also played The Riddler in Batman Forever with Val Kilmer.
Carrey has been divorced twice, and confesses that he has difficulty dealing with the more mundane aspects of day-to-day life. In 2003, he was sued by his first ex-wife, who complained that $10,000 per month in child support was insufficient. He promptly increased his payments, in an out-of-court settlement.
He is an outspoken worrier about children's vaccinations, claiming that trace amounts of aluminum, mercury, and/or thimerosal found in vaccines can cause autism. The scientific evidence for this is only fractionally more than moot, and the research most often cited by anti-vaccine activists, conducted by Andrew Wakefield, has been debunked.
---
[1] Raised a Roman Catholic. As of an interview he gave with Shane Peacock of Saturday Night magazine in June 1993 (published in Toronto), he was attending a Presbyterian church.

Father: Percy Carrey (accountant, d. 1994 lung cancer)
Mother: Kathleen Carrey (homemaker, hypochondriac, d. 1991 kidney disease)
Brother: John Carrey (factory supervisor)
Sister: Patricia Carrey Fournier
Sister: Rita Carrey (bus driver)
Girlfriend: Linda Ronstadt (singer, brief affair in late 1980s)
Wife: Melissa Womer (waitress, m. 28-Mar-1987, div. 11-Dec-1995, one daughter)
Daughter: Jane Erin Carrey (singer/songwriter, b. 6-Sep-1987)
Wife: Lauren Holly (actress, m. 23-Sep-1996, div. 29-Jul-1997)
Girlfriend: Renée Zellweger (actress, broken engagement, 2000)
Girlfriend: Jenny McCarthy (model, together 2006-10)
Girlfriend: Cathriona White (dated intermittently 2012-15, d. 28-Sep-2015 suicide)


High School: Aldershot High School, Burlington, Canada (dropped out)
High School: Agincourt Collegiate Institute, Scarborough, Canada (dropped out)


Naturalized US Citizen Oct-2004
Golden Globe 1999 for The Truman Show
Golden Globe 2000 for Man on the Moon
Canada's Walk of Fame 1998
Vaccination Skeptics
Wedding: Tom Cruise and Katie Holmes (2006)
Risk Factors: Depression


TELEVISION
In Living Color White Guy (1990-94)
The Duck Factory Skip Tarkenton (1984)


FILMOGRAPHY AS ACTOR
Robin Williams: Come Inside My Mind (Jan-2018) · Himself
Jim & Andy: The Great Beyond (5-Sep-2017) · Himself
Dark Crimes (12-Oct-2016)
The Bad Batch (6-Sep-2016)
Dumb and Dumber To (7-Nov-2014)
Anchorman 2: The Legend Continues (24-Nov-2013)
Kick-Ass 2 (14-Aug-2013)
Hawking (28-Jun-2013) · Himself
The Incredible Burt Wonderstone (8-Mar-2013)
Mr. Popper's Penguins (16-Jun-2011) · Mr. Popper
Conan O'Brien Can't Stop (13-Mar-2011) · Himself
A Christmas Carol (3-Nov-2009) · Scrooge, Ghosts of Christmas
Under the Sea 3D (13-Feb-2009) · Narrator [VOICE]
I Love You Phillip Morris (18-Jan-2009) · Steven Russell
Yes Man (13-Dec-2008)
Horton Hears a Who! (3-Mar-2008) [VOICE]
Certifiably Jonathan (1-Mar-2007) · Himself
The Number 23 (21-Feb-2007)
Fun with Dick and Jane (21-Dec-2005)
Lemony Snicket's A Series of Unfortunate Events (17-Dec-2004)
Eternal Sunshine of the Spotless Mind (19-Mar-2004) · Joel Barish
Bruce Almighty (14-May-2003) · Bruce Nolan
The Majestic (11-Dec-2001) · Pete
America: A Tribute to Heroes (21-Sep-2001) · Himself
How the Grinch Stole Christmas (8-Nov-2000)
Me, Myself & Irene (15-Jun-2000)
Man on the Moon (20-Dec-1999) · Andy Kaufman
Simon Birch (11-Sep-1998) · Adult Joe Wenteworth
The Truman Show (5-Jun-1998)
Liar Liar (21-Mar-1997) · Fletcher Reede
The Cable Guy (14-Jun-1996) · Cable Guy
Ace Ventura: When Nature Calls (10-Nov-1995) · Ace Ventura
Batman Forever (16-Jun-1995) · Riddler
Dumb and Dumber (16-Dec-1994) · Lloyd
The Mask (29-Jul-1994) · Stanley Ipkiss
Ace Ventura: Pet Detective (4-Feb-1994) · Ace Ventura
Doing Time on Maple Drive (16-Mar-1992)
Pink Cadillac (26-May-1989)
Earth Girls Are Easy (9-Sep-1988) · Wiploc
The Dead Pool (13-Jul-1988) · Johnny Squares
Peggy Sue Got Married (10-Oct-1986) · Walter Getz
Once Bitten (15-Nov-1985) · Mark Kendall
Finders Keepers (18-May-1984)
Copper Mountain (1983)
Introducing... Janet (1983)


Official Website:
http://www.jimcarrey.com/




Requires Flash 7+ and Javascript.



Do you know something we don't?
Submit a correction or make a comment about this profile






Copyright ©2019 Soylent Communications