Bette Midler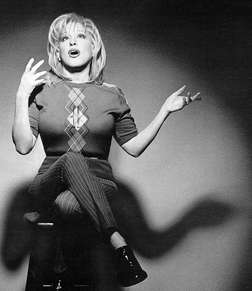 AKA Bette Davis Midler
Born: 1-Dec-1945
Birthplace: Honolulu, HI [1]

Gender: Female
Religion: Jewish
Race or Ethnicity: White
Sexual orientation: Straight
Occupation: Singer, Actor
Party Affiliation: Democratic
Nationality: United States
Executive summary: Ol' Red Hair
Bette Midler was born and raised in Honolulu, where the Midlers were the only Jewish family in a mostly-Samoan neighborhood. In the mid-60s, Midler moved to New York, with hopes of becoming a Broadway star. She was the second actress to play Zero Mostel's daughter Tzeitel in the first Broadway production of Fiddler on the Roof. Midler's film debut came as the Virgin Mary in The Greatest Story Ever Overtold, a satire of Christianity made in 1971, and renamed The Divine Mr. J a few years later, to capitalize on Midler's growing fame. She also lent her voice to a very low-budget musical comedy called Scarecrow in a Garden of Cucumbers, starring legendary female impersonator Holly Woodlawn.
She has said that her persona as "the Divine Miss M" is basically "a character that has always had a place in show business, and that's the Broad. People always love a broad -- someone with a sense of humor, someone with a fairly wicked tongue, someone who can belt out a song, someone who takes no guff. When I came up, there wasn't anyone like that". Midler sang in the gay bathhouses of New York, with her pianist and pal Barry Manilow, long before he was famous. These campy shows became the basis for her Divine Madness revue on Broadway. She was introduced to a national audience on Johnny Carson's Tonight Show in 1970, and she made dozens of appearances on Tonight over the next twenty-odd years. She sang Carson a teary farewell on his second-to-last show, in 1992. Her first major album, The Divine Miss M, was produced by Manilow, and won her the Grammy as Best New Artist of 1974.
Since the early '70s, she's been an unstoppable star of campy concerts, delightful cable specials, and major motion pictures. The Rose, a thinly fictionalized biography of Janis Joplin, got her nominated for an Oscar. Her other films include Down and Out in Beverly Hills, Ruthless People, Outrageous Fortune, Beaches, The First Wives Club, and The Stepford Wives. On TV, she won accolades as Gypsy.
As a singer, her biggest hits include "Do You Wanna Dance?", "Boogie Woogie Bugle Boy", "The Rose", "Wind Beneath My Wings", "From a Distance", and the song she closes every show with, "Ya Gotta Have Friends". Midler's back-up singing group, the Harlettes, has of course had many roster changes throughout her long career. Ex-Harlettes include Melissa Manchester and Katey Sagal.
---
[1] Some sources say Paterson, NJ, and moved to Hawaii at 3 months.

Father: Fred Midler (housepainter, d. May-1986 heart disease)
Mother: Ruth Midler (housewife, d. liver cancer)
Sister: Susan Midler (mental health administrator)
Sister: Judith Midler (d. 1968 traffic accident)
Brother: Daniel Midler (mentally retarded)
Boyfriend: Aaron Russo (Midler's former agent)
Boyfriend: Peter Riegert (actor, cohabited mid-1970s)
Husband: Martin von Haselberg (aka Harry Kipper, m. 16-Dec-1984)
Daughter: Sophie Frederica Alohilani Von Haselberg (b. 1987)
Slept with: Geraldo Rivera


High School: Radford High School, Honolulu, HI (1963)
University: Drama, University of Hawaii, Honolulu (dropped out)


Bette Midler
Dole Food Hawaii
America Coming Together
Democratic Senatorial Campaign Committee
Friends of Giuliani Exploratory Committee
Gephardt for President
Hillary Clinton for President
John Edwards for President
John Kerry for President
National Leadership PAC
Obama for America
Obama Victory Fund 2012
Emmy multiple
Golden Globe multiple
Grammy multiple
Tony 1974
Appendectomy emergency appendectomy 1-Dec-1975
Nervous Breakdown 1982
Miscarriage 1987
Funeral: Nora Ephron (2012)
Risk Factors: Smoking, Appendicitis


TELEVISION
Bette Bette (2000-01)


FILMOGRAPHY AS ACTOR
Twenty Feet from Stardom (17-Jan-2013) · Herself
Parental Guidance (25-Dec-2012)
Cats & Dogs: The Revenge of Kitty Galore (29-Jul-2010) · Kitty Galore [VOICE]
The Women (12-Sep-2008)
Then She Found Me (7-Sep-2007) · Bernice Graves
The Stepford Wives (6-Jun-2004) · Bobbie Markowitz
Isn't She Great (28-Jan-2000) · Jacqueline Susann
Drowning Mona (2-Jan-2000) · Mona Dearly
Fantasia 2000 (17-Dec-1999) · Herself
Jackie's Back! (14-Jun-1999) · Herself
Get Bruce (24-Jan-1999) · Herself
That Old Feeling (4-Apr-1997) · Lilly
The First Wives Club (20-Sep-1996) · Brenda Morelli Cushman
Gypsy (12-Dec-1993) · Mama Rose
Hocus Pocus (16-Jul-1993)
Scenes from a Mall (22-Feb-1991)
For the Boys (16-Jan-1991) · Dixie Leonard
Stella (2-Feb-1990)
Beaches (21-Dec-1988) · CC Bloom
Oliver & Company (18-Nov-1988) [VOICE]
Big Business (10-Jun-1988) · Sadie Shelton
Outrageous Fortune (30-Jan-1987)
Ruthless People (27-Jun-1986) · Barbara Stone
Down and Out in Beverly Hills (31-Jan-1986)
We Are the World (28-Jan-1985) · Herself
Jinxed! (22-Oct-1982) · Bonita Friml
Divine Madness (13-Sep-1980) · Herself
The Rose (7-Nov-1979) · Rose


Official Website:
http://www.bettemidler.com/

Author of books:
A View From a Broad (1980, memoir)
The Saga of Baby Divine (1983, juvenile)





Requires Flash 7+ and Javascript.



Do you know something we don't?
Submit a correction or make a comment about this profile






Copyright ©2019 Soylent Communications