Emmett Ashford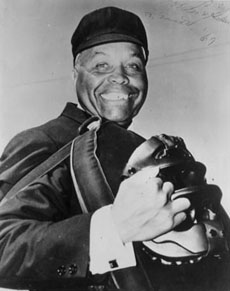 AKA Emmett Littleton Ashford
Born: 23-Nov-1914
Birthplace: Los Angeles, CA
Died: 1-Mar-1980
Location of death: Marina Del Ray, CA
Cause of death: Heart Failure
Remains: Cremated, Lakewood Cemetery, Coopertown, NY

Gender: Male
Race or Ethnicity: Black
Sexual orientation: Straight
Occupation: Baseball
Party Affiliation: Democratic
Nationality: United States
Executive summary: Baseball's first black umpire
Military service: US Navy (1943-46)
Emmett "Ash" Ashford was raised by his mother after his father abandoned the family, and became the first black student body president at his high school, Jefferson High in Los Angeles. He played outfield while attending Chapman College in the late 1930s and early '40s. He joined the Navy for World War II, and then worked as a postal clerk for ten years, augmenting his income by playing with an otherwise all-white semi-pro team called the Mystery Nine, where he was among the worst players. When no umpire arrived for a game one afternoon Ashford was asked to umpire, and since he knew he would otherwise, as usual, spend the game on the bench, he stepped behind the plate and found after a few innings that he enjoyed the job.
Ashford never attended umpiring school, as there were no facilities that accepted blacks. He became the first black umpire scheduled to work a white players' game, when the Southwest International League's Yuma Panthers met the Mexicali Eagles on 7 July 1951. He spent more than 15 years as a baseball umpire in college games and the minor leagues, always arriving in every town hours early to scout for restaurants and hotels that would accept a black customer. In the off-seasons he worked basketball and football games, and he also worked in baseball's Caribbean winter leagues. He spent more than a decade in the Pacific Coast League, a minor league then considered to be of almost major league quality, and was named the League's Umpire-in-Chief in 1963, responsible for resolving the stickiest of rules situations and evaluating other umpires while still working his standard schedule of ball games.
He was 51 years old in 1966, 19 years after Jackie Robinson broke the color barrier as a player, when Ashford became the first African-American umpire to work at the highest level of the game. Asked to comment on his promotion, Ashford joked that he hoped to buy a pair of eyeglasses before the season started. Before his first game on 11 April 1966 at District of Columbia Stadium (later renamed Robert F. Kennedy Memorial Stadium), Ashford's access to the umpires' changing room was delayed as security guards were unaware and unable to believe that a black man could be officiating at the ball game. When he was allowed to dress and work, the game was uneventful (the Cleveland Indians defeated the Washington Senators, 5-2), and Ashford soon earned a reputation as a very good umpire with a flamboyant style and an ever-present sense of humor (he frequently described himself as "a colorful umpire").
He worked the Major League All-Star Game in Anaheim, California in 1967, and the World Series in 1970, though the series was over before he got his turn behind the plate. Due to his advanced age upon reaching the major leagues, he worked only five seasons before retiring. After leaving the game he remained in the public eye as a spokesman for equality in athletic competition, and he had a cameo as an umpire in Richard Pryor's 1976 baseball comedy The Bingo Long Traveling All-Stars & Motor Kings. Ashford died from a heart attack in 1980, and his cremated remains are interred at a cemetery in Cooperstown, New York, about two miles outside the Baseball Hall of Fame, where he has never been inducted.
Father: Littleton Ashford (truck driver)
Mother: Adele Bain Ashford (secretary)
Brother: Wilbur Ashford
Wife: Willa Gene Fort Ashford (m. 1937, div., two daughters)
Daughter: Adrienne Cherie Ashford Bratton
Daughter: Antoinette Ashford
Wife: Gay Ashford (m. 1950, div. 1954)
Wife: Virginia Ashford

High School: Jefferson High School, Los Angeles, CA (1933)
University: Los Angeles Community College (briefly attended)
University: BS, Chapman University (1941)

US Post Office Postal Worker (1936-51)
Southwest International League Umpire (1951-52)
Arizona-Texas League Umpire (1952)
Western International League Umpire (1953)
Pacific Coast League Umpire (1954-65)
Pacific Coast League Umpire-in-Chief (1963-65)
American League Umpire (1966-70)
Heart Attack 1-Mar-1980 (fatal)

FILMOGRAPHY AS ACTOR
The Bingo Long Traveling All-Stars & Motor Kings (17-Nov-1976)

Do you know something we don't?
Submit a correction or make a comment about this profile

Copyright ©2019 Soylent Communications