Ernest Hemingway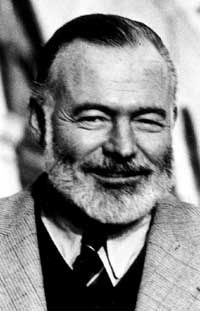 AKA Ernest Miller Hemingway
Born: 21-Jul-1899
Birthplace: Oak Park, IL [1]
Died: 2-Jul-1961
Location of death: Ketchum, ID
Cause of death: Suicide
Remains: Buried, Ketchum Cemetery, Ketchum, ID

Gender: Male
Religion: Roman Catholic
Race or Ethnicity: White
Sexual orientation: Straight
Occupation: Author
Nationality: United States
Executive summary: The Old Man And The Sea
Military service: 7th Infantry, Missouri National Guard (1917-18)
Ernest Hemingway was raised in a comfortable, upper class family in Oak Park, Illinois, a posh suburb of Chicago. With his father, he learned to hunt and fish on the nearby shores of Lake Michigan and at the family's summer home on Walloon Lake in northern Michigan. His mother dressed him in girl's clothes, maintained his hair at feminine length and style, and called him "Ernestine" until young Hemingway, at age six, demanded a haircut, boy's clothing, and to be called by his real name. He grew to become the embodiment of machismo, and perhaps the most famous English-language writer of the 20th century.
Hemingway wrote for the school paper at his high school, and disappointed his parents by eschewing college to go to work immediately after graduation. His first job was as a cub reporter for the Kansas City Star, a position arranged by an uncle who had a friend in the newspaper's editorial department. Though Hemingway only remained with the Star for a short time, he wrote about "fires, fights and funerals, and anything else not important enough for the other more experienced reporters", and took the paper's writing rules to heart — short sentences, short paragraphs, and a straightforward, forceful writing style. "Those were the best rules I ever learned for the business of writing," he later wrote. "I've never forgotten them."
When America entered World War I in 1917 Hemingway tried to enlist in the US Army, but was rejected for his poor eyesight. Instead he became a Red Cross volunteer, driving ambulances on the front lines of the Austro-Italian battlefield, where he was shot, injured by a trench mortar shell explosion, and decorated for heroism after dragging a wounded Italian soldier to safety. During his recovery he had an affair with a nurse at a Milan hospital; their doomed romance formed the basis for Hemingway's novel, A Farewell to Arms (1929). After his recuperation, he became a foreign correspondent for the Toronto Star, covering the Greco-Turkish War and other European news.
Hemingway's first successful novel, the bull-running adventure The Sun Also Rises, was published in 1926, to great and immediate critical and popular acclaim. His reputation as a writer grew legendary, and his best known works include the smuggling melodrama To Have and Have Not (1937), the Spanish Civil War tale For Whom the Bell Tolls (1940), the duck-hunting death story Across the River and into the Trees (1950), and perhaps his masterpiece among masterpieces, the allegorical fishing story The Old Man and the Sea (1952). Like their author, his books featured stoic, brusque male characters on grand and frequently gruesome adventures.
In addition to his writings, Hemingway was noted for his deep-sea fishing exploits, his love of bullfighting, his work as a war correspondent, his feuds with writers William Faulkner and F. Scott Fitzgerald, and his extended hunting trips to Africa. He is sometimes credited with introducing the Swahili word safari to the English language, and on a 1954 trip to Uganda he and his fourth wife survived two separate plane crashes. Several months later he was awarded the Nobel Prize for Literature, but still recovering from his injuries, he was unable to attend the ceremony.
His third wife, war correspondent Martha Gellhorn, described Hemingway after their divorce as a "mythomaniac", claiming that he exaggerated his exploits but believed every word of the exaggeration. According to legend spun around the man, he took his first wife to a bullfight in Pamplona while she was pregnant, hoping that the spectacle would somehow "toughen" their unborn son. That child became Jack Hemingway, a noted conservationist, but to the author's great frustration, toughness is not an inherited trait — Greg Hemingway, his third son by his second wife, was a cross-dresser with a fondness for silk and taffeta, who eventually underwent sexual reassignment surgery, becoming Gloria, his only daughter.
Hemingway lived in Toronto, Chicago, Paris, and Key West, before spending almost twenty years at a villa in Cuba. During World War II he was said to have rigged his fishing boat with military-style guns and patrolled the Cuban coast looking for German submarines. He fled in 1959 after Fidel Castro took power, and his former home outside Havana has been converted into a museum. He spent his last few years in Ketchum, Idaho, where he died from a shotgun blast to the head on 2 July 1961.
The local sheriff initially told reporters that Hemingway's death "looks like an accident", and his fourth wife, reporter Mary Welsh, said that he had accidentally shot himself while cleaning a weapon. Years later, though, she said that his death had been a suicide, and present-day biographers universally report Hemingway's demise as self-inflicted. Suicide was not uncommon in Hemingway's family and fiction; his father, brother, and at least one sister committed suicide, as did his granddaughter, model and actress Margaux Hemingway.
---
[1] In his grandfather's home, at 339 N Oak Park Ave.

Father: Clarence Edmonds Hemingway ("Ed", physician, b. 4-Sep-1871, d. 6-Dec-1928 suicide)
Mother: Grace Hall Hemingway (opera singer, b. 15-Jun-1872, m. 1-Oct-1896, d. 28-Jun-1951)
Sister: Marceline Hemingway Sanford (author, b. 15-Jan-1898, d. 9-Dec-1963)
Sister: Ursula Hemingway Jepson (b. 29-Apr-1902, d. 30-Oct-1966 suicide)
Sister: Madalaine Hemingway (b. 28-Nov-1904, d. 14-Jan-1995)
Sister: Carol Hemingway Gardner (teacher, b. 19-Jul-1911, d. 2002)
Brother: Leicester Clarence Hemingway (author-sportsman, b. 1-Apr-1915, d. 13-Sep-1982 suicide)
Girlfriend: Agnes von Kurowsky (nurse, b. 5-Jan-1892, affair 1918-19, d. 25-Sep-1984)
Wife: Elizabeth Hadley Richardson (b. 9-Nov-1891, m. 3-Sep-1921, div. 4-Apr-1927, d. 23-Jan-1979, one son)
Son: John Hadley Nicanor Hemingway ("Jack", conservationist, b. 10-Oct-1923, d. 1-Dec-2000 heart attack)
Wife: Pauline Marie Pfeiffer (fashion writer, b. 22-Jul-1895, m. 10-May-1927, div. 4-Nov-1940, d. 1-Oct-1951, two sons)
Son: Patrick Hemingway (conservationist, b. 28-Jun-1928)
Daughter: Gloria Hemingway (physician, b. Gregory Hemingway 12-Nov-1931, sex change 1995, d. 2-Oct-2001)
Wife: Martha Gellhorn (reporter, b. 8-Nov-1908, m. 20-Nov-1940, div. 21-Dec-1945, d. 15-Feb-1998)
Wife: Mary Welsh (reporter, b. 5-Apr-1908, m. 14-Mar-1946 until his death, d. 26-Nov-1986)


High School: Oak Park and River Forest High School, Oak Park, IL (1917)


Collier's War Correspondent (1944-45)
North American Newspaper Alliance European Correspondent (1937-39)
The Toronto Star Foreign Correspondent (1920-24)
International Committee of the Red Cross Ambulance Corps, World War I (1918)
The Kansas City Star Cub Reporter (1917-18)
Silver Medal of Military Valor 1918
League of American Writers
Bronze Star 1947 ("for his service as a war correspondent")
Pulitzer Prize for Fiction 1953, for The Old Man and the Sea
Nobel Prize for Literature 1954
Tonsillectomy
Shot: Battle (8-Jul-1918)
Shrapnel Injury
Converted to Catholicism 1927, after being raised Congregationalist
Shot: Self-Inflicted 1935 (accidental)
Shock Treatment
Auto accident Concussion and head lacerations (1944)
Plane Crash Africa (1954)
Plane Crash again, two days later (1954)
Suicide Attempt Spring 1961
Shot: Self-Inflicted Ketchum, ID (2-Jul-1961)
Risk Factors: Alcoholism, Depression, Diabetes, Hemorrhoids, Insomnia, Malaria, Hepatitis


Author of books:
Three Stories & Ten Poems (1923, collection)
In Our Time (1924, short stories)
The Torrents of Spring (1926, novel)
Today Is Friday (1926, play)
The Sun Also Rises (1926, novel)
Men Without Women (1927, short stories)
A Farewell to Arms (1929, novel)
Death in the Afternoon (1932, sports)
Winner Take Nothing (1933, short stories)
Green Hills of Africa (1935, travelogue)
To Have and Have Not (1937, novel)
The Fifth Column and the First Forty-Nine Stories (1938, collection)
For Whom the Bell Tolls (1940, novel)
Across the River and Into the Trees (1950, novel)
The Old Man and the Sea (1952, novel)
A Moveable Feast (1964)
Islands in the Stream (1970, novel)
The Nick Adams Stories (1972, short stories)
The Garden of Eden (1986, novel)
True at First Light (1999, novel)


Wrote plays:
The Fifth Column (1938)
A Short Happy Life (1961)
The Hemingway Hero (1967, posthumous)


Appears on postage stamps:
USA, Scott #2418 (25¢, issued 17-Jul-1989)





Requires Flash 7+ and Javascript.



Do you know something we don't?
Submit a correction or make a comment about this profile






Copyright ©2019 Soylent Communications