Pat Boone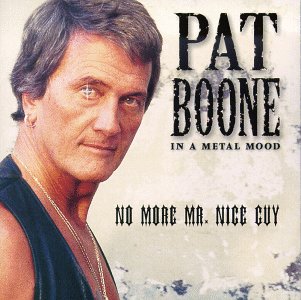 AKA Charles Eugene Boone
Born: 1-Jun-1934
Birthplace: Jacksonville, FL

Gender: Male
Religion: Born-Again Christian
Race or Ethnicity: White
Sexual orientation: Straight
Occupation: Singer, Actor, Activist
Party Affiliation: Republican
Nationality: United States
Executive summary: Lounge singer, 45-million records sold
Mellow singer of the early rock era, known for covering music from black musicians in a manner palatable to white audiences. Also a movie actor in the late 1950s and 1960s, best known for starring in a 1959 adaptation of Jules Verne's Journey to the Center of the Earth.
Eventually lived next door to Ozzy Osbourne for three years in Beverly Hills. Later, Boone covered "Crazy Train" on his faux heavy metal album In a Metal Mood: No More Mr. Nice Guy (1997), which was comprised of big-band arrangements of Ronnie James Dio, AC/DC, Metallica, and others. Now a far-right political activist, and proprietor of Pat Boone All-American Meats, a mail-order steak business.
Always politically conservative, Boone has become more outspoken and generally wingnutty in his old age.
"I don't think censorship is a bad word, but it has become a bad word because everybody associates it with some kind of restriction on liberty."
Hasn't anybody got the guts to accuse the worst perpetrator in this whole Abu Ghraib prison debacle -- CBS and 60 Minutes II?

What do you call it when, in time of war, someone takes military intelligence and turns it over to the enemy, who in turn uses it to kill Americans?

Isn't that the definition of treason? Did Benedict Arnold do worse? Did Julias and Ethel Rosenberg pay with their lives for something like this?

[...]

These things happen in war on all sides, and though they are not excusable, they are kindergarten exercises compared to car bombs, ambushes, rocket launchings and dangling burning bodies over bridges -- and this is what the interrogators at Abu Ghraib were trying to find ways to stop.

[...]

And as a direct result of CBS callous and patently unpatriotic action, America is suffering great loss of prestige around the world, and will for decades.

America has lost credibility with Muslims and the Arab world internationally, perhaps forever; and every American life is in far greater danger from terrorist reprisal, no matter who and where we are!

[...]

For me, CBS has become "the enemy within", and I hope never to watch the network again. I think most Americans ought to reflect on the results of their irresponsible and unpatriotic behavior and perhaps narrow their viewing options by one network. The next time America or Americans suffer at the hands of terrorists, thank CBS.

Pat Boone
PB:jsp

P.S. As of today, May 21st, you can add Brokaw, NBC and The Washington Post to the list. Have these media pariahs gone mad?! Who'll be next to fire at our own troops?
Wife: Shirley Foley (m. 14-Nov-1953, four daughters)
Daughter: Cherry Boone
Daughter: Lindy Boone Michaelis
Daughter: Debby Boone
Daughter: Laurie Boone


High School: David Lipscomb High School, Nashville, TN (1952)
University: David Lipscomb College, Nashville, TN
University: North Texas State University
University: Columbia University (1958)


Americans for a Republican Majority
Bauer for President 2000
Brownback for President
Bush-Cheney '04
Christian Anti-Communist Crusade
Conservative Victory Committee
Council for National Policy Board of Governors
George W. Bush for President
John McCain 2008
Keyes 2004
McCain-Palin Compliance Fund
National Republican Congressional Committee
National Republican Senatorial Committee
Nicaraguan Freedom Fund
National Right to Life Committee
Parents Television Council Board of Directors
Romney for President
Young Musicians Foundation Celebrity Director
Kappa Alpha Order
Gospel Music Hall of Fame 2002
Hollywood Walk of Fame 1631 Vine Street (recordings)
Hollywood Walk of Fame 6268 Hollywood Blvd (television)
Born-Again Christian
Visited Disneyland Candlelight Procession (Dec-1982)
Birther Movement
Coolest Headshots
Risk Factors: Prostate Cancer, Glossolalia


FILMOGRAPHY AS ACTOR
God's Not Dead 2 (1-Apr-2016)
Hugh Hefner: Playboy, Activist and Rebel (12-Sep-2009) · Himself
Fuck (7-Nov-2005) · Himself
The Eyes of Tammy Faye (25-Jan-2000) · Himself
Roger & Me (9-Sep-1989) · Himself
The Cross and the Switchblade (Jun-1970) · David Wilkerson
The Perils of Pauline (2-Aug-1967) · George
The Greatest Story Ever Told (15-Feb-1965) · Young Man at Tomb
Goodbye Charlie (18-Nov-1964)
Never Put It in Writing (28-Apr-1964)
The Yellow Canary (15-May-1963)
The Main Attraction (Nov-1962) · Eddie
State Fair (9-Mar-1962)
All Hands on Deck (30-Mar-1961) · Lt. Victor Donald
Journey to the Center of the Earth (16-Dec-1959) · Alec McEwen
Mardi Gras (18-Nov-1958)
April Love (27-Nov-1957) · Nick Conover
Bernardine (24-Jul-1957)


Official Website:
http://www.patboone.com/




Requires Flash 7+ and Javascript.



Do you know something we don't?
Submit a correction or make a comment about this profile






Copyright ©2019 Soylent Communications