David Horowitz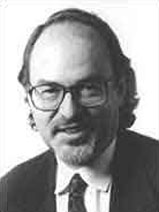 AKA David Joel Horowitz
Born: 10-Jan-1939
Birthplace: Forest Hills, NY

Gender: Male
Religion: Jewish
Race or Ethnicity: White
Sexual orientation: Straight
Occupation: Activist, Author
Nationality: United States
Executive summary: Conservative activist
The prototypical red diaper baby, David Horowitz was raised by Marxist parents and naturally followed suit. He grew up, moved to Berkeley, and joined the Black Panthers. It was only after one of his close friends got murdered by the Panthers (at least, that's what Horowitz believes) that he began to re-think Socialism. His political views eventually swung almost as far right-of-center as they had been left.
According to Horowitz's autobiography Radical Son: A Generational Odyssey, his third marriage broke under the strain of his wife's drug addiction:
I confronted [Shay] now and reminded her that marriage was a commitment, and that she had violated a basic term of ours, which was her promise to give up drugs. The futility of what I was saying overwhelmed me as I spoke. She had revealed to me, earlier, that her drug was crack cocaine, and -- as this episode showed -- she was still out of control.
In his book Hating Whitey, Horowitz dismissed Dr. Cornel West as "an intellectual of modest talents whose skin color has catapulted him into academic stardom with a six-figure income."

"Jimmy Carter is disgusting. He was a terrible President, and he's been the worst ex-President this country has ever had." [C-SPAN, August 2, 2004]

"What I've shown is that there are only a couple of degrees of separation between anybody on the left and the terrorists -- and that includes people in the Democratic Party, even those who are anti-terrorist." [The Washington Times, March 24, 2005]

Father: Phil Horowitz
Mother: Blanche Horowitz
Wife: Elissa Krauthamer (divorced)
Wife: Sam Moorman (m. 30-Oct-1984, div. 1985)
Wife: Shay Marlowe (divorced)
Wife: April Mullvain Horowitz
Son: Jonathan
Son: Ben Horowitz (venture capitalist)
Daughter: Anne
Daughter: Sarah Rose


High School: High School of Music and Art, Manhattan, NY
University: BA, Columbia University (1959)
University: MA English, University of California at Berkeley (1961)


FrontPage Magazine Editor (2000-)
DiscoverTheNetworks Founder
Ramparts Former editor
Heterodoxy Founder
Black Panther Party Former member
Center for Military Readiness Board of Advisors
Center for the Study of Popular Culture President (1988-)
Committee of Concerned Asian Scholars
David Horowitz Freedom Center
Jewish Policy Center Board of Fellows
Bush Pioneer 2000
Pied Butler University, Indianapolis, IN 6-Apr-2005
Russian Ancestry
Jewish Ancestry
Risk Factors: Depression


FILMOGRAPHY AS ACTOR
Occupy Unmasked (21-Sep-2012) · Himself
Michael Moore Hates America (12-Sep-2004) · Himself


Author of books:
The Free World Colossus: A Critique of American Foreign Policy in the Cold War (1965, international affairs)
Empire and Revolution: A Radical Interpretation of Contemporary History (1969, international affairs)
The Rockefellers (1976, biography)
The First Frontier: The Indian Wars and America's Origins, 1607-1776 (1978, history)
The Kennedys: An American Drama (1984, biography)
Destructive Generation: Second Thoughts About the '60s (1989, history)
Radical Son: A Journey Through Our Times (1997, memoir)
The Politics of Bad Faith: The Radical Assault on America's Future (1998, politics)
Hating Whitey: And Other Progressive Causes (1999, politics)
The Art of Political War: And Other Radical Pursuits (2000, politics)
Uncivil Wars: The Controversey Over Reparations for Slavery (2001, politics)
How to Beat the Democrats: And Other Subversive Ideas (2002, politics)
Left Illusions: An Intellectual Odyssey (2003, memoir)
Unholy Alliance: Radical Islam and the American Left (2004, politics)
The End of Time (2005, nonfiction)
The Shadow Party: How Hillary Clinton, George Soros, and the Sixties Left Took Over the Democratic Party (2006, politics)
The Professors: The 101 Most Dangerous Academics in America (2006, politics)
Indoctrination U: The Left's War Against Academic Freedom (2007, politics)
A Cracking of the Heart (2009, biography)





Requires Flash 7+ and Javascript.



Do you know something we don't?
Submit a correction or make a comment about this profile






Copyright ©2019 Soylent Communications