Marjorie Courtenay-Latimer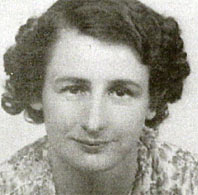 AKA Marjorie Eileen Doris Courtenay-Latimer
Born: 24-Feb-1907
Birthplace: East London, South Africa
Died: 17-May-2004
Location of death: East London, South Africa [1]
Cause of death: Pneumonia

Gender: Female
Race or Ethnicity: White
Occupation: Biologist
Nationality: South Africa
Executive summary: Ichthyologist, discovered Coelacanth
The first curator of the East London Museum in South Africa, which opened in 1931 and has the only extant dodo egg. Latimer identified the coelacanth in December 1938, a fish thought to have been extinct for 70 million years. Since then a number of populations have been discovered in out-of-the-way places.
Born in East London, South Africa on February 24, 1907, Courtenay-Latimer was encouraged by her parents to follow a variety of non-traditional interests including ornithology, botany, and cultural history. As the first curator of the East London museum she built its world-class collection from scratch, building on the Latimer family collection with specimens donated through her own investigations and through her network of contacts. In 1935, along with Eric Wilson, she excavated the fossil skeleton of the dicynodont Kannemeyeria simocephalus, of key importance in the palacontological study of the southern African subregion.
She was a founding member of the South African Museum's Association, the Border Historical Society and the Border Wild Flower Association. In 1971 she received an honorary doctorate from Rhodes University. She was given the freedom of the city of East London in 1974. In 2003 clay casts of her footprints were placed in Heroes Park alongside those of icons Nelson Mandela and Walter Sisulu. She remained professionally active, attending conferences and speaking at gatherings, until the last year of her life. Latimer died on May 17th, 2004 at the age of 97.
---
[1] St. Dominic's Hospital, East London, South Africa.

High School: Holy Cross Conven, Aliwal North, South Africa






Do you know something we don't?
Submit a correction or make a comment about this profile






Copyright ©2019 Soylent Communications