Stephen Cambone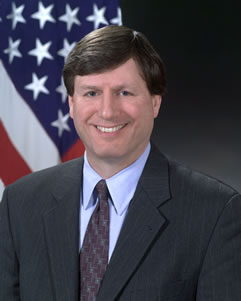 AKA Stephen A. Cambone
Born: 22-Jun-1952
Birthplace: Bronx, NY

Gender: Male
Race or Ethnicity: White
Sexual orientation: Straight
Occupation: Government
Nationality: United States
Executive summary: Undersecretary of Defense for Intelligence
After helping to develop policies concerning tactical nukes at the Los Alamos National Laboratory (1982-86), Dr. Stephen Cambone spent the next four years at defense contractor SRS Technologies thinking about ballistic missiles. A nuclear arms control expert, Cambone spent 1990-93 working for Defense Secretary Dick Cheney, and his contributions in 1991 helped to shape President George H.W. Bush's adjustments to the Strategic Defense Initiative ("Star Wars") project.
Cambone spent the Clinton years out of government -- first by working for the conservative think tank Center for Strategic and International Studies (1993-98), then two years at the National Defense University.
Cambone returned to the Pentagon with the second Bush administration, reporting directly to Defense Secretary Donald Rumsfeld. Reportedly, Cambone was not well-liked by the military staff. In 2002, a fellow neocon and colleague at the Project for the New American Century described him this way:
Fairly or not, Cambone has long been viewed as Rumsfeld's henchman, almost universally loathed -- but more important, feared -- by the services.
In 2001, Cambone was promoted into the new position of Undersecretary of Defense for Intelligence. During the buildup to the Iraq invasion, Cambone granted an interview with The New Yorker in which he described potential improvements to the Arab world:
Will there be further regime changes in the Middle East? "Things won't be the same after as they were before," Cambone said. "Just by virtue of the event occurring, people making commitments. So should a conflict -- and I underline should, if, maybe -- there is a prospect that things, yeah, I think things could change in many of those places. Now, things could also go badly. One should not discount, for all that one can imagine good things happening, the prospect that things that would not be helpful or positive could occur, too" -- especially, he added, if the United States and its allies do not manage the postwar period adeptly.
When President George W. Bush finally asked who was in charge of finding the Iraqi WMDs, his staffers eventually fingered Cambone. Journalist Seymour Hersh quoted an unnamed CIA official as saying, "Remember Henry II -- 'Who will rid me of this meddlesome priest?' [...] Whatever Rumsfeld whimsically says, Cambone will do ten times that much." Not surprisingly, after the Abu Ghraib torture scandal broke, unidentified members of the Bush administration promptly fingered Cambone as being the mastermind behind placing the prison in the hands of military intelligence.

University: BA Political Science, Catholic University of America (1973)
University: MA Political Science, Claremont Graduate University (1977)
University: PhD Political Science, Claremont Graduate University (1982)


QinetiQ EVP Strategic Development
QinetiQ President, Mission Solutions Group, QinetiQ North America
QinetiQ (2007-12)
US Defense Department Undersecretary for Intelligence (2003-07)
US Defense Department (2001-03)
Center for Strategic & International Studies Senior Fellow of Political-Military Studies (1993-98)
US Defense Department Director of Strategic Defense Policy (1990-93)
SRS Technologies Deputy Director of Strategic Analysis
Los Alamos National Laboratory Staff Analyst
Member of the Board of MDA IS LLC
Armed Forces Communications Electronics Association Board of Directors
Intelligence and National Security Alliance Advisory Board
Project for the New American Century On the team for Rebuilding America's Defense report (2001)
Rumsfeld Foundation Board of Directors
Defense Distinguished Service Medal





Requires Flash 7+ and Javascript.



Do you know something we don't?
Submit a correction or make a comment about this profile






Copyright ©2019 Soylent Communications