Pete Seeger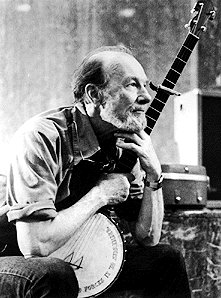 AKA Peter Seeger
Born: 3-May-1919
Birthplace: Patterson, NY
Died: 27-Jan-2014
Location of death: Manhattan, NY [1]
Cause of death: unspecified

Gender: Male
Religion: Unitarian
Race or Ethnicity: White
Sexual orientation: Straight
Occupation: Singer/Songwriter
Party Affiliation: See Note [2]
Nationality: United States
Executive summary: We Shall Overcome
Military service: US Army (1942-45)
Pete Seeger's father had taught music at Berkeley, but quit during World War I when the family's pacifism made him extremely unpopular. Both his parents were later on the faculty at the Juilliard School of Music, but they taught classical music, which never interested their son. In his teens, young Seeger discovered folk music, and began playing banjo, ukulele, and guitar. He went to Harvard University, expecting to become a reporter, but dropped out after two years. He went to work at the Archives of American Folk Music at the Library of Congress, cataloging old recordings and interviewing old performers.
Seeger met Woody Guthrie in 1940, when they both performed at a "Grapes of Wrath" benefit for migrant farm workers. Finding that they shared similar musical and philosophical tastes, they formed a folk group called the Almanac Singers. They performed for the denizens of shantytowns, earning little or no money singing anti-authoritarian folk songs. Guthrie became famous for the slogan scripted on his guitar -- this machine kills fascists -- but Seeger was always a pacifist, and on his banjo was written, "this machine surrounds hate and forces it to surrender".
The Almanac Singers recorded songs about politically touchy topics like workers' rights, social justice, and peace as preferable to war, but the group faded away when Seeger was drafted in 1942. He spent his tour of duty singing folk songs for soldiers on the front, often playing songs that included anti-war sentiments. After his discharge as a corporal, Seeger co-founded Sing Out! Magazine, still considered the bible of folk music.
In 1947, Seeger formed a new band called the Weavers, with Lee Hays, Ronnie Gilbert and Fred Hellerman. They had minor hits with recordings of a Jewish folksong "Tzena Tzena Tzena", and Huddie Ledbetter (aka Leadbelly)'s "Goodnight Irene". They also hit the charts with "Wimoweh", better known now as "The Lion Sleeps Tonight". (See below for more about the "Wimoweh" controversy).
In 1955, Seeger was subpoenaed to testify in front of the House Committee on Un-American Activities. He was famously uncooperative, citing the First Amendment (freedom of speech and association) instead of the Fifth (freedom from self-incrimination) when he refused to answer, because he believed there was nothing "incriminating" about knowing communists or being one. Clubs and TV shows canceled the Weavers' bookings, their recording company voided their contract, and their records vanished from stores and radio airplay. Seeger was indicted for contempt of Congress, and sentenced to ten concurrent one-year terms in prison (a sentence he didn't serve, as it was overturned on appeal). Seeger and his band were blacklisted, and for years worked only in tiny clubs willing to take the risk of hiring them.
Seeger's biggest hit was a recording of "Little Boxes" in 1964, and he performed in larger venues through the 1960s. He was booked to appear on The Smothers Brothers Comedy Hour in 1967, and performed his anti-Vietnam war song "Waist Deep In the Big Muddy", but when the show aired, Seeger's performance was nowhere to be seen. After a minor uproar, Seeger returned for another performance of the song, which was aired. The Smothers Brothers show was soon canceled despite high ratings, and replaced with Hee Haw.
Seeger's "We Shall Overcome" became an anthem of the civil rights movement, and is still heard wherever people march for social justice. After the assassination of Martin Luther King, Seeger became even more involved in activism, but within a few years he seemed to grow weary of the hopelessness of it all. While continuing to perform benefits for all the usual causes, his focus as an activist gradually shifted to environmentalism, and in his latter decades he worked to draw attention to water pollution. Seeger continued performing regularly with his grandson, folk singer Tao Rodriguez-Seeger, until his death in 2014.
Seeger didn't write "Wimoweh," but he played a role in the controversy surrounding that lullaby. It was written by African singer Solomon Linda and recorded by Linda's band, the Evening Birds, in 1939. Seeger came upon a scratchy recording of the song in 1951, transcribed the lyrics ("Wimoweh" was Seeger's misunderstanding of the Zulu word uyimbube, meaning lion), and it became one of the Weavers' popular tunes. The song has since been recorded by everyone from Jimmy Dorsey to Yma Sumac, Glen Campbell to They Might Be Giants, and it was a huge hit for The Tokens and The Kingston Trio before Disney's The Lion King made it an even bigger hit in the 1990s. The song's odyssey, however, has always nagged at Seeger.
"Wimoweh" emerged from South Africa at a time when black artists were not routinely given a fair deal. Linda, who created the song, was paid about ten shillings out of petty cash, in exchange for the studio's complete ownership of the music and lyrics. He died in poverty in 1962, but by the mid-1990s, recordings of "Wimoweh" were estimated to have generated about $72 million.
Seeger originally thought "Wimoweh" had been an African folk song, and always said he was oblivious to the song's hijacking. When the copyright situation came to light, Seeger wrote Linda's estate a personal check to cover royalties owed, by his own calculations. Years later he said, "The big mistake I made was not making sure that my publisher signed a regular songwriters' contract with Linda. My publisher simply sent Linda some money and copyrighted the Weavers' arrangement here."
The Disney Corporation's response has been somewhat different than Seeger's. A lawsuit filed by Linda's family has been winding through American courts for years, seeking royalties for Disney's use of the song in The Lion King, but Disney argues that all rights were obtained legally through a chain of purchases dating back to the original ten shillings Linda received. In a 2005 press release, Disney explained, "The estate's effort to cancel [the song's] assignment by waging a lawsuit and publicity campaign against Disney is both inappropriate and misdirected".
---
[1] New York-Presbyterian Hospital, Manhattan, NY.

[2] Socialist.

Father: Charles Seeger (music professor, University of California at Berkeley)
Mother: Constance Seeger (violinist)
Mother: Ruth Porter Crawford (stepmother, married Charles Seeger in 1943)
Brother: Mike Seeger (half-brother, folk singer, d. 7-Aug-2009)
Sister: Peggy Seeger (folk singer)
Wife: Toshi-Aline Ohta Seeger (m. 1948)
Son: Dan Seeger


High School: Avon Old Farms, Avon, CT (boarding school)
University: Harvard University (dropped out)


The Almanac Singers
The Weavers
Disarm Education Fund National Advisory Board
Peace Action 50th Anniversary Honorary Host Committee (2007)
Student Nonviolent Coordinating Committee
Songwriters Hall of Fame 1972
Kennedy Center Honor 1994
National Medal of Arts 1994
Library of Congress Living Legend 2000
Camp: Rising Sun
HUAC Hearings 1955
Disorderly Conduct
Contempt of Congress


FILMOGRAPHY AS ACTOR
Sounds Like a Revolution (16-Jun-2010)
Hugh Hefner: Playboy, Activist and Rebel (12-Sep-2009) · Himself
No Direction Home: Bob Dylan (21-Jul-2005) · Himself
The Ballad of Ramblin' Jack (26-Jan-2000) · Himself
Woody Guthrie: Hard Travelin' (1984)
The Weavers: Wasn't That a Time (7-Mar-1982) · Himself
Tell Me That You Love Me, Junie Moon (11-May-1970)
Alice's Restaurant (20-Aug-1969) · Himself
Festival! (23-Oct-1967) · Himself





Requires Flash 7+ and Javascript.



Do you know something we don't?
Submit a correction or make a comment about this profile






Copyright ©2019 Soylent Communications